INDIANAPOLIS --With the offensive phase of the 2016 NFL Scouting Combine in the books, here's seven takeaways from the week at Lucas Oil Stadium.
It wasn't just your eyes: in terms of the 40-yard dash, this was the slowest group of wide receivers in recent Combine years.
The 37 wide receivers that ran had an official average time (per NFL.com) of 4.555 seconds for the 40-yard dash, a full 0.02 seconds worse than the 2011 average of 4.530 seconds, which is the worst since 2009.
Last year's wide receivers posted an average 40 time of 4.503 seconds, the best of the last eight Combines. Nineteen of the 39 receivers who ran in 2015 posted sub-4.5 40 times; this year, just nine of 37 receivers came in below 4.5 seconds.
Mississippi State WR De'Runnya Wilson (6-foot-4.5, 224 pounds) had the worst 40 time for any Combine receiver in the last eight years, clocking in at 4.85 seconds.
The year-by-year wide receiver average 40 times, since 2009:
2009:4.509 seconds
2010:4.508 seconds
2011:4.530 seconds
2012:4.528 seconds
2013:4.504 seconds
2014:4.514 seconds
2015:4.503 seconds
2016:4.555 seconds
Mississippi's Laquon Treadwell might have changed the numbers slightly, but he chose not to run. He did well in positional drills and appears set to be the first wide receiver off the board this year.
2. A possible reason? Receivers are getting bigger.
The trend toward taller, larger pass catchers cannot be overlooked.
The 37 wide receivers who ran the 40 had an average height of 6 feet, 1.8 inches and an average weight of 203.92 pounds; that's 0.47 inches and 1.58 pounds greater than the 2009-16 averages.
The year-by-year average size of the wide receivers who ran the 40 at the Combine:
2009:6 feet, 0.80 inches; 201.17 pounds
2010:6 feet, 0.73 inches; 201.97 pounds
2011:6 feet, 0.88 inches; 202.61 pounds
2012:6 feet, 0.46 inches; 203.05 pounds
2013:6 feet, 0.61 inches; 202.91 pounds
2014:6 feet, 0.60 inches; 200.29 pounds
2015:6 feet, 0.46 inches; 203.05 pounds
2016:6 feet, 1.86 inches; 203.92 pounds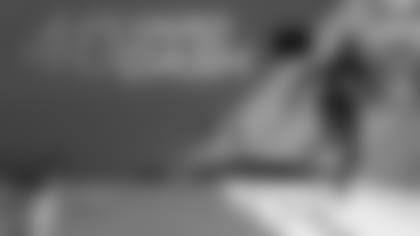 3. It's time to take a second look at Keith Marshall.
Georgia's running back had the best 40 time of any offensive player, and the fact that a 219-pounder covered the distance in just 4.31 seconds and threw up 25 bench-press repetitions ensured Marshall would have the most notable and memorable single workout of the Combine among offensive players this year.
Marshall tore his right knee in a game at Tennessee in 2013, and never returned to the form -- or the playing time -- he had before it. Prior to the injury, he'd racked up 1,005 yards and averaged 5.81 yards per carry -- with a total average of 6.29 yards per touch when factoring in 202 yards on 19 receptions.
After his return, he mustered just 374 yards and 4.68 yards per carry -- although his average was 5.1 yards in limited work (68 carries) during his senior season last year.
Marshall began his final Georgia season on the third team and never worked his way all the way up, even though starter Nick Chubb was lost for the season to knee injury of his own. (Coincidentally, on the same field where Marshall suffered his injury, Tennessee's Neyland Stadium.)
That might come in handy, as he seems likely to earn a bit more of that than he expected after his workout at Lucas Oil Stadium.
With no defenders and little chance to gain timing with receivers, only so much can be taken from the quarterback workouts here.
However, if judging only by workouts, Cal's Jared Goff would sit atop the class. His on-field work Saturday morning was nearly flawless, while North Dakota State's Carson Wentz and Memphis' Paxton Lynch missed a few more throws than the others.
Mississippi State's Dak Prescott has a strong enough arm, but during the out-pattern segment of his workout he struggled with his accuracy as his footwork became less consistent. But during the rest of his work, he displayed good touch and accuracy.
5. The jury's out on the tight ends.
Arkansas' Hunter Henry is widely considered the best at the position, but he chose not to run, and the speed/quickness numbers for the tight ends who did take part in the on-field work Saturday were fairly pedestrian; according to NFL Network's unofficial numbers, only South Carolina's Jerell Adams was able to crack the 4.7-second barrier in the 40-yard dash.
Laremy Tunsil has some questions to answer.**
And they didn't really come up until after his former teammate, Robert Nkdemiche, spoke Friday, and said that Tunsil was in the Atlanta hotel room from which Nkdemiche fell through the window. Nkdemiche was charged with marijuana posession, but said that he was drunk, and not high, leading to another set of questions.
"There were more people in my room," Nkdemiche said. "The hotel was under my name. Nobody wanted to take the fall. It had to go under my name. It just happened to play out like that."
So what was Tunsil's role? Was he a bystander, or is something there? He is likely to face some pointed questions from teams on Pro Day and during pre-draft visits, and if the answers are not sufficient, his place atop the offensive line class -- and potentially the entire draft class itself -- could be in jeopardy.
7. Trevone Boykin answered those types of questions.
For the TCU quarterback, how he dealt with the character queries was at least as important as anything he did in his workout after he was suspended for the Horned Frogs' bowl game for his role in a bar fight that ended with a felony charge of striking a police officer.
"I told [teams] the truth," he said Saturday. "I told them exactly what happened from every detail. Either they accept it or they don't, I mean I'm truly remorseful for what happened. I devastated not only myself but the city of Fort Worth and the last name Boykin."
Check out photos from the quarterbacks, receivers and running backs at the Combine on Saturday.