1. Noah Spence: A good workout, but ...
Among defensive linemen who took part in the six core drills -- 40, bench press, vertical jump, broad jump, 3-cone drill and short shuttle -- Eastern Kentucky's Noah Spence had the highest average ranking of 9.5 and was in the top 10 in all but the bench press, in which he finished 22nd. However, his 40-yard dash time of 4.8 seconds, while tied for eighth among defensive linemen, was not as quick as expected.
He projects as a 4-3 defensive end, and looked the part, although reports circulated that Spence's interviews with teams were "very shaky," and has a past history of drug use, with two positive tests for ecstasy. As with Robert Nkemdiche, the interviews and character examination will be at least as important as anything on the field, whether it was in college or on the Lucas Oil Stadium turf this weekend.
Nkemdiche looked the part, but that wasn't a concern.**
It should surprise no one that the former Mississippi standout had a good Combine workout; his ceiling is higher than perhaps any other defensive lineman in this class -- even Ohio State's Joey Bosa, who had a good workout Sunday, showing his agility and quickness by finishing second in the short shuttle and three-cone drill among defensive linemen. Nkemdiche, when he's on, is the most talented defensive lineman this year, but "when he's on" is the biggest question, as he can vanish over time.
No defensive lineman over 280 pounds ran a faster 40 time than the 294-pound Nkemdiche, and his 4.87 40 at his size was reminiscent of USC's Leonard Williams, a 302-pounder who blasted his way into the top 10 of the draft with a 4.97 40 time. Williams, of course, didn't come with the same baggage as Nkemdiche.
3. Who can get the arms up?
If the Broncos can't re-sign Malik Jackson and need to go shopping for a three-technique in the draft, they'll have a deep class to work with; they'll look for quickness, power, football instincts -- and the ability to reach and swat down passes.
To that end, names like Baylor's Shawn Oakman (6-foot-7.5, 287 pounds and 35 3/4-inch arms) and BYU's Bronson Kafusi (6-foot-6.375, 34 1/2-inch arms) could be intriguing. Another potential fit could be Louisiana Tech's Vernon Butler, who is long (6-foot-4 with 35 1/8-inch arms) and has better game quickness than the workouts showed. He stated Friday that he believed he could be a three-technique, even though at 323 pounds, he would appear to be a bit big for the role.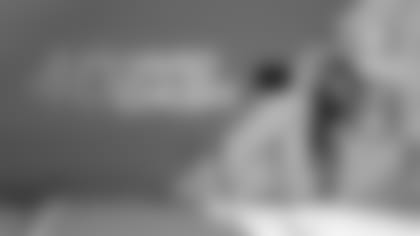 4. Gauging length on cornerbacks.
Conversely, Florida State's Jalen Ramsey consolidated his status as a first-rounder by covering 40 yards in 4.41 seconds. Only one cornerback at the Combine (Samford's James Bradberry) has longer arms than Ramsey, whose 33 3/8-inch arms and speed ensure that barring some unforeseen injury or non-football issues, he won't last beyond the 10th pick.
Florida CB Vernon Hargreaves III wasn't going to wow anyone with his numbers; his arms are short and his 4.5 speed was average. But his film is terrific and he nailed the position drills, looking particularly smooth in the gauntlet drill. At 5-foot-10 and 204 pounds, Hargreaves is the sort of cornerback who might have been overlooked a decade ago, but with teams understanding that sometimes your best cornerback must be the one that can move inside and play on the slot receiver, he fits where the game is going.
In this climate, Chris Harris Jr. would receive more draft consideration than he did in 2011 -- but at the same time, Harris is one of the players who's led to a slight recalibration in the evaluation of cornerbacks.
DeAndre Houston-Carson projects as a late second- to-third-day pick and his 4.54-second 40-yard dash is workable, especially given that he has put on weight to 201 pounds in order to handle playing safety last season after playing three years at cornerback for William & Mary. His reach will be scrutinized, because he has the shortest arms (30 1/8 inches) of any defensive back at the Combine, but he had a flawless gauntlet drill.
Colorado's Ken Crawley and Colorado State's DeAndre Elliott, however, each had multiple drops in the gauntlet. Maryland CB Sean Davis was also among the players who couldn't avoid multiple dropped passes in one round of the gauntlet.
Players need clothing that fits.**
Much of the attention went to Mississippi State DE Chris Jones' extreme wardrobe malfunction, but other defensive linemen and edge rushers had issues with workout shorts that were either too tight or too short. Grand Valley State's Matt Judon actually pulled up his shorts during an agility drill, and several players displayed looks to which your average plumber could relate.
In search of every advantage possible, players wear tight clothing, but perhaps going back to a baggier look reminiscent of the 1990s wouldn't be the worst thing for all parties.
7. Shaky workouts can = value.
Ohio State DL Adolphus Washington did not have a great weekend; a sub-par bench press tally (21 repetitions) and low speed and quickness numbers might depress his draft stock -- but could also make him a value.
Inside linebackers Joe Schubert (Wisconsin) and Tyler Matakevich (Temple) did not have eye-popping numbers in terms of straight-line speed, although they were among the best LBs in the bench press (22 repetitions apiece, tied for fifth) and Schubert was among the top 10 linebackers in the short shuttle and the three-cone drill.
If you're looking for value, players like these could be where you find it.