ENGLEWOOD, Colo. --And with the selection of punter Riley Dixon, the Broncos' draft came to an end Saturday afternoon.
At some point in the coming days, the Broncos will add a collection of college free agents to their roster. A slew of rookie prospects will also join the team next weekend on a tryout basis at the team's three-day rookie minicamp.
But for now, the Broncos emerged with eight new players and a fortified roster in all three phases -- in the short term, perhaps most on special teams.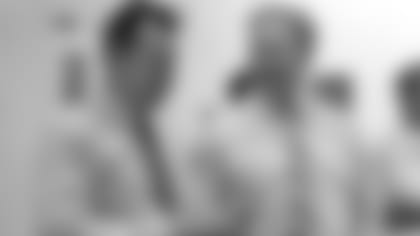 "The plan is to keep picking at the bottom of the round," Executive Vice President/General Manager John Elway said, a smile crossing his face. "That's the plan -- and there is no Plan B!"
Elway and Head Coach Gary Kubiak met with media after the draft. Here are seven takeaways from their question-and-answer sessions.
1. ELWAY IS CONFIDENT IN MARK SANCHEZ AS THE STARTER.
If Paxton Lynch isn't ready to seize the job in the upcoming quarterback competition, Elway believes that Sanchez will handle the role well.
"He's been in the playoffs. He's been in championship games. He's proven. He's done that, [although] he hasn't done it in a while," Elway said.
But Elway also believes that the Broncos' scheme and surrounding personnel -- which includes three recent Pro Bowl targets in RB C.J. Anderson and WRs Demaryius Thomas and Emmanuel Sanders -- will maximize Sanchez's potential.
"I don't know that he's ever been in a great offensive system that takes advantage of what he can do," Elway said.
"He played okay when he did play [in Philadelphia]. He made a couple of mistakes, but he played okay. A lot of times, you get quarterbacks in the right situations, and they go in the right spot, with the right people around them, and they have a chance to take advantage of what he can do.
"And he's got a lot of talent."
DEVONTAE BOOKER WAS HIGH ON THE BRONCOS' LIST.**
Recovery from torn meniscus in his knee sent the productive Utah running back sliding down the draft to where he was still available when the Broncos had their compensatory selection late in the fourth round.
"We were happy that Booker was there. We didn't think he'd be there in the bottom of the fourth," Elway said. "To be able to get him, a guy that we had second on our board at that position -- I think he dropped because of some issues with his knee."
Booker was one of six running backs taken in a 32-selection span between the 119th and 150th choices.
"We didn't know [if Booker would fall to No. 136], because running backs were starting to go," Elway said, alluding to the Ravens taking Louisiana Tech running back Kenneth Dixon two selections before the Broncos took Booker.
Elway expects Booker to be at full speed by June, meaning he will be able to take part in some organized team activities.
ADAM GOTSIS WAS A MAN IN DEMAND.**
As the Broncos' second-round pick in the No. 63 overall slot neared, they had a choice: Pick their targeted player, defensive end Adam Gotsis, or take a deal to move back a few picks and risk not drafting him.
In the end, the Broncos held fast at No. 63. As Elway would soon learn, it was a wise move in order to get the player the Broncos targeted.
"We heard from four teams in the top of the third [round] saying they were taking him," Elway said. "We could have moved back, but it was a matter of, 'Should we go back, or [stay]?'"
Elway expects Gotsis to be ready to practice in August during training camp. The key for the next three months will be to make sure he doesn't try to do too much, too soon, as he completes recovery from the torn anterior cruciate ligament he suffered last Oct. 31.
"He's one of those guys you're going to have to hold back," Elway said.
But thanks to the conditioning and rehabilitation work Gotsis has been able to do throughout his recovery, he is at 298 pounds, with just 10 percent body fat.
"He's a beast," Elway said. "And he hasn't played much football. So as you look at it, and you get him in there with [Defensive Line Coach Bill] Kollar, and let him teach him, I really think there's a lot of upside there."
When Gotsis is healthy, he will work as a three- and five-technique defensive end, just as Derek Wolfe does and Malik Jackson did, which gives the defense flexibility up front.
"We met with him [at the NFL Scouting Combine] in Indianapolis, and it was like, 'This guy's a man,'" Elway said. "With the ability that he had on tape -- and I'm sure he had coaching down there [at Georgia Tech] -- he's going to get that much better coaching.
"We liked Gotsis' upside," Elway added. "Enormous upside."
RE-SIGNING PRIORITIES WHILE MANAGING THE CAP.**
The Broncos' cap situation remains tight, but getting Von Miller signed to a long-term deal and extending Emmanuel Sanders and Brandon Marshall remain high priorities for the coming months.
"We're still kind of tight, and still trying to plan into next year, too," Elway said. "I'd like to be able to get something done with Emmanuel and Marshall -- and hopefully we get something done with Von, too."
But Elway said he planned to take the re-signings one at a time, and would "probably go to Von first" -- and hopefully wrap that up by the July 15 deadline.
"We'd like to," Elway said, smiling.
5. DECISION TIME LOOMS ON SYLVESTER WILLIAMS.
By Sunday, the Broncos must choose whether to exercise the fifth-year option on Sylvester Williams' contract to keep him on the roster for 2015, but Elway said no decision has been made.
Future contracts of other players will come into play, as well as Williams' role as a first-team nose tackle who usually comes off the field on passing downs when the Broncos go to a pair of down linemen, usually using their three-/five-technique ends to rush the passer.
If the Broncos exercise the fifth-year option, Williams would account for approximately $6.75 million under the 2017 salary cap, Elway said.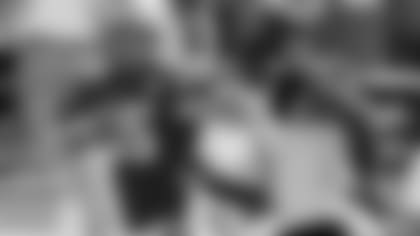 6. ANDY JANOVICH: IT WASN'T JUST ABOUT PLAYING FULLBACK.
"He was our No. 1 special-teams guy," Elway said not long after the draft ended.
Janovich played on multiple special-teams units at Nebraska in addition to his work at fullback, and that is probably the best chance for him to make a positive first impression and earn copious playing time.
"I feel very fortunate to get this young man," Kubiak said. "He did a great job in Nebraska. He catches the ball well. He's very physical and our special teams got so much better today."
But Janovich is also an outstanding fullback, of whom Elway said, "He's a lot like Howard Griffith," referring to the late 1990s fullback who blasted open holes for Terrell Davis.
7. SPECIAL TEAMS WAS A KEY FOCUS.
With the free-agent losses of David Bruton Jr. and Omar Bolden, the Broncos felt they needed to fortify their units. Janovich, third-round safety Justin Simmons, sixth-round safety Will Parks and, finally, seventh-round punter Riley Dixon could all contribute immediately to upgrading the special teams.
"This year we're bringing a lot to our special teams," Kubiak said. "It's a direction we'd like to head a little more in."