It's an easy mantra to repeat, but one that is far harder to live.
It's one Domata Peko Sr. has come to embrace during his 12 seasons as an NFL nose tackle.
The first-year Bronco has seemingly done so by choice, but that doesn't mean it wasn't also a necessity.
When a player's central role revolves around eating up double-teams and funneling opposing running backs toward defensive ends and linebackers, the accolades tend to be few and far between.
You won't find a nose tackle in the running for MVP — and you'd be hard-pressed to find more than a couple players at the position who are household names.
That couldn't bother Peko one bit.
"That's definitely something I take pride in: being a selfless player," Peko says. "Not being selfish, but selfless. That's the name of a nose [tackle]. You don't really get too much praise, too much glory, but you're in there doing the hard work, you're grinding. You're just making stuff happen for the other guys. I love doing that. It's just something I grew up with, just being a humble dude and being selfless."
Over the course of his first season in Denver, the 6-foot-3, 307-pound player has made "stuff happen" for his teammates on plenty of occasions.
The Denver rush defense is second in yards allowed per carry and third in rushing yards allowed per game. The improvement is stark from the 2016 season in which teams gashed the Broncos on the ground. Since last fall, though, the unit has jumped into the NFL's top five rushing defenses after finishing 28th in 2016.
That success is due in no small part to Peko's decision to join Denver after 11 years in Cincinnati.
The choice was not made lightly, but it was one that gave Peko a chance to rejuvenate his career in a new city and in a scheme he has often said better fits his game.
"I always have faith in myself," Peko says. "I always believe in myself. Coming in here this year as a new player to a new locker room, I knew what was on my plate. I knew I had a lot to prove. I knew I had to show my teammates that they brought me in here for a reason: to stop the run and be stout in the middle of the defense. I thank God that I was able to do that and prove myself to my teammates. Every game, every practice, I'm still trying to prove myself. I'm still trying to show this league I belong here."
In his 12th season, Peko did just that — and he's on the cusp of achieving a level of success he hasn't yet found.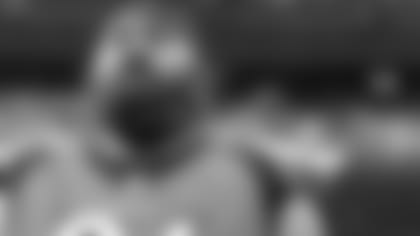 It wasn't until Peko watched the Broncos' buses pull away from UCHealth Training Center that reality sunk in.
After 123 consecutive starts, Peko would miss a football game following a knee injury he suffered against the Raiders.
Peko watched that weekend as his streak — the NFL's longest active stretch among defensive linemen — ended on an early December Sunday.
"For me, just not being able to be out there with my teammates and be out there with my guys trying to win games, that's what really hurt me," Peko says. "Not being able to be out there for my teammates, it sucked."
That feeling didn't last long, though, as Peko returned in Week 15 during the Broncos' "Thursday Night Football" game against the Indianapolis Colts. Peko's jitters ahead of that game weren't the same as they were during the first game of his rookie season, but he admits he felt anxious before his first snap.
"I really wanted to go out there and make sure I hit somebody and made sure my leg felt really good," Peko says. "I know that it's just going to continue to get better, but yeah, it felt good to get back out there, and I'm excited to finish the season strong."
When it concludes, he may have one final game to play.
After a season in which he anchored the Broncos defensive line, he learned he'd been selected as a Pro Bowl alternate.
As his career nears its conclusion, Peko may well have the opportunity to check off a bucket-list item.
"That would be bittersweet for me, because it's been one of the goals of my career, and hopefully I get there this year," Peko says. "It'd be really cool. It'd be really awesome in Year 12 to get to the Pro Bowl."
While he's hopeful he'll find a way in if any players withdraw, Peko already has his Year 13 goal set: remove the alternate tag.
"It just gives me motivation to try to get the first ballot next year."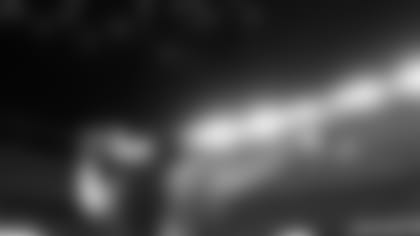 Peko's presence doesn't just loom large on the field. In the same fashion that he takes up double-teams in the A-gap, Peko fills a void on the defensive side of the locker room. The defensive line, in particular, is a relatively young unit that lacked an older figure who could lead through both his play and his off-field disposition.
Second-year player Adam Gotsis says Peko's habits and stature remind him of another 12-year NFL veteran, former Broncos outside linebacker DeMarcus Ware. Peko's study habits, pride for the game and toughness all remind Gotsis of the future Hall of Famer.
"You want a guy that's going to play every snap like it's his last and play whistle to whistle and battle for you," Gotsis says. "I think he just adds that warrior mentality that no matter what the situation — no matter where we are — you go in there and you've got a job to get done. I think he's been huge for our room this year."
And as the defense attempted to maintain its elite status at the beginning of the 2017 season, Peko prove paramount.
"That's the one thing we didn't have in that room: someone of his stature," Gotsis says. "They don't have to talk, they don't have to do anything, they just come to work every day. They've done it for years, day in and day out. They don't care if they don't get recognition or not. This is a guy that's played 12 years in the league and probably averaged 50 tackles a year or something every year, so he's doing something right."
That means, in Gotsis' eyes at least, that Peko's Pro Bowl-less streak needs to end in 2017. There may be no better testament to Peko's value to the locker room than the unabashed manner in which his teammates stumped for his inclusion in January's All-Star game.
"I don't think he gets the recognition that he deserves," Gotsis says, "and I'm hoping he can sneak in there and get that Pro Bowl. That'd be awesome for him and a great way to top off a career."
There may also be a part of Gotsis that hopes to reap the reward Peko has promised his teammates if he is indeed chosen as an alternate.
"I told all my D-line, if I go, they're going with me," Peko says. "I'm going to pay for all their flights to come out. We'll all go to Orlando and hang out with Mickey."
It's about time to celebrate Domata Peko Sr.