ENGLEWOOD, Colo. --He's watched 853 Broncos games in person. He's seen 421 wins -- including preseason -- as a Denver Broncos employee.
He's won countless awards, from the first-ever Pete Rozelle Award -- given annually to the NFL's outstanding public relations staff -- to the Charlie Callahan Award for Public Relations and most recently a lifetime achievement award from the Order Sons of Italy in America Colorado Foundation.
And after 36 NFL seasons, Vice President of Corporate Communications Jim Saccomano is retiring.
"It's just time," Saccomano said, sitting in his office. "It feels absolutely right."
Saccomano, the longest tenured pro sports administrator in Colorado history, will work one final season in his current role before officially retiring at the end of the year.
From there, he'll transition into a new role as a consultant, which was offered to him by Broncos President Joe Ellis.
"I don't think he'll ever leave being part of our family," Ellis said.
Saccomano said he's grateful that the Broncos have given him an opportunity to continue blogging for DenverBroncos.com, tweeting, making television appearances, emceeing various events and consulting "as long as I want to."
"I can have the best of both worlds -- have great family time with great travel time but yet still have an area to work in and be able to have an association and an affiliation. In some ways I say I'm able to do all the most fun parts."
Saccomano, who graduated with honors from Metro State in 1970 and earned his master's degree in journalism from the University of Colorado in 1977, has authored four books -- two editions each of Game of My Life: Denver Broncos and the more recently published Denver Broncos: The Complete Illustrated History.
In his tenure with the Broncos, he spent three decades directly supervising all team public relations efforts. He worked his way up to a senior director title, followed by the position of vice president of public relations before he assumed his current role.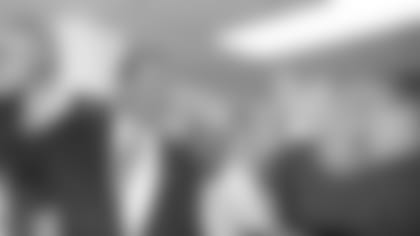 "I think it's three things," Ellis said of the reasons for Saccomano's longevity. "It's hard work -- no one worked harder than Jimmy -- honesty -- he was without fail honest -- and integrity. Those three traits are what put him above so many others in his field and made him a great Bronco for 36 years."
Under Saccomano's watch, Denver has had one of the NFL's highest number of players to receive honors from press associations, including several who have been named as national award winners. He directed an unequaled volume of national and international exposure for the team, which made more than 300 national TV appearances in his career.
He has chaired the NFL's media relations and international committees and has served on the league's postseason, radio-television and special projects committees. In addition to working five Broncos Super Bowls, he worked for the National Football League's public relations staff at 21 additional Super Bowls, and for 14 of those games was designated by the league as a staff co-captain.
Among Saccomano's other contributions to the game are the statistics he helped pioneer -- red-zone, field-position and fourth-quarter-comeback stats.
But his accomplishments aside, he said the relationships he has formed throughout his career are the most important to him.
"There's a small band of really tight relationships -- with the Broncos but also many, many within the NFL," he said. "The people are huge. They are my second family."
At the club's annual employee service awards prior to the 2012 season, when Saccomano was presented with a plaque to commemorate his 35 years with the team, he recalled when Head Athletic Trainer Steve Antonopulos once said he was "living the dream."
"I think that is so, so true," Saccomano said in his speech. "In my case, I'm a Denver native. My dad was a farmer. Where I grew up, the fields were dirt, the roads were dirt. The imagination was something else. You thought you might do something, but it seemed absurd to say you could. Just ludicrous to say I want to work in pro sports some day. How do you begin to do that? Well, a lot of things happen, and you make things come to be sometimes."
Denver had always been his favorite team, and he recalled crying while watching the Broncos losing to the Los Angeles Chargers in 1960. He's been a fan since day one.
Saccomano said that when his Broncos career began in 1978, he just hoped to get his foot in the door and continue to take steps from there.
"Seriously, my family, my faith, the Denver Broncos and the New York Yankees," Saccomano said of his priorities. "And you say how does the list look? It's like the symbol for infinity – it just goes around and around. To work for the Broncos for all this time, it is surreal."
He estimates that in 39 years of working in professional sports -- he worked three years with the Denver Bears, a minor league baseball team, prior to joining the Broncos -- he has crammed in 72 years worth of 40-hour work weeks.
So the first person he wanted to thank for allowing him such a long career is his wife.
"Fortunately, my wife, JoAnn, her understanding is so key," Saccomano said. "She said, 'I've always felt I'd rather have him work long hours and be gone and then walk in the door and be happy than be doing something where he's home a lot but he's miserable about what he's doing.'"
Now he's ready to be around his family a lot more often. He and JoAnn have two children, Jennifer and Jeffrey, and two grandchildren.
"An enormous factor is having grandchildren, whom I wish to share things with," he said of his grandson Lucas and granddaughter Rhea. "I've missed a lot of stuff. And I'm not missing it this time around."
Saccomano, a Vietnam-era veteran of the U.S. Army, grew up where "everything was dirt but the dreams."
"The game is an elixir," he said, "and it's been a privilege to be a part of it."