This is the most exciting time of the year that does not actually involve playing a game.
For all NFL fans, their teams are undefeated and have high expectations. The NFL Draft creates that for everyone.
Once upon a time I mentioned to someone that earlier in my life I had been drafted.
"By which team?" I was asked in response, and I had to explain that the United States once had a military draft and it was that one in which I was selected. Free clothes, but not much of a bonus.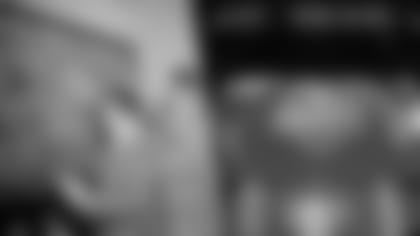 Thanks to the NFL Network, ESPN and a vast number of national media members, no stone is left unturned regarding facts, stories, anecdotes and speculation about the draft prospects.
And the good old days were not always that good in terms of scouting and information.
In 1960, Denver Broncos owner Bob Howsam and general manager Dean Griffing gathered most of their material from Street and Smith's College Football Preview, a football magazine.
The Broncos used their fifth-round choice of the 1979 draft on Michigan quarterback Rick Leach, who was also a baseball player but had assured Bronco scouts he would play football if drafted.
I remember diving Leach around town to various interviews at television stations, and he repeatedly said he would sign with the Broncos. Unless he was drafted by the Detroit Tigers, of course.
The Tigers drafted Leach, and I never saw him again.
Our second-round choice in 1981 was tight end Clay Brown of BYU, who showed up for his press conference with a cast on his arm. It seems that he had fallen from a horse while riding and broken his arm, and we did not know about it.
And as recently as 1988, the Broncos drafted defensive tackle Ted Gregory from Syracuse in the first round. Scouts assured head coach Dan Reeves that Gregory was a monster of a man who stood well over 6 feet 3 inches, but when we flew him into Denver, Reeves -- who was about 6 feet tall -- was surprised and not too happy to find himself looking Gregory right in the eye without standing on his toes.
But it does not just happen to the Broncos -- far from it.
Sometimes it works the other way.
In 1985, the Broncos used the 310th pick to draft future Ring of Famer Karl Mecklenburg after every other team had passed him up for 11 full rounds and part of the 12th.
In 1987, the whole NFL world passed on a skinny defensive back from North Dakota State until Denver picked him with the 334th pick. It was Tyrone Braxton, and I don't think he ever gained a pound, but he was a terrific safety for us for 12 years, playing on both of our world championship teams in the 1990s.
The Broncos' last pick in 1994 was our third choice in the seventh round, Boston College center Tom Nalen. Of course, Tom also started on those two Super Bowl winners and is in the Ring of Fame.
Sometimes a draft choice is a preview of the future in a way no one can imagine.
Our last choice in 2008 was named Peyton. Of course, that was not Peyton Manning of Tennessee but running back Peyton Hillis of Arkansas. Hillis was a fan favorite in his brief Denver career, but who would have imagined that we would someday have "the other Peyton."
But the draft, which began in Philadelphia as that was where the NFL headquarters were located, then moved to New York for four decades before hitting the road to Chicago last year, which again begins anew next week.
It is the perfect offseason made-for-television event and will again span three days, beginning with round one next Thursday night.
There will be great picks, questionable ones, great stories and anecdotes, and some players who turn out to be big surprises taken in later rounds.
But no NFL fans wants to miss it; this much is certain.
You cannot match the player's future with his pre-draft reputation.