Seventeen different players have worn No. 87 for the Denver Broncos, including Ring of Fame defensive end Richard Jackson and two-time Super Bowl champion wide receiver Ed McCaffrey.
But the first player to wear "87" for the Broncos truly was one of a kind.
That was wide receiver ("flanker," in those days) Lionel Taylor, who played for the Broncos from 1960-66.
I had the opportunity to drive to Taylor's New Mexico home with KUSA sports photographers Brian Olson and John Kuhrt this past Wednesday. The purpose was to do an extensive interview with Taylor that will air on "Broncos Sideline Stories with Jim Saccomano" sometime this fall.
Lionel had a lot of thoughts to share, but first some background is in order for fans either new to the Broncos or too young to have watched him in person.
Taylor is one of the best receivers in Denver history, a member of the Broncos' first Ring of Fame class and an "original" Bronco.
He finished his seven-year career here as the all-time franchise leader in receptions (543) and receiving yards (6,872), records that stood for more than 30 years.
In addition, he set a Broncos record for career touchdown receptions with 44, a mark that still stands as fifth-most today despite a 16-game schedule (Taylor's Broncos played just 14) and a far greater propensity for teams to pass the ball.
"I never liked to tackle anybody, which is why I switched from linebacker to defensive back for Chicago Bears, and then eventually became receiver. But you could hit me all day long. I really didn't mind."
After being cut by the Bears he went on to play semi-pro football as a receiver in California, and after every great game he jotted a polite, brief note to Bears owner George Halas suggesting he had made a big mistake in cutting Taylor.
"Dean Griffing, who went on to be the Broncos' fist general manager, was running a semi-pro team in Arizona, the Tucson Rattlers, and he saw me play several times, which is how I came to be a Bronco." 
And what a Bronco he became.
Taylor was the first pro player with 100 catches in a season (1961), the first to 500 for a career, and he led the American Football League in receptions in five of the first six seasons of play.
The quarterback for his first four seasons was Frank Tripucka, another future Ring of Famer whom Taylor describes as "a coach on the field. It is hard to imagine what he might have done with an outstanding offensive line."
In one game against Buffalo, Taylor caught not one but two 50-plus yard touchdown passes thrown by halfback Gene Mingo, who also made the Ring of Fame.
"Mingo had a great arm and could throw the ball 75 yards. We would often mess around passing the ball at practice, and he had a great arm. He really had an outstanding leg also. It he had truly had a coach working with his kicking he would have been really something as a kicker," he adds of the largely self-taught Mingo.
In Denver's inaugural season, the Broncos had a stirring fourth-quarter comeback in a blizzard at old Bears Stadium, rallying to tie the Buffalo Bills on a last second field goal by Mingo. 
But Taylor remembers that game with a tinge of regret.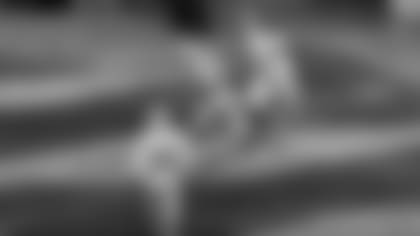 "I think of that game so often," he says. "I caught a pass and went out at the 2-yard line to kill the clock with just a few seconds left, to set up Mingo for the tying field goal. But what I always say to myself is, could I have been strong enough to push my way into the end zone for the win?
"That just stays with me."
That play shows what a competitor Taylor was, and Pittsburgh Steelers head coach Chuck Noll saw that as well. Taylor later became a coach for the Steelers teams that won back-to-back Super Bowls in the 1970s.
He talked a great deal more about everything from locker rooms to playbooks back in the day, his thinking man's philosophy of playing receiver and a pattern he followed about the horse logo on the side of his helmet.
When equipment man Ronnie Bill put the logos on the helmets, Lionel always had Ronnie cut off the horse's tail on his helmet.
There was a great deal more material than this in the interview, as Lionel Taylor was captivating in talking about the old days.
The full interview is just too extensive to run here, but it will air on "Sideline Stories" this fall. All Lionel, but when you are watching the video, don't look for a tail on his helmet!