Terrell Davis' path began in high school, like it does for most players. That is where they first make their reputation, one good enough to get a college scholarship, they hope.
In San Diego, T.D. went to Lincoln High School, which now boasts two Pro Football Hall of Fame running backs — yet neither played the position there.
The great Marcus Allen graduated from Lincoln in 1978 and Terrell followed 12 years later, in 1990.
"Allen was recruited to USC as a defensive back. He had been all-county as a quarterback and defensive back at Lincoln, but never played running back," recalled Rick Smith, the now-retired PR director of the Chargers and Rams. "Lincoln was one of those schools with declining enrollment, and they might have only had 35 players on the team. At USC, [then-head coach] John Robinson knew what he had in Allen. He [Allen] caddied for Charles White for two years, White won the Heisman, then Marcus stepped up to play."
Allen also won the Heisman Trophy playing for the Trojans, whom Smith notes "always had the best players in the state, literally for 50-60 years, most notably at running back."
For Terrell Davis, the path was even more twisted. And it did not involve starring at "Tailback U," as USC had come to be known.
"He started out as a [nose]guard at Lincoln," Smith points out, "and he really played all over the place, including some defensive tackle — every place but running back, it seemed. Terrell was a real good football player, that was obvious, but they certainly did not play him as a full-time running back."
Smith notes, "With Lincoln maybe not having as many players as some other schools, they had to use their better guys all over the place."
A great athlete, T.D.'s potential earned him a spot playing at Long Beach State under former NFL coach George Allen.
Things were going well for Terrell, until the school dropped football.
"I was walking across campus to class one day," Davis remembers, "and another student mentioned it was too bad we did not have a football team any more. They had just made the decision and I had not heard it yet. Needless to say, I was shocked."
Davis had to scramble for a place to play. He wound up at Georgia, where he was just one of a stable of backs.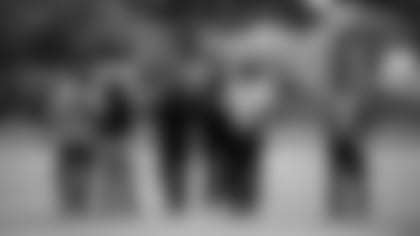 He had gone from being a lineman at a high school with a declining enrollment to a running back at a state school that had just dropped football, to being one of a cadre of backs at Georgia.
But you never know about the future.
Broncos head coach Mike Shanahan and offensive coordinator Gary Kubiak saw something on film they liked about Davis, took a flier on him in the draft and the rest was history.
Now the two Super Bowl MVPs are in the Pro Football Hall of Fame — Allen in the class of 2003 and Davis set for induction later in 2017.
Allen earned his award in Super Bowl XVIII when he rushed for 191 yards, including his legendary 74-yard touchdown, in the Los Angeles Raiders' victory over Washington.
T.D., arguably the best postseason running back in NFL history, was named MVP of Super Bowl XXXII with a 157-yard, three-touchdown performance in Denver's win over the Packers in Davis' hometown.
It is most remarkable for two players from the same high school to both become Super Bowl MVPs and be elected to the Pro Football Hall of Fame.
But it is much more so when one considers that neither was considered a starting running back for much of his high school career.
It just shows what happens when talent, preparation and opportunity come together, as they did for Lincoln High School graduates Marcus Allen and Terrell Davis.