There is no question that the Mannings are the first family of football, and that Peyton Manning is the crown prince.
But even with all the honors and tributes Peyton has accumulated for a Super Bowl 50 victory and for a lifetime of absolute achievement, so too is Archie Manning being honored once again, this time by the National Football Foundation.
The NFF and College Football Hall of Fame have announced that Archie Manning has been named the 2016 recipient of the NFF Gold Medal in recognition of his exceptional leadership and unblemished reputation.
He will be honored for his achievements and contributions during the 59th NFF Annual Awards Dinner Dec. 6 at the Waldorf Astoria in New York City.
NFF President and CEO Steve Hatchell, whom I have known since he was cutting his teeth as a sports information assistant at the University of Colorado in the early 1970s, said, "Archie Manning became an icon as one of the greatest players to ever set foot on the gridiron, and he subsequently used his standing to become one of the game's greatest ambassadors.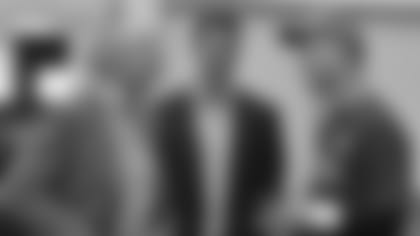 "The entire football community has been blessed by his enormous contributions, and we take great pride in having him as our chairman," Hatchell continued.
Manning became NFF chairman in 2007 and continues in that role today.
While Broncos fans are well aware of the many civic contribution made by Peyton, Archie oversaw the launch of the NFF Leadership Hall of Fame, which has helped raise and distribute millions of dollars for scholarships, programs and instruction. Currently, more than $1.3 million each year is distributed, making this one of the leading football charities nationwide.
"Archie has had an extraordinary work ethic, and his focus has always been on others and making those around him better," added NFF Awards Chairman Jack Ford.
Archie Manning will be the 63rd Gold Medal recipient, following such notables as former President Dwight D. Eisenhower, the first recipient in 1958.
Since then six other presidents have received the award, along with four generals, three admirals, a Supreme Court justice, John Wayne and Jackie Robinson.
The National Football Foundation began in 1947 with early leadership from General Douglas MacArthur, legendary Army coach Earl "Red" Blaik and journalist Grantland Rice.
With 774 colleges and universities and 15,585 high schools playing amateur football, the NFF is a non-profit organization that runs programs designed to use the power of amateur football in developing scholarship, citizenship and athletic achievement in young people.
Also honored at the Dec. 6 banquet will be Marlin Briscoe of the University of Nebraska-Omaha. While with the Denver Broncos, he became the first African-American quarterback in pro football. Briscoe will be honored with induction into the College Football Hall of Fame that night.