It was a great honor to be asked to join with our great fans and Senior Digital Reporter Andrew Mason in selecting the Denver Broncos' Top 100 Team.
Some of the selections were obvious, some not so much so.
But one of the elements of the task that I found particularly enjoyable was being able to go back in time and look once again at some great careers of bygone years.
One such career belonged to Lionel Taylor, now retired and living the good life in New Mexico.
I recently got the chance to visit with Lionel, who had so many accomplishments that he is rightfully proud of, yet he downplays them compared to accomplishments of today's players.
But I think that rather than downplay the marks he set, they actually should be elevated based on how the game has changed.
Today's game features offenses heavier on passing than at any other time in football history, and in the era of the early 1960s, pro football was more of a running game.
Taylor was one of the "original Broncos" in 1960, and he had incredible reception totals that not only were records then, but lasted for about 40 years despite the great development in the receiving game.
He finished his seven-year Broncos career (1960-66) as the franchise's all-time leader in receptions (543) and receiving yards (6,872), records he held until 1999.
That is an astonishing length of time for receiving records to last in pro football.
"I could catch the ball, frankly, and I had one of the great quarterbacks of our era throwing to me in Frank Tripucka [like Taylor, a Ring of Famer and Top 100 Team selectee]. Frank put the ball where it was supposed to be all the time."
Taylor set the Broncos' franchise record for career touchdown receptions with 44, which also wasn't broken until decades later.
Even though he did not join the team until the third game of the 1960 season, he caught 92 passes that year. He recalls that in his first game, at Buffalo, Tripucka was still uncertain of his name, and occasionally said such things in the huddle as, "Hey, can you run that route again?" without a name attached.
The following year he became the first receiver to have 100 catches in a single season and was regarded by many as having the best hands in pro football. That 1961 mark lasted until 2000 for the Broncos.
He led the American Football League in receptions for five of the first six years in league history, and in each of those years his totals led all players in the NFL as well.
Remarkably, he never caught fewer than 76 passes in a season over those first six years, and he averaged 84.7 catches per year from 1960-65 for the highest six-year total in pro football history at that time.
Taylor was named All-AFL in 1960, 1961 and 1965.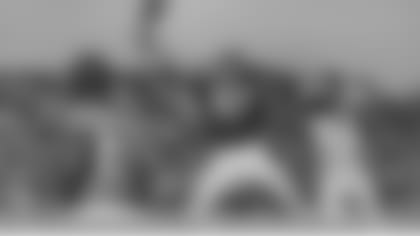 Remarkably he entered pro football as a linebacker with the Chicago Bears in 1959 before joining the Bronco as a wide receiver in 1960.
Consider that for a moment: He went from being a backup linebacker to the most prolific pass catcher in pro football one year later.
"At that time teams sent out little postcards to college players, asking if they wished to play pro football," Taylor recalls. "I got mine from the Bears and put down that I could play every position. We all just worked hard and I wanted any chance I could get.
"Life takes some strange turns, and I was so happy to get my chance to play receiver for the Broncos. I'll tell you, if we had a few more blockers for Tripucka, there is no telling how good we could have been."
There is no argument over how good Lionel Taylor was, that's for sure.
And he had a very quirky habit that is shown on the photos in his New Mexico home.
"We had that bucking bronco logo at that time, and for whatever reason, I don't even know why, I liked it when the equipment guys cut the tail off my horse before they put the decal on the helmet," he said. "I have no idea why I started doing that, but Ronnie Bill [the late assistant equipment man for the Broncos] always obliged. He took care of my helmet personally."
Taylor may have played without a tail on his helmet horse logo (the team just used uniform numbers on the helmets in 1960-61), but he had the best hands in football and set receiving records that lasted for the better part of four decades.
One of the members of the initial Ring of Fame class, his presence on this list was obvious, but it is still worth a read to go back and check his actual records.
Considering that he was a former linebacker and that the passing game was just then coming into modern vogue, Taylor's accomplishments were remarkable then and still stand as among the most accomplished in the history of pro football.