John Elway was acquired by trade with the Baltimore Colts on May 2, 1983, and that not only was the beginning of the greatest era in Denver Broncos history and one of the greatest like periods in NFL annals, but it also began a regional frenzy in Denver and Colorado that continues unabated to this day.
Everyone reading this agrees that the trade for John Elway was monumental in Broncos and Denver history, but I submit that his impact is even bigger than that.
I once told him that he is one of the few individuals in the category of beyond good or even merely great, but that he is in the small group referred most properly to as "legend."
The 1983 draft had taken place and all was calm, except I knew that Broncos owner Edgar Kaiser Jr. was working on a trade to bring Elway to Denver.
It has been well documented that this move eventually happened one week after the draft, and Denver has never been the same in terms of media attention, either locally or nationally.
We held our first Elway press conference on Monday night, right after he agreed to terms.
We had to do it immediately because some stories are so big they just cannot be held, but then we did another one the next day at 1:30 in the afternoon, so the vast numbers of media who could not make it Monday night could be accommodated.
The two newspapers, The Denver Post and Rocky Mountain News, both began running daily stories on every aspect of Elway, and the local television stations followed suit.
His first official throw as a Bronco came at the Air Force Academy's indoor field house, as a typical spring snowstorm engulfed Denver on the eve of his first minicamp.
When he reported to training camp, his first stop was in Denver for his physical, and the Associated Press sent out a "bulletin" that read, simply, "John Elway weighed in today at 217 pounds."
That was it, no explanation of who he was, where this happened, or anything else. That was it, a bulletin like that often reserved for major heads of state.
He casually mentioned that he needed a haircut, and all the television stations said they would follow him to whatever tonsorial parlor he chose, but not looking to be part of a circus, he said he would defer the haircut until he got to Greeley.
When he did arrive in Greeley later that day each paper had begun "The Elway Watch" in their sports sections, a daily following of every aspect of his life, including checking his tray after meals to see what he had and if he consumed it all.
On one occasion the two papers agreed that he did not finish his vegetables, but one said he chose beans, and the other said he had peas left on his plate.
Really. This really happened.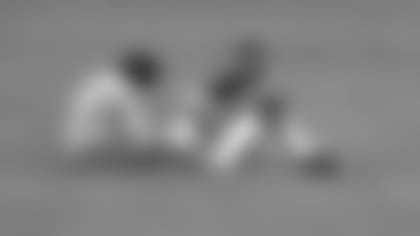 Already begun was the fact that virtually every media phone call I took for 16 years included, and usually began with, "Can we get John Elway?", "Any chance of Elway?" or a version of that.
I said no a lot over those 16 years.
The Denver media went to war, and John Elway was the battlefield.
It was in Greeley after a week or so when he casually mentioned to me that he really needed a haircut, the one he never got in Denver, but he did not was the press following him.
So I said I would take care of it. I got a Greeley barber to agree to cut John's hair at night, after hours, in the barber's home, and I arranged for a Greeley policeman to drive John there in a squad car, after team meetings.
By then the day was done for the press, but they were collectively shocked to see him the newly shorn Elway walk onto the practice field the following morning.
The networks certainly always requested Elway, even to the point of sometimes saying they were coming in to do a story on the defense, "But we would like to talk to John to get his take on the defense."
To his incredible credit, John was as polite and cooperative as imaginable.
Sports Illustrated was in its heyday as the major national magazine for sports at that time, and they assigned writer and Boulder resident Doug Looney to spend a week with us in Greeley, and John was on the cover of SI for the first game of his career — in preseason vs. the Seahawks in Denver.
Literally, fans oohed and aahed when he trotted onto the field.
Camp ended and we returned to Denver, but Elway Mania continued nonstop, and the media wars in Denver were now well established at all levels.
I have always felt that the number of radio sports talk shows in Denver is a total way beyond what is logical for the size of the city, but the demand or Elway talk was insatiable, in my opinion responsible for the creation not just of shows, but entire stations that did nothing but talk sports (Broncos generally, and Elway specifically).
It was all Elway, all the time.
During his career we played two American Bowl games in Tokyo, and the Japanese press was ravenous in their coverage and pursuit. I could not read the content, but I could certainly tell by the pictures that he was front and center.
In many instances the only word of English I could understand from the Japanese was "Elway, Elway, Elway."
He had an autograph session as a Tokyo sporting goods store, and they had to block off the streets two blocks away in every direction.
The local press had begun to come to our facility in high numbers every day — and this has continued to the present — and a Denver reporter once told me, "I really don't care if Elway talks to us today or not. But if I leave, and he talks to the press after I have left and I miss it, I am going to get fired. So I cannot leave."
And they did not leave. They stayed, and their numbers multiplied, especially as Elway's career escalated to the highest point of what had been predicted for him when he was at Stanford.
There are way more stories than those, each flooding into my memory as one just reminds me of another.
But there is no question that the influence of John Elway on the Broncos, the city and the region, both in terms of sport and American society, has been overwhelming and continues to this day.