With the Scouting Combine set to get underway next week, there is enormous interest in the 300 plus players that will be in attendance and how they perform in their first steps toward NFL careers after completing their playing days in college.
Our focus today is on just one of these young men, wide receiver Jalen Robinette, who is the first player from the Air Force Academy to be invited to the Combine in at least 10 years.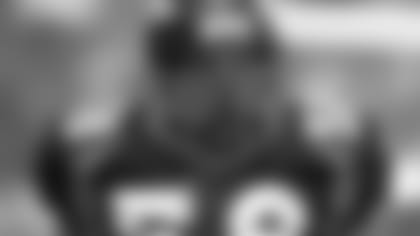 One of the few Air Force cadets to have competed at the Combine also ended up being drafted by the Broncos. That would be Steve Russ, a linebacker selected in the seventh round of the 1995 NFL Draft who is also the only cadet the Broncos have ever drafted.
Russ went to the academy as a talented but undersized (by pro standards) linebacker, but over four years he built himself up from 195 pounds to a rock-solid 245. Following his college career, he was chosen to play in both the Blue-Gray Football Classic and the East-West Shrine Game, where he captured the attention of pro scouts.
"I had never given any thought to playing pro football," Russ said from his office at the Falcons football complex, "but I always had confidence in my ability to play, and that was validated when I was around the other players at the two all-star games."
Denver selected Russ with their first of two seventh-round picks. He went on to play for the Broncos from 1997-2000 and now coaches the Falcons as an assistant head coach/defensive coordinator/defensive backs coach.
He is part of a rare group of players who have a degree from a military academy and also two Super Bowl rings, which includes one other Air Force alumnus.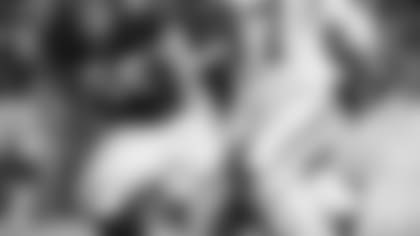 He takes a backseat to fellow Falcon Chad Hennings in this department, as Hennings won three Super Bowls with the Cowboys. In the other military schools, Russ is tied with Hall of Fame quarterback Roger Staubach, who won the Heisman Trophy as a junior at Navy and later led the Cowboys to victories in Super Bowls VI and XII.
Time will tell how Robinette does. Everyone at the Air Force Academy speaks very highly of Robinette, and I know he will represent himself and his school well as he gets measured, weighed, prodded, poked and interviewed at the Combine in Indianapolis.
He is the beneficiary of a new Department of Defense rule that allows players from military academies to play pro sports immediately, and serve out their military commitments in the reserves. As this rule is more liberal than the immediate active duty rule of the past (Staubach, for example, began his NFL career after five years of active duty as a Naval officer), we likely will see more fine athletes from military schools in future combines.