It is always a pleasure to reunite with a Denver Broncos alumnus, but it will be particularly gratifying for me to do so next Tuesday in New York City.
For on that day, at the annual National Football Foundation banquet, former Broncos quarterback Marlin Briscoe will be inducted into the College Football Hall of Fame for his great college career at the University of Nebraska-Omaha.
On the surface, this honor sounds like just another college quarterback getting his due, but Briscoe has a unique place in history as the first African-American quarterback to start a pro-football game.
I was in the stands as a young season ticket holder when he started and led Denver to a 10-7 win over the Cincinnati Bengals on Oct. 6, 1968 and will be proud to be in the audience when he receives his ring on Dec. 6.
Back in 1968, head coach Lou Saban was in the second season of his five-year career in Denver and was bringing the Broncos to respectability for the first time in franchise history.  In his first year he had purged the roster of what he deemed veteran dead weight and went with an unheard of 21 rookies on the final roster.
When the 1968 draft came, he really liked the looks of Briscoe, who had excelled as a quarterback at Nebraska-Omaha but was just 5-11 and 178 pounds.  Saban thought he had the makings of an outstanding pro wide receiver and drafted him as such in the 14th round, the 357th selection in the draft.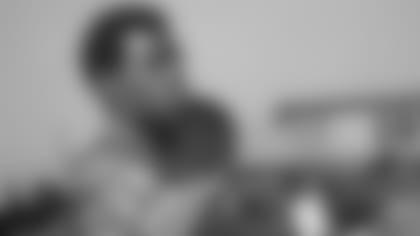 But the 1968 Broncos were very much a work in progress on offense, with a shaky offensive line and instability at quarterback.  Four different players started at quarterback that year, as the team moved from opening day starter John McCormick, who was injured on opening day, to backup Jim LeClair, who also was injured in Week 3.
The Broncos then brought in Briscoe, who started and won the Week 4 game as a spot starter against the Bengals.
The following week, regular starter Steve Tensi came back from a shoulder injury and started the next six games before offensive line woes resulted in Tensi injuring his shoulder again. Briscoe would return and start the last five games of the season.
Briscoe starting did not seem in any way groundbreaking because of the color of his skin. He was just the starter; He had a lot of athletic ability and a very strong arm, and he just played. That was just the way it should have been, of course, but I am delighted that Broncos fans treated it that way.
The following year he moved on to Buffalo, where he played three seasons with the Bills. Briscoe also played for Miami, San Diego, Detroit and New England in an outstanding nine-year AFL and NFL career.
Briscoe was a wide receiver after his initial season in Denver, and Saban's opinion of his athleticism proved accurate as he made the Pro Bowl and was All-Pro in 1970 with Buffalo. He would later earn two Super Bowl championship rings with the Miami Dolphins in Super Bowls VII and VIII. He had 224 career receptions for 3,537 yards and 30 touchdowns as a receiver.
Back in 1968, the most notable fact was that he was the first black man to start at quarterback and he established a Denver rookie record of 14 touchdown passes in the process.
He passed for 1,589 yards and added 308 on the ground and was 2-3 as a starter at quarterback.  He completed just 41.5 percent of his passes, but offensive line problems that had him running for his life was as big a factor as his slight stature.
Briscoe made pro football history with the Denver Broncos, earned two Super Bowl rings with the Miami Dolphins, and next week the winding path of life will see him receive yet another ring, this one from the College Football Hall of Fame for his brilliant college career.