The Denver Broncos kicked off the most unusual NFL season that any of us has ever seen on "Monday Night Football," dropping a very tough 16-14 contest to the Tennessee Titans.
For me, this game triggered a slew of personal memories, as I was fortunate to watch it on-site due to the generosity of the Broncos, especially Chief Commercial Officer Mac Freeman and Senior Director of Event Presentation & Production Russ Jenisch.
I was given two tickets for the opening game, and that was significant for me in that this was my 973rd game in person (as employee and season ticket holder, home and away, as well as playoff games, Super Bowls, games in London, Tokyo twice, Barcelona, Berlin, Mexico City and Sydney).
So it was tremendous to be able to attend.
My wife, who herself has seen almost every home game since 1971, opted not to attend, so I asked my very good friend from high school days, Charlie Saulino, to come with me.
I have seen every home opener since and including 1965 — except the one in 1971, when I was away from Denver on active duty in the United States Army — and Charlie has never missed one in that time frame.
So there we were, sitting in the stands, just like when we started going to Broncos games as juniors in high school back in 1964.
And it was different, and kind of surreal for me, after having spent my lengthy career in press boxes home and away.
The Colorado governor allowed the Broncos to do a "test run" of about 500 fans (mostly players' families and team staff) at Empower Field at Mile High, and sitting in the stands again definitely opened a floodgate of memories for me.
My first regular-season home opener was back on Sept. 19, 1965, when the Broncos dropped a 30-15 game against Jack Kemp and the Bills.
Compared to the 500 souls watching the game against the Titans, there was a sellout crowd of 30,682 on that Sunday afternoon against the Bills, but it was at old Bears Stadium, even before the expansion and 1969 name change to Mile High Stadium had begun.
Our first seats were in the old east stands, literally a wooden erector set of seating in which you could look down from any seat and see the earth. If someone dropped one's car keys and they slipped to the ground, you had to walk (and crawl) under the east stands when the game ended before beginning the drive home.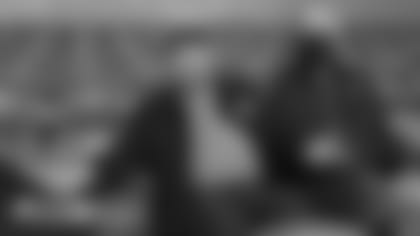 If you can imagine this, when the Broncos began, being owned by Rocky Mountain Empire Sports, which also owned the minor league Denver Bears, the Broncos had the same ticket pricing structure as the minor league baseball team.
For me, that meant that a "youth" ticket was available to anyone 18 and younger, so my first Broncos season ticket, for seven home games, cost 11 dollars and 70 cents. That's not a misprint. I spent $11.70 for my first season ticket.
When I pulled into the parking lot for Monday's game against the Titans and I saw the ticket office, I was reminded of my first game and when I bought my first ticket. My first ticket was purchased in a shack outside the stadium. A shack.
Times have changed a lot.
And of course, the present Tennessee Titans were playing in the American Football League in those days, and I was reminded that they were the Houston Oilers back in the 1960s.
They were two-time AFL champions and were led by quarterback George Blanda, as opposed to the current squad paced about six decades later by Ryan Tannehill.
The stadium itself is one of the finest in the NFL, absolutely state of the art.
It was surreal to sit there with my friend and realize that very likely there was no other set of two individuals, and likely not even one person, in Empower Field at Mile High who ever watched the Broncos play in the 1960s.
For that matter, there likely was no one present who might have watched the Broncos play games at the University of Denver's Hilltop Stadium, where the Broncos played 13 games in the early years, due to the minor league Bears having a schedule priority over the Broncos at Bears Stadium, which of course now seems insane.
But some things have not changed.
Specialists abound in pro football now, but there are still just 11 players on the field at a given time, and blocking and tackling remain fundamental for just about everyone on the field.
Of course, the stands were relatively empty against the Titans, but fans had just as much passion and still stomped their feet to make as much noise as possible. An individual fan still makes as much noise as one can make, and an incomplete pass by Tannehill was still "IN-COM-PLETE," continuing a Denver tradition that goes on despite the numbers in attendance.
The scoreboard is spectacular and offers a great presentation of the game and surrounding hoopla — what a great job everyone did preparing the audio and video. But of course, the oldest scoreboard ever at Broncos games was primitive and required someone inside the board to put up the scores.
A few of us still remember when the overly enthusiastic employee took down "San Diego" and put up "Hot Dogs" for the name of the visiting team.
That was a long time ago, but I had a clear view of where it would have been, separated only by the element of time.
The city has grown and changed a lot since then also. Back in 1965, the Broncos were Denver's only major league sports franchise, the Bears were a minor league baseball team and we did not have pro basketball or hockey.
Growth is good, but it sure felt different.
It was good to be in the stands again, but a lifetime in press boxes near and far has made me a fan who watches with what became a necessary dispassionate attitude, and I found myself cheering more internally than externally against the Titans.
But then or now, "Go Broncos" is a chant that never goes away.