ENGLEWOOD, Colo. -- A day after the Broncos graduated to 8-3 on the season, the team's 13-player rookie class had its own graduation.
Led by the team's Player Development Coordinator Jerry Butler, the Rookie Success Program is a nine-week class that assists rookies with their transition into the NFL. On Monday, Butler and the rookies met for their final session. Afterward, the players were handed official certificates signed by Head Coach John Fox and the NFL's Vice President of Player Engagement, Troy Vincent.
"When they got their certificates, they were very excited about it and very eager to take a picture," Butler smiled. "It's all about learning and having fun. I think we've had a very good group of guys that were very engaged in the process and were open in the discussion. I think they walk away with advice that will help them make better decisions in their own life that will yield positive consequences."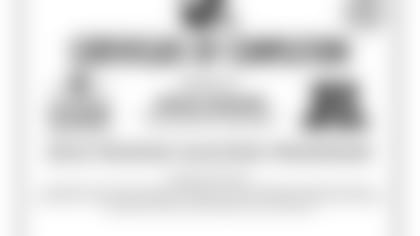 The class was held once a week on Monday mornings before the rest of the team had to report to the facility. It covered a variety of topics, ranging from decision-making skills and evaluating consequences to managing finances and proper uses of social media.
"He just gave us an overview of stuff we needed to know," defensive lineman Malik Jackson said. "We all had a lot of fun. We talked and learned a lot. I liked it. You just learned a lot about life in the NFL."
What made the class more beneficial and enjoyable for the group was the interaction that took place during the sessions. The players talked about how to handle certain situations that might arise and recounted tales from their own lives that related to the subjects.
"We laughed a lot, told stories -- everybody wanted to share their experience," cornerback Omar Bolden said. "A lot of us learned from others, as well. It wasn't like a class at all."
For Jackson, knowing his peers had similar points of view was reassuring.
"It was cool because we all got engaged," Jackson said. "We talked about parents, having money, people asking you for money. You got to hear a lot of guys' points of view as far as how stuff went. We were all pretty much the same as far as how we would handle stuff like that. It was cool just to see the guys, saying if they were in the same situation they think the same as you. So you know you're not alone."
As the classmates brought discussions from the classroom to the locker room, some of the alumni told the rookies about their experiences with Butler and the Rookie Success Program.
"They tell them, 'Oh you're going like it. You'll hear this and that, don't forget this point or that point,'" Butler said. "So it's neat to see last year's class get engaged with this year's class."
Last year's graduating class included players like Von Miller, Rahim Moore, Orlando Franklin and Chris Harris. Their development on and off the field has been a fine example of what the program can do.
"It's amazing to see the maturity level that takes place from one class to the second-year guys that are now playing key roles in our weekly wins," Butler said.
The Broncos' 13 rookies account for nearly 20 percent of the total roster, including players on injured reserve and practice squad. It's a large chunk of the team, so it's important for them to continue to grow - both mentally and physically - in order for the organization to reach its goals in the future.
Each rookie is with the team because they have a defined set of skills. Butler is ensuring that their mentality can only help the talent they already possess.
"It's kind of a team within a team," Butler said. "It's a rookie class that's going to move forward within our team. We're developing their talents and their skill sets and we don't want anything to get in the way of the opportunity that they might have and the opportunity that we might have as a team. We're all on each other's timeline right now and success is our primary goal."