ENGLEWOOD, Colo. — The clock ticked down and the celebration inched closer for Justin Simmons.
In March, his alma mater Martin County High School pushed past Ponte Vedra in the second half of the 6A high school state championship game in Florida. A late rally threatened Martin County's lead, but the dwindling seconds combined with a two-possession gap all but ensured victory. For the first time in more than 40 years, Martin County was going to be state champs.
Simmons, one of Martin County's most beloved alumni and a former Tigers basketball player himself, had not been able to go watch in person like he had for the state semifinals, so that evening he watched the only way he could: by live streaming the game on his phone.
When Ponte Vedra's last-ditch three-point attempt with 0.7 seconds on the clock missed the mark and the buzzer sounded, the Tigers' excitement took them back up the court. Some sprinted the full length. Some huddled near center court.
The former Tiger took his excitement to Twitter.
"STATE CHAMPS!!! You don't gotta like it but you gotta respect it. RING THEM BOYS!!" he tweeted shortly after the game.
Simmons, it turned out, had plans to "RING THEM" himself. To help out the school and to give the team a set of rings beyond their imagination, the Broncos' All-Pro safety told Martin County that he and his wife would put up whatever funds needed to give the students the jewelry a championship team deserves.
To him, it represented what it was: a celebration of a team coming together to achieve something bigger than themselves, something that hadn't been done in Martin County since 1979.
To the athletes, the coaches and the school, though, it was all that and more.
"It's a cool thing that he did," Martin County head coach John Leon says, "but he's just such a bigger person than buying our team rings."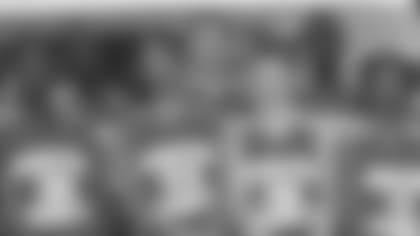 In reminiscing over his salad days in basketball, Justin Simmons' glasses are no longer rose-colored.
"I was watching a few years ago — I had some old DVDs of some film when I played — and I definitely thought I was way better than I was," Simmons says. "That's for sure."
He might be underselling his skills. As a senior, he averaged 15 points and 11 rebounds per game, roaming the frontcourt as a 6-foot-2 forward/center. He'd received a scholarship to play Division-I football at Boston College by that point, and four years later, his vertical jump would be measured at 40 inches — the best at his position in his NFL Draft class.
"We were a small team," Leon says. "He'd say, 'Coach, I'll play center and just get rebounds.' He was that guy that was like, 'Just tell me what to do.' Asking questions, asking what to do. Of course his talent was immense and he could have scored 40 if he wanted to, but I think him wanting the team to do well — I think he played center, played some forward. Most of it was blocking shots, getting rebounds, getting some dunks."
Unsurprisingly, Simmons was a glue guy for the team. Martin County assistant coach Alton Edwards, a former teammate of Simmons' in high school and middle school, says he could play any position that was asked of him.
"Probably one of the most competitive persons I ever played with," Edwards says. "He just always competed — practice, games, off the court, in the film room — he just competed everywhere. So I mean, he took the team's intensity to another level."
In Simmons' senior season, Martin County made its deepest run in the state tournament since he'd been part of the team. They won their first two games by an average of 27 points. But there was heartbreak in the state semifinals, and the Tigers lost by one point. Simmons took the final shot at the buzzer.
"Our point guard had the ball and he got doubled right away, so he passed it to me," Simmons recalls. "I dribbled up the court and went to go shoot it and I missed. So that was tough. The athlete that you are, you don't care how you miss, what it looked like, how tough of a shot it was. You miss and you had a chance to win … so I was just bawling crying. I was pissed it was over. I was mad that I missed."
A decade later, it's just as memorable to Leon, who was Martin County's coach then, too.
"It was his last game," Leon says. "I remember it; he just broke down. Me and him were walking off the court crying together. … This kid had already signed with Boston College, so everyone knew he was a big-time football player. But him losing, it hurt that bad. It was one of those moments, I will never forget it. It meant that much to him. …
"Definitely, that was his motivation — his teammates, me as a coach. It was the school. He felt like he let everyone down, you know? That was a cool thing, just to witness a guy of that caliber, and it meant so much."
To date, Simmons and his former coach are still tight. Simmons goes to games and camps when he can, and the school makes sure he has a seat behind the bench
"That's my guy," Simmons says. "He's a big reason I'm so successful. Obviously in my career, but just in life. I really appreciate his insight and his trust to kind of hand me the keys a lot of the time while we were playing basketball. One of the reasons why I like to think I'm a good problem-solver when I'm playing safety back there is I can figure things out — because Coach Leon made me figure things out when I was in high school. That just helped me a lot. … I love him like a dad. He's been so inspirational for me."
That Martin County's most prolific athlete may also be its most prolific local also factors into all of this.
He departed Stuart, his hometown, starting in 2012 for college in Boston and then moving on in 2016 for the NFL in Denver, but he's never truly left the area. His wife, Taryn, also graduated from Martin County, so they come back for extended periods annually.
Beyond the Simmons' athletic interests, they also have impressive profiles in the community. Justin and Taryn run the Justin Simmons Foundation, where they aim to make an impact on the lives of children, and that includes events in Stuart.
"Everyone looks up to him because he's what we all want to become later on in life," former Martin County student Ryan Davis says. "That's our dream, to be what he is and where he is. To see how he did it — he did it the good way, and he's always been such a good guy and always gave back to everybody — it just shows an example. He gives us an example of what we need to do, the work we need to put in, and if we do end up making it far, to give back to those who work for us and who put in the time for us."
Simmons' athletic successes make him something of an ideal for student-athletes like Davis, who was a senior on Martin County's championship team and graduated in May. But it's what Simmons does on top of that that makes him idolized.
"He's a professional athlete, so everybody around here is obsessed with Justin," Edwards says. "It's been like that since probably in 12th grade. He basically became a bigger-than-life figure around here. But you would never know it talking to Justin. He's still stayed the same person as he is. But if you come around Martin County and say Justin Simmons' name, everybody lights up. He's basically the Martin County LeBron James."
Simmons doesn't want to necessarily be seen as anything that big, though.
"That's where I'm from, you know?" Simmons says. "… I want it to be normal that I'm being seen in my hometown. Because I was able to do something special, in terms of making it to the NFL, and obviously the percentages there aren't always in your favor. But I want to be there. I want to be seen because I went to the same schools, had the same academic classes, played on the same sports teams — and it's possible to be from where we're from and do something big and to chase your dreams and chase your goals. You can't do it alone, and so that's part of why Taryn and I love to do our charitable work. We want to be assets to help kids reach their goals, their dreams. Anything they have that they want to accomplish."
But if he is going to be seen as the Martin County LeBron James anyway, it makes sense that he'd give an assist on the rings. He and Taryn talked it over, and shortly after the championship victory, the wheels were set in motion. Edwards estimates he heard about it within half an hour of the game.
"We were just like, 'How cool would it be to get these guys something [in honor of something] that hasn't been done at our school for a while now, to win a state championship?'" Simmons says.
Typically in this situation, the school would work with boosters, community members and/or sponsors to gather resources for championship rings. Instead, they didn't have to worry about that.
"Oh yeah, absolutely," says Mark Cowley, Martin County's former athletic director. "… Justin stepping up like this saved us a bunch of money."
Simmons even encouraged them to go further than they would have: "Justin, he said, 'Bling 'em up, baby. Let's get them done the right way,'" Cowley says.
In June, about three months after the game, the team gathered at the restaurant Fresh Catch to meet one last time as a team and to get their rings.
"We knew it was our last time together as a team," Davis says. "… It was just a special moment to cap off the season. … It just showed all the work finally paid off with the rings."
And when Coach Leon says that he thinks "it's a legacy thing," he's talking about the rings' importance for the kids, but he could very well be referring to Simmons' decision.
"That's a lifelong memory that they're going to be able to share with their grandkids," Leon says. "… The rings mean just a place in history, and the fact that Justin did that for us definitely just adds to the family environment that we have here — community. We had a parade. We had grandparents, we had teammates from the '72 and '74 team come out, things like that. So I think Justin's a part of that, that whole family."
After the 2019 season, Justin Simmons took us on a tour through his his hometown of Stuart, Florida, including his grandparents' home, his high school alma mater and a sandwich shop he visited often as a kid. Follow along as he showed us family photos from his youth, photos from his high school yearbooks and more.