ENGLEWOOD, Colo. —** Few players wear their emotions on their sleeves to the degree that Ravens WR Steve Smith Sr. does, and even fewer can back it up with more exceptional production than him. This will be Smith's final NFL season—as he announced in August—and he will kick it off going against players who know him well.
Safety Darian Stewart has the most recent experience going against Smith, playing him on a nearly daily basis in practice when the two were Ravens teammates last year.
"Steve is a big competitor and you just have to play ball with him," Stewart said. "That's as simple as it gets: You just have to play ball. When you line up across from him, just know that you're going to have to strap (up) every time."
With that competition, Stewart has experienced his fair share of Smith's fiery passion and trash talk.
"Steve's a little interesting," Stewart said, smiling. "He'll try to get them off their game but we've got vets in the room so they know that."
Cornerbacks Chris Harris Jr. and Aqib Talib have each played Smith in their career, but Talib's experience is more extensive than perhaps any cornerback active today considering the NFC South battles the two had when Talib was a Buccaneer and Smith a Panther.
"I anticipate I'll go against both guys," Smith said Wednesday. "Talib, he's a good player. We've had our battles, but there's no animosity. It is high-competitive juices going."
Harris has only faced Smith once, in 2012 when Harris was in his second year and Smith was in his 12th. Harris did not allow Smith to make a catch in his coverage during the Broncos' 36-14 romp over Carolina.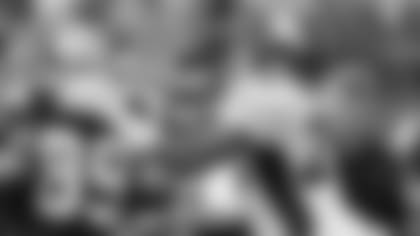 "He's still out there punking people, just manhandling those other corners," Harris said. "It's pretty amazing to do that for so long."
Smith is also a player who's caught Defensive Coordinator Wade Phillips' eye. As a defensive coordinator or a head coach, Phillips has faced Smith on multiple occasions going back to 2002 when Phillips was the Falcons' defensive coordinator.
"He's obviously fast, but he's going to go up for the ball, he's going to go after the ball, he can really run with it after he catches it," Phillips said. "He's been a great player for a long time and everybody realizes that."