DENVER —While the Broncos are in the process of installing a new playbook courtesy of a new coaching staff, they're also supporting the installation of a character playbook for students courtesy of the NFL, Verizon, EverFi and Mile High United Way.
Linebacker Quentin Gause spent his Saturday morning at Sports Authority Field at Mile High hosting a panel of four students from the Denver Public Schools, the Aurora Public Schools and the Denver Broncos Boys & Girls Club. The youth panel tackled a variety of topics and issues that students from middle school through high school face on a daily basis, both at school and at home.
The NFL Character Playbook is a digital learning initiative meant to teach students skills that will help them cultivate character and maintain healthy relationships throughout their lives. It's comprised of six modules that cover key concepts around positive character development, social-emotional learning and building healthy relationships.
Seventh grader Grace Dow, eighth grader Ciara Andrews and juniors Kirsten Washington and Stephan Galloway were the student representatives on the panel, and they navigated an incredibly thoughtful discussion on the issues students face and how the playbook has taught them how to handle each one as it arises.
Each student noted a different issue as the biggest challenge he or she faces in their daily lives ranging from marijuana use to violence to class stereotypes. However, they were all in agreement with the importance of the playbook and its ability to teach them the best practices for overcoming these obstacles.
"There are a lot of small things that you overlook," Andrews said during the panel. "[The playbook] helps you see little areas that you really have a choice in what you say and how you react to it."
In their opinion, the playbook itself doesn't solve all of their problems, just like an NFL playbook isn't the automatic answer for how to score a touchdown. Rather, the character playbook offers suggestions or different options for handling certain situations.
These students have already seen the benefits of the program since it began. Most of them noted it as a nice reminder of how to treat others, while some had specific examples of when they used the curriculum in real life.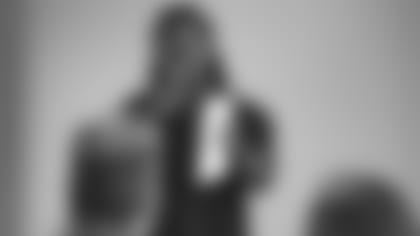 For Gause, the playbook was eye-opening. The linebacker explored the curriculum Friday night in preparation for this panel. The result? He wished he had had something similar when he was their age and as he continued to college.
"When I was growing up, the technology was just developing. I feel like if they had this it would help with the little issues and nitty-gritty arguments," Gause said. "Kids would learn how to respond and not just jump into a fight. They could learn how to talk to people. Everybody feels like they have something against them in high school and middle school, and that makes communication one of the hardest things to do."
The playbook isn't just overarching themes and issues. Rather, it provides specific scenarios that occur in middle and high school and gives options for how different types of people can address them. Gause emphasized the playbook's "modernization" so that these kids can address issues such as cyberbullying and communication via text messages. 
"It can definitely help a lot of people solve these issues, especially the cyberbullying and the bullying in schools," Gause said. "I really feel like it's helping them."