MMA fighter Holly Holm has been a Broncos fan for as long as she can remember and even was present at John Elway's final regular-season game at Mile High in 1998. Check out who her favorite Bronco is, what she does to get amped before a fight and which Bronco could do damage in the octagon.
When did you become a fan of the Broncos?
"My parents were always fans of the Broncos, so I just kind of grew up watching them. I guess in middle school [or] high school, I started paying attention a little more and in high school, my mom actually, every year she would want to take one of — I have two brothers — and every year she would take a trip with one of us, so she had taken my brother up to Wyoming and then she took my other brother, I'm not actually sure where, and then we went up to a Broncos game, and it was actually John Elway's last regular season game before they won their back-to-back Super Bowls. That was a cool game to be at and I've followed them ever since."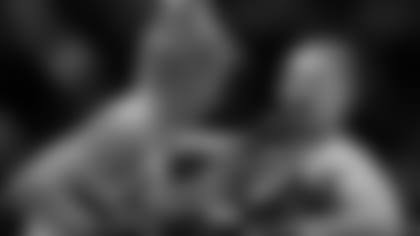 What do you remember from that game?
"I remember there was pretty much a wave going, and this was at the old stadium. There was a wave going around the stadium pretty much the entire game and I kept thinking, Are people really going to keep this up? I think there were some records broken in that game. Terrell Davis was playing and I think he had some records that year."
Who has been your favorite Bronco?
"You can't really go against John Elway, but since then, I've been a huge fan of Peyton Manning. He's just really accomplished a lot in his entire career. I just feel like he's talented and I think he's just a good, stand-up, human. It's kind of hard to find that sometimes. He's very humble, has been very driven. He's very passionate about the game. It's always fun to watch a player who's really passionate about the game. And his commercials are hilarious!"
Are there any players on the team that you think could make it in the octagon?
"I think anybody on the Broncos' team is going to be athletic and talented. So, yeah, I think they can get in the octagon. They've been able to get to where they're at by hard work and dedication and athletic ability, so I could totally see them getting in the octagon and doing damage in there."
A lot of players have superstitions before games, do you have any before a big fight?
"I have no superstitions. I know that's weird. My husband's a baseball player so he's full of superstitions. I have routines that I like. I eat at this time and then it gives me enough time to adjust my food before I warm up at this time, and these certain snacks that I bring into my locker room that have always done well without making me feel bloated or too full, when I go into the fight. I have things that work for me, so I kind of stick with it. But it's not necessarily a superstition. It's just kind of a routine that works for me."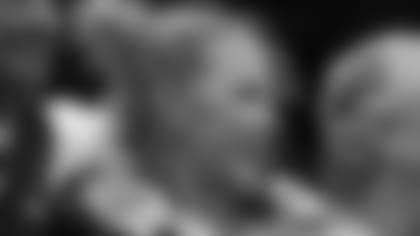 Some players have playlists they listen to before a game, what do you listen to?
"When I'm in the locker room—I know this sounds crazy—I know a lot of people really listen to music and I listen to silence. I just focus and I figure if I can't focus right now, it's almost distracting. Every now and then my wrestling coach will play reggae, like mellow [music] in the background, like I'll hear him playing it. … But as far as myself, the time is now, the fight is tonight, so I just think, let's just focus and I'm just going to think about. Let's just get in a deep spot and get in a serious focus here and be ready to zero in on it."
I know you're coming to the game on Sunday — anything you're looking forward to seeing?
"Seeing a game in person, the energy is just awesome. Every year we try to at least make it to one Broncos game. Last year we went with a couple friends. It was pretty chilly when we went … It may have been against the Chargers.
"I'm looking forward to it being a whole different experience. I'm looking forward to meeting new people and experiencing something new and being there at the game and the energy, and the vibe, especially because this is an important game. It's not one of those beginning-of-the-season games, like Let's see how this season's going to kick off. This is down to the wire. Those are like the most nerve-wracking games to be at, but the most fun games to be at with the energy. I'm looking forward to that."
Do you have a bold prediction for the Broncos in the postseason?
"Here's my thing: We're just going to go straight to the Super Bowl. Got to have confidence in your team! We're just going straight through."