Brandon McManus entered his third year in the NFL coming off a Super Bowl season and his best season to date, which included AFC Special Teams Player of the Month honors in October 2015. During the championship run, McManus tallied the second-most made field goals in a single postseason — a perfect 10 for 10. We sat down to talk to him about the new rule changes to kickoffs and extra points, his passion for tasting different cuisines and his efforts to end bullying through his foundation.
What have you seen from the different rule changes to kickoffs and PATs over the past couple years?
They moved the PAT back last year, but it was a first-year test trial, so now it's a little more official. It definitely makes the kick a lot more difficult and more pressured, especially when it comes down to the end of the season when there will be some bad weather games. It's just something we have to take with a grain of salt. We can't change the rule now. We have to deal with what we were given.
With the new kickoff rule, I voiced my opinion about it at the beginning of the season saying how it's not going to be what they want it to be. I think they're going to get more returns than before. I still think that there are a lot of teams that are kicking the ball up in play because they don't want to give the ball out at the 25-yard line.
Some kickers say that moving the extra point back has hurt field goal production because they felt like the ease of a PAT kept them loose, almost like a warm-up kick. Would you agree?
I don't know if I would say that it was a warm-up kick because you do a lot of warm-up kicks in the net. I do think that when you go out there and kick the old extra point I think it was a lot easier. I don't think you needed to focus really that much because you were so close and our conversion rate was so good. Right now, it's extremely difficult especially when our defense — we have a great defense [that] scores a lot of touchdowns — it makes it difficult because you're sitting on the bench you might have to run and get your helmet then run out there and get your body under control and kick a much longer extra point. All the games, especially usually our games, are tight at the end of the game so that extra point comes in a crucial situation.
You're extremely committed to your anti-bullying foundation. Why is that cause so important to you?
I really thought that I could make a change in that aspect and help kids who are being bullied and give them a story to let them know they're not alone. Even as a professional athlete, it is in a slightly different way, but social media is big in our world. If you miss a kick, people are killing me. I hate reading stories of kids in grade school, 7-year-olds, 8-year-olds, killing themselves because they're being bullied at school and they don't want to tell their parents because they won't be a tattle-tale at school. I wanted to be able to help in any way I could just so I don't have to read those stories anymore.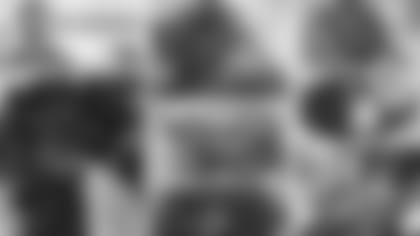 We worked with you over the summer to help create your McManus Mile High Menu series for DenverBroncos.com, but what prompted your culinary fascination?
My wife came up with the idea to do a dinner date night every Friday night. I wanted to do something cool about it so I teamed up with the team website to create that platform to blog about it. I really wasn't that big into food beforehand. There was only a small selection I would eat. Going out and exploring everything that Denver had to offer, trying things I never thought I would try before, it just opened my mind. Almost everything I enjoyed on that journey, I eat all the time now. Instead of going to a restaurant and just getting a steak and potatoes and green beans or something, I'm ordering duck, I'm ordering completely different things that I never would have ordered before.
What's something you tried that you never thought you would ever eat?
I had a cow tongue taco from Machete's tacos here in Cherry Creek. I don't know if I would ever order it again, but like I said, there's not a chance I would have eaten it before, but I wanted to do it for the people following the journey. I got the chance to eat a lot of different things.
You said it all started because of your wife wanting to do date night on Fridays. How important is it to live a balanced life as a professional athlete?
I think it's extremely important because they're a big support staff for you, especially in a position like mine with its high stress level. Whenever you're able to go home and relax and have somebody to share your story with, it's important to me. The opportunity that we get to be done here at a decent hour so we're able to go home and spend the rest of the day with family is really great. I understand that it's kind of difficult because we still work on the weekends, but our offseason is pretty long and we get a chance to travel.