SHERIDAN, Colo. — When President/CEO Joe Ellis arrived at Habitat for Humanity's Sheridan Square community two years ago, he and other Denver-area CEOs focused their efforts on building three houses.
When Ellis returned Thursday for Habitat's annual CEO Build, he stood in a neighborhood that now boasts more than 30 houses.
Seeing that progress is nothing short of rewarding for Ellis, who supported the CEO Build for the fifth consecutive year.
"For me personally, just to come out and do something that's tangible, productive, meaningful for people — to help a family move into a house — it's a really neat thing," Ellis said. "I appreciate everybody's support. We've had over 100 people out here in the last five years supporting this event and I'm glad to be back for the fifth year."
Ellis joined Habitat for Humanity of Metro Denver CEO Heather Lafferty in co-hosting the event, which welcomed more than 40 CEOs on Thursday to build houses for families in need.
"We have 40 CEOs who are spending the entire day out here swinging a hammer with us, helping us to raise walls and put up siding and make these houses a place to become a home for hard-working families," Lafferty said.
And as Habitat aims to put the finishing touches on a neighborhood that will be home to 63 families, Lafferty said it's hard to overstate the impact Ellis and the Broncos have had on the organization.
"The partnership between the Denver Broncos and Habitat for Humanity has been so significant for Habitat for so many years and specifically in the last five years to have Joe Ellis' leadership on our CEO Build," Lafferty said. "He is out here working so hard to ensure that hard-working families have a good place to call home. He's serving as a role model for what a great leader does to help ensure that our community is a great place for everyone to live."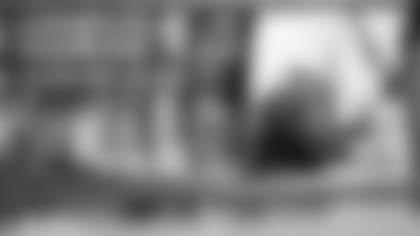 Though Ellis traded his CEO responsibilities for construction work on Thursday, he still faced questions about the Broncos and whether they can put an end to their recent three-game losing streak.
"I'm not concerned about spiraling downhill," Ellis said. "I'm looking forward to us bouncing back this weekend. That's where our focus is. I believe we'll be ready for the Rams on Sunday. A very good football team, a big challenge for us, but [there is] a lot of football left to be played. Five games in, obviously disappointed with the last three weeks because we set high standards for ourselves. Last week was very disappointing, but you move forward from it. You've got no choice. I think our players, our coaches and all of our football staff understand that."
As the team looks to rebound and return to .500, Ellis said he feels members of the organization rallying around each other. In turn, he hopes the team can "channel [frustration] into some positive energy on Sunday."
On Thursday, though, Ellis had a more immediate goal: to help finish a few more homes for deserving families.
Ellis' tasks for the all-day event included building front porches, and that promised to be anything but easy.
"I don't know anything about porches," Ellis said with a laugh. "So it'll be an adventure."