Tight end veteran Owen Daniels is in his first year with the Broncos, but he and Head Coach Gary Kubiak have been a team since the Houston Texans drafted Daniels in 2006. Since then, Daniels has welcomed a baby boy, increased his shoe collection and enjoyed all that Denver has to offer – particularly the weather.
You and your wife Angela welcomed a baby boy, Henry, a couple months ago. How has Henry changed your perspective on life?
"You always hear stories from dads, new dads, like it's going to change your life. It's a game-changer, all that type of stuff. That's 100 percent true. I don't think I ever realized that type of love before, the kind of love you have for your kid. He's totally dependent on you, you've got to look out for him. Everything is about him. It's definitely different, you've got to be very unselfish as a parent, and I've learned that. But it's been the best thing that's ever happened to me."
You've had the nickname "The Weatherman" for sometime. When did that start?
"I think it started in college, at a bowl game or something, because I studied atmospheric and oceanic science in college and got my degree, which is meteorology. I had a passion for weather and I guess they just went with the easy 'The Weatherman' deal. Most people call me 'O.D.', but then there's 'The Weatherman.' I love the weather, that's another cool thing about Denver. Just their perspective on the weather, on the clouds."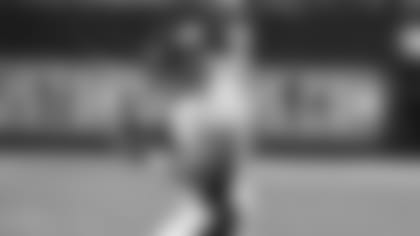 Is living in Denver a meteorologist's dream?
"For sure. Right off the mountains and then it seems like you can see forever. In Houston, you've got tree lines and it's super flat so you can't see very far. But you get up on top of a hill here and it feels like you can see all the way to Nebraska. Having that perspective on the plains is super cool."
Why did you choose meteorology? Were you always fascinated by weather?
"Since I was a kid. I grew up in Chicago, so we saw everything from crazy blizzards and super cold and severe storms in the summer and springtime. I was actually scared of that stuff when I was really young. It freaked me out because I didn't know anything about it. I had no control over it and then that kind of grew into, 'Oh, I kind of like that, I like looking at lightning. I think it would be cool to see a tornado up close.' That was with me the whole time through middle school, high school and then I had to decide where I wanted to go to school, what I wanted to study and Wisconsin has a really good meteorology school."
We've seen you on The Weather Channel with some crazy Nike Foamposites with radar returns on them. Where did you find those?
"I'm a little bit of a shoe collector - mostly a Jordan guy, but Nike shoes and some nicer dress shoes. So they came out with these Foamposite Penny Hardaways and they had radar returns on them. I thought, 'Well, I've got to get these.' Right when they came out I was online getting them and people are really fascinated by them."
You posted a picture on Instagram of customized Broncos Jordans for Henry, are you starting his collection already?
"Henry's hooked up. I had to make sure – he had like 10 pairs of shoes before he was even born. All types Jordans and Nikes, obviously. He doesn't wear shoes that much, babies don't really wear shoes that often, but whenever he does, he's lookin' good. I'm looking forward to the time we can wear those Broncos Jordans that our friends had made for him. And then when we can wear the same Jordans at the same time."
In high school you played quarterback and then backup quarterback at Wisconsin for two seasons before converting to tight end. How did those years at quarterback help you become the tight end you are today?
"I think just the preparation that it took to be a quarterback. In high school and a couple years in college – reading defenses, and they change a lot. Pre-snap, post-snap, seeing fronts. I think that's helped in my approach to studying film and finding the holes and being in the zone and seeing coverages change as we snap the ball because things change a lot faster in the NFL than they did in college. It's helped me a lot from that perspective."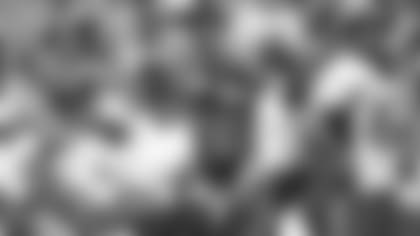 You've only been coached by teams with Kubiak. Why do you think you work so well together?
"His first year in Houston was my first year. He drafted me and I think we've had a connection. We spent eight years together in Houston and built a pretty good relationship. He took that franchise from being someone that nobody really respected in the league to winning back-to-back division titles. The type of offense he runs is great for tight ends. It seems like I fit in really well with what he likes to do. Following him to Baltimore last year was a great opportunity, being able to run the same offense, not having to learn. I'm not opposed to learning new things but it's kind of nice when you step onto a new team and you already know everything and guys have to come to you and it helps those relationships build quicker. Then I became a free agent again and once he got this job here that went to the top of the list of places to go. There are a lot of other reasons; it's a great team, playing with No. 18. The city, the state, is awesome. But him being here, was a main factor in that."
What was it like playing at Sports Authority Field for the first time in the orange and blue?
"It's great to be on the home team at Mile High. I've been here a few times on the other sideline, but it's going to be a great experience. Playing at the elevation and being used to the elevation and having teams come in that aren't used to it, that's going to be a fun experience. The stadium's amazing and the fans are great. What a great turnout for the 49ers game, pretty much a packed house for the preseason. It was awesome and I'm looking forward to the regular season for sure."