ENGLEWOOD, Colo. — Two years ago, Jonas Griffith was an undrafted free agent bouncing between practice squads and fighting to earn a spot on an NFL roster. Now, he is a core member of the Broncos' starting defense. The inside linebacker has not had the easiest journey, but he is making the most of his opportunity and gaining confidence every day. We sat down with Griffith to talk about his path to becoming a starter in the NFL, communication on the defense, playing the piano and more.
Ellie Kinney: You've had a lot of uncertainties over the last two years. How different did it feel going into this season after getting reps with the first-team offense during training camp?
Jonas Griffith: "It feels good. It feels really good. I think the more reps I get, the more confident I become. Going through OTAs and training camp with the ones really just helped me continue to perfect my craft, so I was able to take my game to the next level."
EK: When you were playing on practice squads in 2020, did you always believe you would get to where you are now?
JG: "[COVID-19] kind of put a little doubt in my head my rookie year, but once I got the opportunity, I just think that it was inevitable that it would come. With hard work and preparation, I think anything's attainable. I just felt like [this chance] would always come."
EK: What advice would you give to players trying to make a team and earn their opportunity?
JG: "I would just say, stay consistent no matter what, no matter the outcome. Don't get too high, don't get too low. If you have a bad day or a bad week, don't dwell on it. Just look forward to the next day and don't let it happen again."
EK: You've established yourself as an important part of the Broncos' defense this season. What are some of the strengths that you bring to this group?
JG: "Just my ability to fly around and make plays all over, even if it's not my play to make. I try to run it down and make a play. Also, helping guys like Josey [Jewell] communicate on defense and just being that echo for him."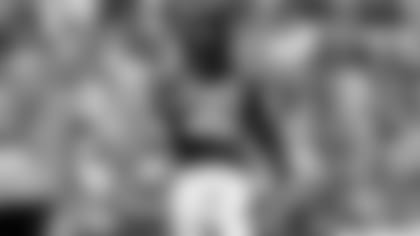 EK: Speaking of Josey, you two have shown that you're able to communicate really well on the field. What have you learned from him over these past several months of practicing together?
JG: "Just to over-communicate. [Inside linebacker] is like the quarterback of the defense, so just learning how to communicate and just what to say. Anticipating different formations, and just knowing that things are going to happen before they happen and communicating that to the DBs and the D-line."
EK: What kind of impact have veterans like Justin Simmons and Kareem Jackson had on this defense?
JG: "Those guys are like the rock of the defense. Those guys are what everyone looks up to, and a lot of younger guys like myself, we look up to them. I feel like they set the tone for daily practices and games as well, and that's huge for the team. They'll take us as far as we want to go."
EK: What have your impressions of Defensive Coordinator Ejiro Evero been so far, as he's entered his first year as a coordinator?
JG: "He's super even keeled. He's just a guy that comes in, he's never too high, never too low. He's super level-headed. I think he puts us in the right positions to make plays, and he's a really smart coach too."
EK: You've gotten to go up against Russell Wilson quite a bit. With his ability to scramble and extend plays, what challenge does that pose for inside linebackers?
JG: "Oh, it provides a lot of challenge. I think the top quarterbacks in the league, like [Patrick] Mahomes, Josh Allen — he fits in that mold. Practicing against him every day kind of just gets you ready for those big-time games with big-time quarterbacks."
EK: Do you have any hobbies off the field that people may not know about?
JG: "I play the piano. I've been playing it since I was, like, 6. I can play by ear and by studying notes."