As former first-round pick Garett Bolles enters his second season in the NFL, comfort is a chief concern. For him, comfort means already knowing how NFL defenses play, knowing how his teammates play next to him and feeling secure in knowing his family is comfortable in Denver. But he also wants new quarterback Case Keenum to be comfortable in the pocket, and he wants the entire offense to feel it can do everything it needs to do with him protecting the left side.
Ben Swanson: The Broncos changed up the coaching staff for the offensive line, hiring Sean Kugler to coach the centers and guards and assigning Chris Strausser to coach the tackles. How has that changed things for you?
GB: "It changed my whole game. Having a coach designated just for the tackles has really put the emphasis on making sure that we're crisp in our pass sets and crisp using our hands and making sure we're square to the line. Knowing that we can trust him and that he has our back — because tackles are like corners; we're sort of on our own on the edge and we need to do the things that we do — so having Coach Strauss and the love he has for us continuing to push us forward is pretty awesome."
BS: Another significant change this season is that Ron Leary is moving back to left guard and will play alongside you. Given his experience and talent, how much do you ask him questions and pick his brain?
GB: "Every day. I ask Ron questions every day — in the huddle, at the line of scrimmage. Before the snap of the ball, we're always communicating. I like where we're at. We're heading to a special place and I'm excited to see what happens in the future."
BS: Jared Veldheer's addition this offseason is expected to add some stability at right tackle, but he also has plenty of experience playing on the left side. Has he been able to be a resource for you also?
GB: "Every day I use Veldheer as a resource. We sit by each other in the meeting rooms, we continue to talk and do the things that we need to do and help each other out. That's what tackles do — we help each other out. We share technique, we share advice so that we can be ready to rock and roll."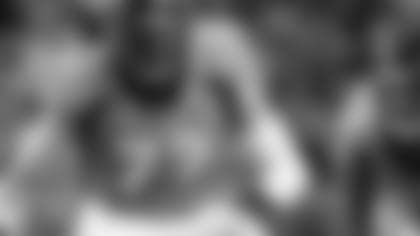 BS: How do you feel about how the offensive line is shaping up during training camp?
GB: "It's going good. We make mistakes here and there, but mistakes is what happens during training camp. It's what you do after those mistakes that counts. We continue to do everything we can possible to be successful. And that's why we have Matt [Paradis] in the middle, and he continues to lead us in the right direction."
BS: How are things different in your second year from your first?
GB: "Calm and collected. I feel comfortable being there. I've seen the things in front of me. I've seen the defense's moves. I've seen certain things. Last year I hadn't seen those things, but now I have. So I can just really study the game of football and get my mind in the right position to make plays and to protect No. 4 [Case Keenum]."
BS: Outside of football, how do you think family life will change because you've got a year under your belt?
GB: "I don't have to worry about them. Last year I was always just worrying about them being in the city and being new to the city and new to the team. Now, my wife and my son are settled in. We have the things that we need, so I can just focus on football, knowing that that will take care of them in the long run."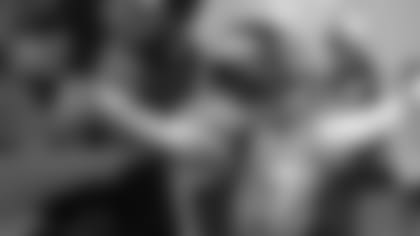 BS: What do you like about working with Case?
GB: "I love Case. He always has a smile on his face. He's always laughing and giggling. It's fun. I like the kid, and I'm grateful I get to protect him and make sure every day that I can do the things I need to do to make him satisfied and to make him feel comfortable back there. Just talking with him and getting to know him over the last couple months has been a pretty awesome friendship that we're building. I'm excited to see it moving forward."
BS: That positivity — always having a smile on his face — how does that affect how people play around him?
GB: "We want to play harder for him. We've got to get open, we've got to protect him, we've got to create running lanes for the running back, we've got to make sure he feels comfortable, like I said, in the pocket so that he can get the ball to 14 [Courtland Sutton], 10 [Emmanuel Sanders], D.T. and all them. We continue to work toward that and do everything we can to make them feel comfortable. That's the biggest thing. When they're comfortable, we're doing our job, so that we can score points."