Before making the Broncos' initial 53-man roster for the first time in 2021, defensive lineman DeShawn Williams was cut 11 times in six years. Season after season, he battled his way through adversity until he finally earned a spot with the Broncos. Now as a starter on the defensive line, Williams looks to continue reaching new heights with a talented defensive unit. We sat down with Williams to talk about persevering through the unpredictable years, playing with his longtime friend D.J. Jones and more.
Ellie Kinney: After a lot of ups and downs in your career, how much does it mean to now be one of the cornerstones of this defensive line?
DeShawn Williams: "It's dope. It just shows that hard work pays off. Never get down on yourself, man. Just weather the storm, and then when your time comes, capitalize on it. It's really dope seeing all your hard work finally come to fruition."
EK: Is there anything you learned from those practice-squad years that's helped you become the player you are now?
DW: "I can say one thing for sure: it helped me mold my game. You get down on yourself, but you're going against good on good every day. That's the one thing I took out of it. I'm going against the ones, and if I'm beating the ones week-in and week-out, then I know in a game, it's going to be just as easy. So that's what I took out of it — you're going against the ones, so beating them, that's like my game day."
EK: Defensive Line Coach Marcus Dixon nicknamed the defensive line "The Dark Side," and it seems like you all have really embraced that. What does that identity mean to you?
DW: "It's controlled aggression. I'm DeShawn right now, but on Sundays or Mondays or Thursdays, we've got to tap into that dark-side mode. It's not too pleasant, but that's what we've got to do to do our job. … [It's] not just on defense, but I think everybody on our team gravitated to it. We take real pride in that dark side."
EK: In the offseason, General Manager George Paton added an elite run-stopper in D.J. Jones. What kind of impact has he had on this group's success?
DW: "Oh, big. Huge, man. Having somebody like that, not just as a run-stopper but also versatile in the pass too — in San Fran, they didn't ask him to pass rush a lot, but shoot. You look at his stats, I think he had, like, [seven] sacks. So having that versatility, that opens up so many one-on-ones. We know what 'Dre' [Dre'Mont Jones] can do inside. You have him, and then add my little sprinkle to the mix, everybody can eat. George is doing a great job with these additions."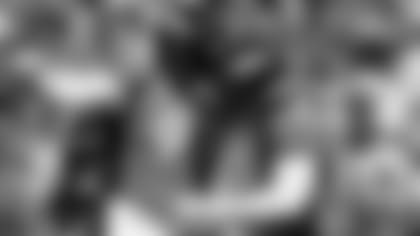 EK: You and D.J. were teammates in high school. How excited were you when he decided to sign with the Broncos?
DW: "Ecstatic. It was like a dream. … We talked about this, and seeing it come to real life is nuts. Not too many people can say, 'Yeah, I'm playing with my high school teammate.' Not too many people can say that, man. It's good for the city, it's good for the town back home and each and every game day, I tell him, 'Man, it's crazy how we're lining up next to each other.' Coming from central South Carolina to this, it's nuts."
EK: Defensive Coordinator Ejiro Evero has found a lot of early success with this defense despite only being in his first year in this role. What have you liked so far about his coaching?
DW: "First, he's won a Super Bowl. Then, he's been around great ball — if you read his resume, man, it's crazy. And he's a player's coach. He's not one of those coaches that, it's his way or the highway. If we're on the field and we see something, we hear something, he wants to know. He wants to know, 'What are you feeling, what are you seeing, what's the verbiage that they're giving?' I love his adjustments too. [At] halftime, we adjust. He's a great up-and-coming coach. … I hope he [doesn't] leave, but when you have that success, down the road, you'll be a head coach someday. I could see down the road he's going to be a great head coach one day."
EK: The AFC West is loaded with top quarterbacks who can make plays in many different ways. On the defensive line, what do you need to do to contain them?
DW: "Really, first and foremost, just take it one game at a time. Our division is quarterback-driven. You've got [Derek] Carr, you've got [Patrick] Mahomes, you've got Justin [Herbert], and all of them are great in their own way. But I say, just take it one game at a time, don't look ahead, but when you play those caliber guys, that should step your game up. You want to show that you belong, and all eyes are on us. … It's good to have that competition and that notoriety in this division."
EK: Can you give me a glimpse of who DeShawn is off the field?
DW: "Right now, DeShawn is just a loving dad, a loving husband. My wife and I, we just love sightseeing, we bike ride, we go on trails. We're probably going to take our son to the aquarium or a museum or something like that. We are foodies — I go on TikTok and look at each restaurant, and we try them out. TikTok hasn't steered us wrong yet. My wife and I, we are breakfast people. We'd eat breakfast for breakfast, lunch and dinner. Breakfast is the king in our house."