ENGLEWOOD, Colo. -- **You can call the Broncos' 2015 season many things: the start of a new era, a year defined by a quick transition to new schemes, or -- the team hopes -- a run to its first world championship since 1998.
Just don't refer to it as a "farewell tour" for Peyton Manning.
"I wouldn't call it that. That's not how I see it," the NFL's all-time leader in touchdown passes said after the first practice of the Broncos' voluntary minicamp concluded Tuesday.
Added wide receiver Emmanuel Sanders: "I hope he's here for a long time. I think he's still got a lot juice in him."
Sure, the list of quarterbacks 39 or older who had big seasons is slim, limited to Brett Favre, Warren Moon, Vinny Testaverde and Sonny Jurgensen. The first three are the only quarterbacks to complete at least 200 passes in a season after turning 39; the last, Jurgensen, had the best quarterback rating of his career (for a season in which he threw at least 100 passes) in 1974 before then-Washington coach George Allen reinserted Billy Kilmer as the starting quarterback.
But Favre had one of the best seasons of his career with Minnesota in 2009; he turned 40 and came within one errant pass of leading the Vikings to their first conference championship in 33 years. And if the Broncos' emphasis on zone blocking and creating a balanced offense takes the edge off an opposing pass rush, Manning could absorb little contact, and age would be just a number.
"I think there's young 39s and old 39s. I'm in that young group, for sure," Manning said, smiling. "A March birthday? I think you've got to be very careful just lumping them all in there together.
'I think it's all about trying to do your job, no matter how old you are ... I guess I have to answer questions about it, but I'm not interested in talking about it much more after this point."
There's plenty more to discuss that will impact the success of the Broncos' offense and team at large: the new offensive scheme that melds concepts and verbiage of Head Coach Gary Kubiak's offenses with what Manning and the Broncos ran last year, the absence of Demaryius Thomas from the voluntary sessions, and the development of timing with new target Owen Daniels and second-year wide receiver Cody Latimer -- both of whom accompanied Manning to Duke University for throwing sessions earlier in April.
Thomas' absence is just part of the "business side of it that comes into play," Manning said. But that frees up more repetitions for Latimer to build an on-field rapport with Manning.
Latimer's individual work began long before he showed up in Durham, N.C. to catch passes from Manning, and the quarterback noticed it immediately.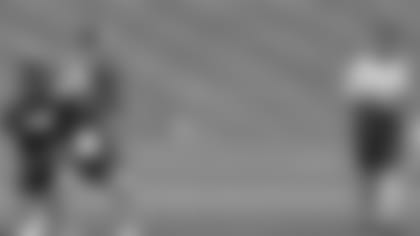 "I thought I saw a little change in him just in those four months since I had seen him," Manning said. "I could tell he's been working on his own. He's in good shape. Obviously he's excited about his opportunity. He knows that he's got a chance to play a big role on this team, and I'm excited for him. He's got a great attitude."
With a tweaked scheme and new coaches watching every move, an 18-year veteran and a young player who saw just 37 offensive snaps last year are in the same boat.
"Like all of us, we're all trying to make an impression on this new coaching staff. I'm trying to do that," Manning said.
"I think I'm just being reassured of everything I've always been told about him," Kubiak said. "Nobody works harder. Nobody cares more. He's very challenging to coach because he's so bright and has been doing it for long, and that's a good thing for me and (Offensive Coordinator) Rick (Dennison) and [Quarterback Coach Greg Knapp]. I think we as coaches need to be challenged, too. I would say that I haven't learned anything new, but just being reassured every day exactly what he is. He's a heck of a football player and a great person."
As you'd expect from a quarterback like that, he wants his young teammates, like Latimer, to flourish.
"Certainly for a young receiver, it's a great opportunity for him, who didn't get a chance to play a lot last year. I'm pulling for him, and I think he can make an impact on this team this year."
The best way to develop a chance to make that impact is to improve now -- no matter your experience. That's why Manning didn't want to think about age, or future plans, or farewells. His focus as he left the podium was on the workout and practice that awaited in the afternoon. There's plenty in the moment to keep Manning busy.
"I'm kind of trying to focus in on the now," Manning said.
The Broncos were back on the field for the first time this offseason, working with a new coaching staff.