ENGLEWOOD, Colo. – The Broncos' 42-17 win over the 49ers was truly an all-around team effort. While Peyton Manning was the star of the night, there were multiple key playmakers for the Broncos.
YOUNG DEFENDERS FLOURISHING
Brandon Marshall was waived by the Jaguars three times before the Broncos signed him to their practice squad. He has become a consistent playmaker on the Broncos' defense, helping the team rise in the ranks defensively. The Broncos are now sixth in yards allowed per game and third in rush defense.
Marshall re-took the starting spot on Sunday after Danny Trevathan was placed on short-term injured reserve.
With Marshall's playing time this season taking a drastic jump, so has his quality of play. He led the Broncos with eight total tackles and added one pass defensed. He, Rahim Moore and T.J. Ward led the defense in playing 65 snaps, good for 88 percent of the defense's snaps.
Through six games, Marshall leads the Broncos with 33 solo tackles and 45 combined. The Broncos contained the 49ers' dynamic rushing attack and Marshall played a key part in stifling Frank Gore. He tackled Gore four times during the game. Each time Marshall got to Gore, the 49ers' drive didn't extend past that set of downs as they resulted in two field goal attempts, a punt and an interception.
In addition to Marshall, rookie fifth-round pick Quanterus Smith continues to improve and make an impact on the defensive line. He's still waiting for his first sack, but he got to Gore in the backfield for his first tackle for loss of the season.
"He's doing well," Defensive Coordinator Jack Del Rio said of Smith last week. "He's close on several [plays] and he's getting reps, he'll continue to get reps and I think he's an improving player. So, just keep doing his thing. Keep working hard and keep himself on the ready and when he gets out there, be as productive as possible."
THOMAS' HOT STREAK CONTINUES
Comparing Demaryius Thomas' first three games of the season to his last three is jarring. Take a look at his season stats below.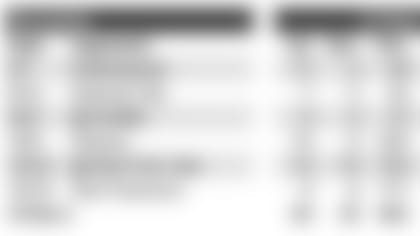 Thomas and Manning got busy early in the game, with Thomas catching a short pass from Manning and taking it 32 yards to the 49ers' 41. The drive ended in an Emmanuel Sanders touchdown.
Thomas made a stellar grab on Manning's record-breaking touchdown, running an out route and then keeping his feet in bounds for the score.
"The play before I thought I had a chance, but Peyton had actually fell down and I thought my chance was over," Thomas said regarding his opportunity to catch the record-breaking touchdown. "But, we came back the next play and they called it and I knew I was kind of to the short side of the field, and I knew I had a chance and when I came off the break I saw the ball coming and my main thing was just make the play on the ball and keep my feet in bounds."
Thomas also grabbed No. 510 for Manning on a 40-yard touchdown catch.
Thomas now has the most receiving yards in a three-game span in Broncos history with 521, surpassing Brandon Marshall's 435 with ease. In addition, Marshall had three touchdown scores in that span while Thomas has five.
"Again, he's a dynamic, very, very, very good wide receiver," Head Coach John Fox said of Thomas postgame. "He's big, strong, fast. He's a great teammate. It couldn't happen to a better guy. He's a captain that I've seen grow a lot both as a person and as a football player. That doesn't surprise me, he's a tremendous player."
WELKER FINALLY BREAKS OUT
While Thomas was on the receiving end of Manning's record-breaking TD, Wes Welker nabbed the record-tying one in the first quarter. Wide open, he caught a beautifully thrown pass on down the left sideline, diving in the end zone and hitting the pylon for the score.
Manning said the play they ran on Welker's touchdowns was a "Friday afternoon addition" by him and Offensive Coordinator Adam Gase. After his touchdown, Welker was "absolutely" trying to keep the ball for himself. After the game, he acknowledged that he may get to facilities on Monday and find out that it wasn't his to keep.
Welker missed the Broncos' first two games of the season with a suspension, and in his first three games back he accumulated 126 yards but no touchdowns. On Sunday, he caught three passes on three targets for 50 yards.
He said it was "pretty incredible" to be a part of Manning's record-breaking day. He said the receivers hold each other accountable for making the plays necessary to move the ball downfield.
"He [Manning] really stays on guys and keeps the pressure on us in practice and we talk about it with each other, just go out there and execute each and every play, one play at a time," Welker said. "We just kind of focus on that and make sure we're making plays when we have the opportunities. Peyton did a great job of finding guys and Ronnie did a great job running the football along with the offensive line. It was a complete game for us."