DETROIT — **For two weeks, the offense looked to connect on big plays. The longest they had mustered prior to walking into Ford Field was a 22-yard pass to Demaryius Thomas in Kansas City. Outside of the obvious benefits that big gains present, breakaway plays would optimally open up options by stretching the defense.
Peyton Manning and Demaryius Thomas broke open the floodgates late in the second quarter with a 45-yard pass down the sideline. Needing a yard on fourth down, Manning initially looked for a short gain, but the Lions' defensive strategy provided Thomas with an advantageous matchup.
"Obviously I knew we had to take a chance and I caught the corner [Darius Slay] squatting a little bit, which is what that blitz and that coverage, what the corner is required to do is to squat a little bit, and DT was able to get behind him," Manning said. "But I was looking to Emmanuel first so I was kind of late going to DT because I wanted just to get the first down and DT made a great play and was able to get into the end zone."
Thomas, who had a two-inch height advantage on Slay, recognized the coverage and knew he could help the Broncos potentially get seven points instead of three.
"I knew it was going to be man-to-man," Thomas said. "All I had to do was beat him, and that's what I did. We got a chance and I took advantage of it."
The Broncos would connect on passing plays of 34 and 26 yards, but the 45-yard touchdown to Thomas felt like a breakthrough.
"It's been a while the past couple weeks where you haven't really had big plays and [we] finally come off and get one today and I wish we had more but it was just big," Thomas said. "It was basically just telling me I'm trying to get back in the groove and everything's going to get back right like it's usually supposed to be."
Bouncing back against the run
"We just gave up too many big plays," Marshall said Thursday. "We gave up some runs that we've got to definitely clean up. I think that's really what it was, just the running game. They rushed for over 100 yards and that's definitely not acceptable in our eyes."
He and the defense rebounded with a remarkably stingy game, allowing just 28 yards on 19 carries -- an average of 1.5 yards per rushing attempt.
"I thought we played exceptionally well," Marshall said after the game. "We wanted to clean up for this week and we knew they were going to try to run the ball, try to establish the run a little bit, and we shut them down."
Edge rushers continue to impose will
The Broncos pass rush continued to pose problems for opposing offensive lines and the quarterbacks behind them.
On the second play of the Lions' first drive, outside linebacker DeMarcus Ware exploded off the line of scrimmage and sprinted untouched to take Stafford to the ground for an 8-yard sack. He and defensive end Malik Jackson would split a sack on the second drive, as well.
And though the normal stat sheet cannot tell the full story, OLB Von Miller brought constant pressure that affected Lions quarterback Matthew Stafford's timing and ability to stay comfortable in the pocket. According to Pro Football Focus, Miller had nine quarterback disruptions as Stafford finished with 282 passing yards and two interceptions with a 68-percent completion percentage. He was also sacked four times.
"We come into the game trying to get pressure," Miller said. "It feels good when you've got goals in there and you can achieve those goals."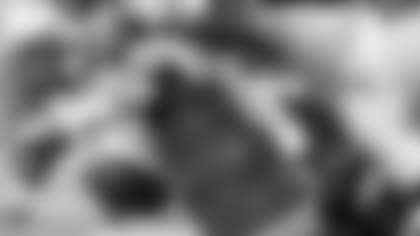 Shaquil Barrett, who came in for Miller on a first down in the fourth quarter, also made an impact. He spun out of a block and chased down Stafford to forced a fumble.
"I'm super proud [of him]," Miller said. "It's not surprising, though. Shaq, he does it every day in practice. He kills guys every day in practice. The sky's the limit for him. I'm proud of him."
Starter or reserve, veteran or rookie — the defense is getting game-changing plays across the board.
---
With the Broncos' win, the following promotions are available:
Papa John's is offering the "If the Broncos win, you win!" promotion, giving fans in Colorado 50 percent off all orders on Monday.
Arby's is offering $1 roast beef sandwiches because the Broncos scored three touchdowns.
McDonald's is offering $1 Big Macs or $1 sausage egg McMuffins the day on Monday, and 30 percent off any jersey in the Broncos team store.