With less than two weeks remaining until the NFL Draft begins, it's time to take a best guess at how the first round might transpire ...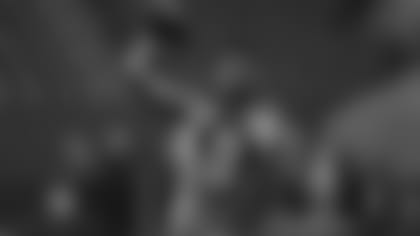 1. TAMPA BAY
QB Jameis Winston, Florida State
The Bucs gamble on Winston leaving his past baggage behind him, and carrying forward only his arm and exceptional football I.Q.
2. SAN DIEGO (MOCK TRADE WITH TENNESSEE)
QB Marcus Mariota, Oregon
If the Titans and Chargers make a swap involving Philip Rivers, the Chargers take a step backward for the moment -- but could secure the most crucial position for the next 15 years.
3. JACKSONVILLE
OLB/DE Dante Fowler, Florida
A perfect fit for Gus Bradley's defense, as he can be used like Von Miller in the Broncos' 4-3 from 2011-14: strong-side linebacker in the base defense and edge rusher in sub packages.
4. OAKLAND
WR Amari Cooper, Alabama
The signing of Michael Crabtree doesn't take wide receiver off the table, and Cooper and Derek Carr have the potential to blossom into a special combination. Cooper's learning curve is not steep; he's pro-ready.
5. WASHINGTON
DL Leonard Williams, USC
If he's available at No. 5, Washington should run to the podium with its card.
N.Y. JETS** OLB Vic Beasley, Clemson
Wide receiver is a possibility with West Virginia's Kevin White on the board, but the Jets need more pass-rush punch than they currently possess.
7. CHICAGO
NT Danny Shelton, Washington
John Fox and Vic Fangio can start their defensive rebuilding project from the inside out.
8. ATLANTA
OLB Alvin "Bud" Dupree, Kentucky
The Falcons need pass-rushing help, and with questions about Randy Gregory because of positive marijuana tests, Dupree is a safer bet at this spot.
9. N.Y. GIANTS
OT Brandon Scherff, Iowa
Scherff could end up at either guard or either tackle slot, which assures him a starting slot from Day 1 somewhere on a Giants O-line that is in the midst of a generational shift.
ST. LOUIS** WR Kevin White, West Virginia
The Rams need targets to give Nick Foles the best chance to replicate the efficiency he achieved in Philadelphia.
11. MINNESOTA
CB Trae Waynes, Michigan State
Wide receiver is a possibility here -- as with the Raiders and Michael Crabtree, a free-agent pickup doesn't solve all the issues. But Wallace projects as a No. 1, so the Vikings can find a No. 2 receiver later in this deep class. Waynes fills an immediate need and the value is right.
12. CLEVELAND
WR Devante Parker, Louisville
If the Browns want a young quarterback to nudge Johnny Manziel out of the mix, they're best served by waiting unless they can trade up for Mariota. Parker provides an immediate upgrade to a shaky corps.
13. NEW ORLEANS
OLB Shane Ray, Missouri
A perfect match of player, scheme and need.
14. MIAMI
WR Breshad Perriman, Central Florida
There's a sizable gap between the top three receivers and Perriman because the UCF product is so raw, and he won't have an immediate every-down impact. But his upside is massive if he can hang on to the football.
15. SAN FRANCISCO
DL Arik Armstead, Oregon
Jim Tomsula coached the 49ers' defensive linemen for eight seasons before becoming full-time head coach, and Armstead is an ideal first pick: talented, blessed with physical gifts, but with room for growth, particularly in converting his pass-rushing ability into sacks.
HOUSTON** RB Todd Gurley, Georgia
Another team with myriad directions in which it can go, Houston will go into the season without a long-term answer at quarterback and a need to generate offense in other ways. A receiver to play opposite DeAndre Hopkins would help, but Gurley could offer relief to Arian Foster, whose susceptibility to injuries is on the rise.
17. SAN DIEGO
OT Ereck Flowers, Miami (Fla.)
If Gurley is on the board, the Chargers could be poised to jump on him -- especially if they re-make their offense per the afore-mentioned mock trade. But he's off the board, and Flowers is the pick. Put him outside, move King Dunlap to right guard and use Orlando Franklin at left guard, and you have an offensive line that in two years transformed from a soft spot into a strength.
18. KANSAS CITY
WR Dorial Green-Beckham, Missouri
The addition of Jeremy Maclin ensures that the move-the-chains routes are covered. Green-Beckham, if he blossoms, can provide the deep threat to prevent defenses from focusing on Maclin.
19. CLEVELAND (FROM BUFFALO)
OT/G La'el Collins, LSU
With two first-round picks and needs up front on both sides of the line of scrimmage, the Browns cannot conclude the first round without an offensive or defensive lineman.
20. PHILADELPHIA
S Landon Collins, Alabama
Wide receiver is a need, but the Eagles have a better chance of finding one later given the depth at the position. Safety is a different matter, and Collins is the only immediate starter in the 2015 class.
CINCINNATI** OLB Randy Gregory, Nebraska
The Bengals' history of gambling on players with character concerns comes into play here, and the risk-reward ratio seems right.
22. PITTSBURGH
CB Kevin Johnson, Wake Forest
If Collins dropped to this spot, the Steelers would be wise to take him -- and it would come as no surprise if the team traded up for him. But cornerback is also a need, and a spot where the Steelers need a transfusion of young talent.
23. DETROIT
DT Malcom Brown, Texas
Adding Haloti Ngata helps, but the re-fortification of the Lions' D-line after the departures of Ndamukong Suh and Nick Fairley is far from done.
24. ARIZONA
RB Melvin Gordon, Wisconsin
If Gurley goes off the board in the middle of the round, Gordon's chances of hearing his name called the first night are excellent. Carson Palmer's return and the quality of Arizona's top three receivers should give him plenty of room.
25. CAROLINA
OT Andrus Peat, Stanford
This would be a perfect match of need and quality.
26. BALTIMORE
WR Jaelen Strong, Arizona State
A nice high-ceiling option who can develop opposite Steve Smith Sr.
27. DALLAS
CB Marcus Peters, Washington
On-field discipline and poise are concerns. Talent and intensity are not.
DENVER** ILB Benardrick McKinney, Mississippi State
The Broncos could go in many directions, given their abundance of experienced options around the roster, even at positions that are expected to be competitive. But McKinney is a perfect fit as a 3-4 inside linebacker. Danny Trevathan is back to 100 percent, but he's in his contract year, and the progress of Brandon Marshall's recovery will bear monitoring. Offensive line is a possibility, but Gary Kubiak and Rick Dennison are among the best at developing linemen selected in Round 3 or later.
29. INDIANAPOLIS
OT D.J. Humphries, Florida
The Colts' line struggled last year with injuries and inconsistency. Humphries needs polish, but he could be a left tackle in the future.
30. GREEN BAY
CB Jalen Collins, LSU
He needs repetitions after starting just 10 games at LSU, but can be a physical match for bigger receivers right away.
31. NEW ORLEANS (FROM SEATTLE)
C/G Cameron Erving, Florida State
With the recently acquired Max Unger at center, Erving can slide in at guard and play right away.
32. NEW ENGLAND
DT Eddie Goldman, Florida State
At 336 pounds, he can plant himself in the middle and use his explosion to provide an immediate boost to the Patriots' run defense up the middle.
The analysis, opinion and speculation in this story represents that of the author, gathered through research and reporting, and does not necessarily reflect the opinion of the Denver Broncos organization.