With the first two waves of free agency having passed, let's revisit the mock draft and see what's changed ...
1. Tennessee Titans (3-13)
OT Laremy Tunsil, Mississippi
Previous:Same
There's been a lot of buzz about Florida State cornerback/safety Jalen Ramsey moving up to this spot, but the Titans still need to fortify the protection for Marcus Mariota, and even though there are some questions as to why Tunsil did not run the 40-yard dash at Mississippi's Pro Day this week, his work in position drills was outstanding.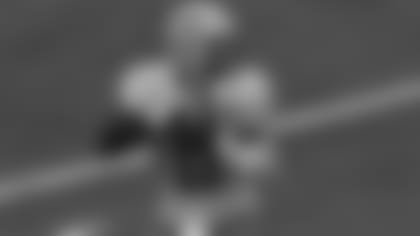 2. Cleveland Browns (3-13)
QB Carson Wentz, North Dakota State
Previous:Same
In the last mock draft, we noted the comments of Browns head coach Hue Jackson on hand size, noting that it is important because of the foul weather in which the Browns could play multiple games given the climate of Cleveland and its AFC North rivals.
3. San Diego Chargers (4-12)
CB/S Jalen Ramsey, Florida State
Previous:DE Joey Bosa, Ohio State
Pretty much any defensive player who is a viable No. 3 overall pick would be a fit and would help the Chargers, but Ramsey will provide an immediate boost for the four games a year in which the Chargers must deal with some combination of Emmanuel Sanders, Demaryius Thomas, Amari Cooper and Michael Crabtree.
4. Dallas Cowboys (4-12)
DE Joey Bosa, Ohio State
Previous:OLB Myles Jack, UCLA
They'll think long and hard about Ezekiel Elliott, but Bosa should provide the most long-term value.
5. Jacksonville Jaguars (5-11)
OLB Myles Jack, UCLA
Previous:DT Sheldon Rankins, Louisville
6. Baltimore Ravens (5-11)
OT Ronnie Stanley, Notre Dame
Previous:CB Jalen Ramsey, Florida State
DeForest Buckner is a possibility here, but the Ravens need to fortify their line, and Stanley is by far the best option available at this point.
San Francisco 49ers (5-11)** QB Jared Goff, California
Previous:DE DeForest Buckner, Oregon
The Colin Kaepernick situation remains at an impasse, and with staredowns such as these rarely resulting in anything positive for the team and with Goff on the board, that's the pick.
8. Philadelphia Eagles (7-9)
RB Ezekiel Elliott, Ohio State
Previous (as Miami):OT Ronnie Stanley, Notre Dame
With DeMarco Murray a Titan and some intriguing -- but inconsistent -- options on the roster, the Eagles go for Elliott.
9. Tampa Bay Buccaneers (6-10)
DE DeForest Buckner, Oregon
Previous:CB Vernon Hargreaves, Florida
This is all about Buckner taking a slide down this mock draft. Although Hargreaves is a perfect fit for the Bucs, they will be hard-pressed to pass on Buckner if he falls to their spot.
10. New York Giants (6-10)
OT Jack Conklin, Michigan State
Previous:DE Noah Spence, Eastern Kentucky
After targeting the defensive line in free agency, the Giants need to fortify their wall up front.
11. Chicago Bears (6-10)
CB Vernon Hargreaves, Florida
Previous:OLB Jaylon Smith, Notre Dame
A technically sound, tenacious, bigger-than-his-measurables cornerback in the mold of Chris Harris Jr. seems like the kind of pick that John Fox would love to make.
12. New Orleans Saints (7-9)
DT A'Shawn Robinson, Alabama
Previous:Same
Even with the addition of Nick Fairley, the Saints need to upgrade their defensive line. Fairley is on a one-year contract, so they're still playing the long game.
13. Miami Dolphins (6-10)
OLB Darron Lee, Ohio State
Previous (as Philadelphia):QB Jared Goff, California
They'd probably love to see Elliott fall this far, but if not, they go for a defensive upgrade.
14. Oakland Raiders (7-9)
CB Mackensie Alexander, Clemson
Previous:Same
Alexander, Ohio State's Eli Apple and Houston's fast-rising William Jackson III are all possibilities, but Alexander is quick, fluid and ready to start right away.
Los Angeles Rams (7-9)** WR Corey Coleman, Baylor
Previous:WR Laquon Treadwell, Mississippi
You don't want to make too much of 40-yard dash times. However, running a 4.67 40 at your Pro Day is a concern, and the Rams usually lean on the speed numbers in making their choices at this position.
16. Detroit Lions (7-9)
DT Jarran Reed, Alabama
Previous:DE Shaq Lawson, Clemson
Lawson and Noah Spence are possibilities here, but Detroit's interior is in need of reinforcements.
17. Atlanta Falcons (8-8)
DT Sheldon Rankins, Louisville
Previous:OLB Darron Lee, Ohio State
One of the nastiest players on the field during Senior Bowl week, Rankins would give a dose of interior punch and quick moves to a defensive line and a pass rush that desperately needs them. Dan Quinn had players like Rankins in Seattle; he doesn't have any in Atlanta ... at least, not yet.
18. Indianapolis Colts (8-8)
OLB/DE Shaq Lawson, Clemson
Previous:OT Taylor Decker, Ohio State
Indianapolis needs to upgrade its pass protection and its pass rush. With Lawson on the board, they go for the best available player, since he happens to fit one of those two needs.
19. Buffalo Bills (8-8)
OLB Leonard Floyd, Georgia
Previous:DT Robert Nkemdiche, Mississippi
Jaylon Smith is a possibility here, if the Bills are willing to be patient, knowing that Smith's top-five talent might not be able to help them until 2017. But the heat is on Rex Ryan to deliver the playoffs immediately.
20. New York Jets (10-6)
DE/OLB Noah Spence, Eastern Kentucky
Previous:DT Vernon Butler, Louisiana Tech
Spence is a natural fit for the Jets' scheme, although Memphis' Paxton Lynch is a possibility if the Jets are not enamored with Bryce Petty's progress to this point.
21. Washington Redskins (9-7)
ILB Reggie Ragland, Alabama
Previous:Same
I could see Kelly going here, but Ragland will also provide an immediate upgrade.
22. Houston Texans (9-7)
C Ryan Kelly, Alabama
Previous:QB Christian Hackenberg, Penn State
The value at wide receiver to find a complementary target to DeAndre Hopkins isn't great, and Kelly can grow together with Brock Osweiler.
Minnesota Vikings (11-5)** WR Laquon Treadwell, Mississippi
Previous:G Cody Whitehair, Kansas State
The straight-line speed (or lack thereof) might scare off some teams, but Treadwell has the ability to adjust to passes mid-flight and make plays in traffic that will allow him to work well with Teddy Bridgewater.
24. Cincinnati Bengals (12-4)
WR Josh Doctson, TCU
Previous:WR Corey Coleman, Baylor
With Marvin Jones and Mohamed Sanu moving on in free agency, the Bengals need at least one complementary target to A.J. Green from this draft. The pickings get slim after Doctson.
25. Pittsburgh Steelers (10-6)
CB Eli Apple, Ohio State
Previous:Same
Although he will need some refinement, he reminds me a bit of fellow Buckeye Bradley Roby in that his aggressiveness and willingness to be physical will allow him to get on the field right away.
26. Seattle Seahawks (10-6)
OT Taylor Decker, Ohio State
Previous:OT Jack Conklin, Michigan State
If Decker and Kansas State's Cody Whitehair are on the board, it seems unlikely that the Seahawks would pass on both of them given their crying needs up front.
27. Green Bay Packers (10-6)
DT Chris Jones, Mississippi State
Previous:TE Hunter Henry, Arkansas
The signing of Jared Cook reduces the pressure on the Packers to take a tight end early. Offensive line is also a possibility, but with B.J. Raji retiring, the Packers need help up front on the defensive side.
Kansas City Chiefs (11-5)** CB William Jackson III, Houston
Previous:DT Jarran Reed, Alabama
Two cornerbacks in two years atop the draft? Given the success of Marcus Peters last year and the needs that exist beyond him, why not? As with the Chargers, Kansas City must account for the quality wide receivers it sees in the division.
29. Arizona Cardinals (13-3)
S Vonn Bell, Ohio State
Previous:OLB Kamalei Correa, Boise State
Paxton Lynch would be an intriguing long-term option, but the Cardinals need immediate help on the back end and are in the middle of a contending window.
30. Carolina Panthers (15-1)
G Cody Whitehair, Kansas State
Previous:OT Jason Spriggs, Indiana
As with Seattle, the Panthers' offensive line is in need of an upgrade. Whitehair has versatility and can start from the first day. Carolina's needs are more pressing at tackle, but Whitehair can be an upgrade at one guard spot.
Denver Broncos (12-4)** DE/DT Robert Nkemdiche, Mississippi
Previous:RB Ezekiel Elliott, Ohio State
Elliott is long gone, and since the last mock draft, the Broncos made a four-year investment in C.J. Anderson, so they're looking for a long-term complement, not a primary back.
Lynch is still on the board, but with the Broncos still in win-now mode, is a project quarterback who might need a year to develop their best play?
That brings us to Nkemdiche, who could provide an immediate replacement for Malik Jackson in presence and skill set, but is also the most polarizing player in the draft.
Some teams will surely remove him from their draft boards altogether.
There is no denying that Nkemdiche is a risk, based on his numerous off-field issues and his tendency to coast on the field for stretches. But his peak film is perhaps the best of anyone at any position this draft, and he is a perfect fit for the scheme. Few teams are better equipped to reach and maximize a prospect like Nkemdiche than the Broncos, with leaders like DeMarcus Ware in the locker room and the caring, but fiery Bill Kollar as defensive line coach. If anyone could tap into Nkemdiche's potential, it is Kollar. I don't know that anyone has a better collection of circumstances to harness Nkemdiche's top-five potential than the Broncos.