This isn't a good draft for offensive linemen, and that may factor into the decision the Broncos make with the No. 20 pick in the first round, NFL Network analyst Mike Mayock said during an extensive conference call with media from around the continent Monday.
"This is a really bad offensive tackle class," he said, citing only two tackles -- Wisconsin's Ryan Ramczyk and Utah's Garett Bolles -- as potential first-rounders. Mayock said he sees Alabama's Cam Robinson as more of a guard prospect than a tackle.
"Put it this way: I think Ryan Ramczyk is the best tackle in the draft. And to tell you where this draft is for tackles, the two top guys -- Ramczyk and Garett Bolles from Utah -- are both one-year starters in major college football, which is kind of amazing," Mayock said. "I would say that if Ramczyk was in last year's draft, he would be the fourth or fifth [offensive tackle] taken.
"So I think Ramczyk and Bolles are going to get pushed up a little bit, just because there's a drop-off after them. I'm not sure either of them are going to be available at No. 20."
Mayock said he could "very easily" see the Broncos scouring free agency to pursue upgrades at offensive tackle, and that there was "a lot of depth" in free agency among interior offensive linemen. But if the Broncos want to import a new offensive tackle, he sees free agency as their best bet.
"Trying to get a starting tackle in this draft is going to be difficult," Mayock said, adding that Bolles was a "gifted kid that still needs to get stronger [and] had a bunch of off the-field stuff before you got to Utah."
The offensive-tackle class is so shallow this year that Mayock felt his No. 3 player at the position in this year's class, Troy's Antonio Garcia, would be a third-rounder "at best" most years. In 2017, he could sneak into Round 2.
"You've really got to do your homework on these tackles," Mayock said. "The tackle thing is really hard this year."
One reason for the lack of quality offensive tackles is the evolution in the styles of play at the college and NFL levels, which grow farther apart as the college ranks emphasize spread-based schemes that sometimes never have tackles lining up in three-point stances.
"We spend way too much time talking about how conversion is for quarterbacks, and not enough time talking about other positions, and one of them is tackle," Mayock said.
"And we've had a bunch of tackles over the last six or seven years that have either been busts, or have struggled to play until about the third year. I mean, Greg Robinson came out of Auburn, and he's as gifted a tackle as you can find, but he was never in the three-point stance in his life," Mayock continued, referring to the No. 2 overall pick in the 2014 draft by the then-St. Louis Rams.
The impact of the stylistic differences on quarterbacks has been well-documented, but its impact on tackles is also profound and has led to more draft misfires for tackles taken near the top of the draft in recent years than previous decades.
"I think two things happen to these guys," Mayock sad. "They're not used to the physicality of the NFL game from a three-point stance, and No. 2, they're not used to how complex the pass protections are. And I think it slows them all down."
The only prospects that tend to avoid this come from schools whose schemes are roughly analogous to those in the NFL, including 2016 first-rounders Taylor Decker (Ohio State, Detroit Lions) and Jack Conklin (Michigan State, Tennessee Titans).
"They're coming from more conventional offenses, and I think they've got a better chance of playing [from] Day One," Mayock said.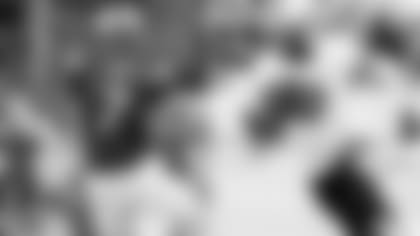 SO WHERE IS THE VALUE AT NO. 20?
Mayock sees inside linebacker as a position that could offer value at the Broncos' first-round slot, even though he expects Alabama's Reuben Foster to be off the board by then. Five-technique defensive linemen and wide receivers could also be possibilities.
"I think wide receiver makes a little bit of sense there," Mayock said. "I think they could use some depth behind those first two guys [Demaryius Thomas and Emmanuel Sanders].
"I think they're going to get in a situation where they're just going to have to find the best football player they can at No. 20."
When the notion of taking a tight end with the No. 20 pick arose, Mayock noted that the extreme quality and depth at the position this year ensures that the Broncos can wait for a later round to pick a quality tight end that can help Trevor Siemian and Paxton Lynch.
"I think the beauty of the tight end class this year is that it doesn't have to be at 20. It can be in the second round or the third round or maybe even the fourth round, depending on what kind of tight end you're really looking for at the end of the day," Mayock said.
"When you look at what the Broncos have had -- whether it's Virgil Green or [Jeff] Heuerman or whoever -- you're probably looking for one of those dynamic receiving types, and that helps a young quarterback. Whoever's starting for Denver, a good pass-receiving tight end who's a matchup nightmare can really help."
Mayock pointed to Mississippi's Evan Engram, South Alabama's Gerald Everett, Clemson's Jordan Leggett and Virginia Tech's Bucky Hodges as players that could be viable picks in the second and third rounds. He also noted Ashland's Adam Shaheen, "a small-school kid that's 277 pounds and catches the ball really well." Shaheen turned pro with a year of eligibility remaining.
Earlier in the conference call, Mayock touched on Toledo's Michael Roberts as another tight end for rounds 2-4, noting that Roberts needed to improve his blocking, but had potential.
"My point is not that I'm trying to throw a bunch of names at you, but it doesn't have to be the first round," Mayock said. "I think Denver can find a really good, viable option [at tight end] in the second, third or fourth [rounds], and you really need that with the young quarterbacks."
Take an in-depth look at Andrew Mason's evaluations of the potential draft prospects from the 2017 Senior Bowl who caught his eye through Day 3. (Photos by Andrew Mason)