DENVER — The engagement ring didn't make it out to the field.
"It's still here," said Menelik Watson from the Broncos' locker room Saturday after a 20-17 win over the Packers.
Well, after a 20-17 win over the Packers and an in-game proposal that gave Watson a fiancée and left several sections stunned at Sports Authority Field at Mile High.
In the third quarter, the Broncos' right tackle approached the stands along the Broncos sideline, dropped to one knee and proposed to Azania Stewart.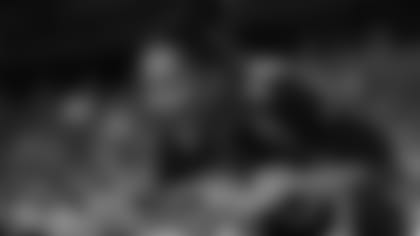 "He said he has [the ring], but obviously, he didn't bring it out at halftime," Stewart said. "But whatever, he asked me and it was awesome."
The presentation of the ring would wait until after the game — but Watson felt the moment was right to ask her as the Broncos played behind him.
"It was her first NFL game," Watson said. "She's about to head back overseas to start her season. She leaves tomorrow. It's something I've been thinking about for a while. I've been contemplating it. What a perfect time to do it: in our stadium, the first game, in front of a beautiful crowd. I'm not really a public person, but I just thought it would be something special that we could remember forever."
Watson said the two would celebrate Saturday night before Stewart left the U.S. to join her basketball team overseas. And while they'll meet up at times throughout the year, Watson said he knew he wanted to propose before they would be separated.
"She's going away and she's about to lock into her season, too," Watson said. "So I think it'll just be good for us to keep each other going when the season gets long and her season gets long."
While he made his move in the third quarter, he started thinking about his plan far earlier in the game.
"I was trying to find her the whole time — between series — which is very unprofessional of me," Watson said laughing.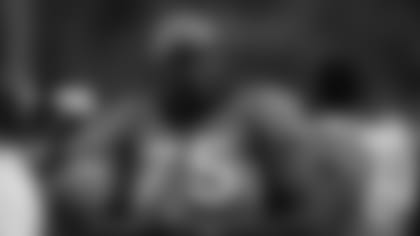 Quarterback Trevor Siemian is likely glad Watson could compartmentalize his thoughts while he was out on the field. The offensive line largely kept Siemian upright during the game — and Siemian was still standing by Watson when the tackle made his move toward the stands.
"That was very cool," Siemian said. "I saw his — now fiancée — right there. It was cool. We were joking about it. None of us had any idea, really. That was a surprise for sure. I can't say I was expecting that or have seen that before. But, I'm happy for both of them obviously."
Siemian wasn't the only one surprised by Watson's sudden proposal — and he earned points for being original.
Stadium video board proposal? This took that trend to a different level.
"I've never seen anyone propose in a game," offensive tackle Garett Bolles said. "That's the first one. That's the first, for sure. It's awesome. I love that guy. He's a great teammate and I'm excited to play on the sides with him and we're ready to see where the season goes."