ORCHARD PARK, N.Y. — If you had emailed Cat Nicholson last weekend, you would have gotten a standard "out of office" automated reply. Except, at the bottom, the email would have said "Go Broncos!"
Some of her coworkers at Scotiabank in Oshawa, a city just east of Toronto, sent follow-up emails wishing her a good time watching her beloved Broncos play the Buffalo Bills on Sunday at New Era Field.
But there was no need for wishing. Just getting to see the Broncos play in person, alongside a friend who joined her on the three-and-a-half-hour road trip across country lines, meant Nicholson would have a good day.
"I love football, overall. Sunday is the best day ever," Nicholson said. "But this is the most ultimate day."
Ultimate because, on Friday, Courtland Sutton sent Nicholson a self-recorded video congratulating her on being named the Broncos' Canadian Super Fan, thanking her for her support and telling her that the Broncos were giving her pregame sideline passes.
"I was at work when I found out," Nicholson said, "and I cried."
Nicholson has turned her coworkers, friends and family into Broncos fans. Every Sunday when Nicholson was younger, she and her dad would watch the NFL together. They became Broncos fans together.
"At the time, the Broncos weren't doing so great, and then they were the underdogs and John Elway stepped up and they won the Super Bowl," Nicholson said. "He scored and how could I not love him?"
On Sunday, wearing her Elway jersey, blue-and-orange zebra-striped socks and a Broncos beanie, Nicholson stood tippy-toed on the sideline to try to catch a glimpse of Elway when he walked onto the field.
"Some girls grow up and have pictures of the Backstreet Boys," Nicholson said. "I had pictures of John Elway."
Nicholson's dad has since passed away, but her love for the Broncos has only grown.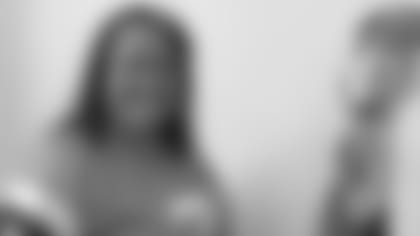 When she heard about NFL Canada's 10-week challenge to find each NFL team's top Canadian super fan, she started planning the social media posts she'd need to win the contest.
Her coworkers offered advice for which photos and videos to post. She had to include her dog and cat wearing Broncos gear and her Broncos tattoo on her right forearm, but she had the most fun taking pictures with her friends and family turned Broncos fans. Her favorite challenge was during Week 8 when she recreated Jason Elam's 1998 record-tying 63-yard field goal.
Now, she's already planning the 60-second video to try to prove she's the No. 1 Canadian NFL Super Fan.
But on Sunday, she focused on taking a photo of Elway on the field, avoiding jeers from Bills fans and looking out for Courtland Sutton.
"Well, I think Courtland Sutton is my new favorite player. Getting his video was super awesome," Nicholson said. "[John Elway] is my ultimate favorite player. Courtland Sutton is my new one."
Nicholson and her friend watched the end of the Broncos' warmups from the tunnel, snapped more photos and ignored the Bills fans booing the Broncos players as they returned to the locker room.
Oblivious to the noise, Sutton ran up to Nicholson to say hello and that he would try to win for her. When Sutton left, Nicholson and her friend embraced and took a few deep breaths, still smiling.
Though Sutton and Sunday's experience gave her even more reason to love the Broncos, Nicholson said she appreciates the Broncos' off-field actions above all else.
"I really love all the great things they do. Even though I'm in Canada, I see all the great charity work they do and that makes me really proud," Nicholson said. "Not everybody does that and means it, so when you see that, I think that's so cool."
And, of course, there's the excitement that comes with the Broncos' on-field action.
"I really love this year, you've got a lot of new rookies that are really stepping up and I think that means it's a really exciting time," Nicholson said.
The main thing left on her to-do list as a fan is going to a Broncos game at Empower Field at Mile High.
But on Sunday, the only thing to do was to climb up to section 203 and enjoy watching the Broncos play in person. As she clutched handwarmers to try to stay warm, nothing could take the smile off her face.
"This day has been the most amazing day ever," Nicholson said.