Penn State RB Saquon Barkley: **After dominating the running-back workouts with a 40-yard dash time of 4.40 seconds that was only bettered by a running back who is 35 pounds lighter (North Carolina State's Nyheim Hines), the question is not whether Barkley will be a top-five selection, but where among those picks he will land.
Florida DL Taven Bryan:No defensive lineman who weighed more than 270 pounds had better quickness numbers than Bryan, who led all 271-plus linemen with his times in the short shuttle (4.48 seconds) and the three-cone drill (7.12 seconds). Bryan's impressive tally of 30 repetitions at the bench press capped a week in which he showed himself to be an intriguing speed-and-power blend.
Texas Tech WR Dylan Cantrell:He stood out in the drills that showcase lateral quickness and change of direction, posting the best 20-yard shuttle, 60-yard shuttle and three-cone drill times of the wide receivers. Making his work all the more impressive was his 226-pound frame, second-heaviest of all receivers at the Combine.
LSU WR D.J. Chark:In addition to posting a 4.34 40-yard dash time that led all offensive players, Chark posted the best vertical jump and finished fourth in the broad jump. The 199-pounder even had a a respectable 16 repetitions in the bench press, placing him 11th among the 34 wide receivers who took part.
Fordham RB Chase Edmonds:By posting the best times in the three-cone and short-shuttle drills, the 5-foot-9, 205-pound Edmonds put some raw numbers to go along with his explosive film.
Penn State TE Mike Gesicki:He built on his outstanding Senior Bowl week with perhaps the best individual performance of any player at any position, dominating tight-end drills. The only drill that he did not win at his position was the bench press, in which he finished second behind South Dakota State's Dallas Goedert, who did not take part in the field work because of a hamstring injury.
UCF LB Shaquem Griffin: **With the best 40-yard dash time for a linebacker at the Combine since 2003 (4.38 seconds), Griffin added another layer to a story that seems to grow more amazing by the week since his dominant performance in the Knights' Peach Bowl win over Auburn on New Year's Day.
UTEP G Will Hernandez:It wasn't just his O-line-best 37 bench-press repetitions that were notable, but his overall athleticism that was on display with his 5.15-second 40-yard dash time (eighth among offensive linemen) and his 7.59-second time in the three-cone drill, placing him seventh in his position group. Along with Notre Dame's Quenton Nelson, who also enhanced his stature in Indianapolis, Hernandez solidified his place as one of the best big athletes to come through the Combine in recent years.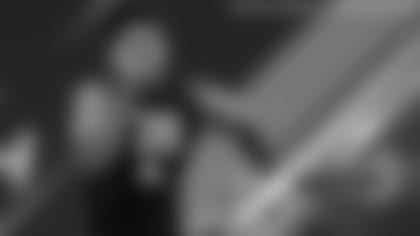 Boston College edge rusher Harold Landry: **Other pass rushers posted faster 40 times, but Landry's work in the three-cone drill (6.84 seconds) and the short shuttle (4.19 seconds), where he was able to show off his agility and change-of-direction ability, will draw notice. Landry's short-shuttle time was the best among edge rushers, a distinction he shared with Utah's Kylie Fitts. His three-cone drill time placed him second behind Ohio State's Sam Hubbard.
Oklahoma QB Baker Mayfield:It wasn't just that the reigning Heisman Trophy winner had a strong workout Saturday. During his press conference Friday, he offered a vigorous defense of his college left tackle, Orlando Brown, in the face of media scrutiny over Brown's poor Combine numbers, citing Brown's play throughout the season, when he didn't allow a sack. That is the sort of presence you want from a quarterback and a leader, and whoever drafts Mayfield can be secure in the knowledge that he will have his linemen's backs, just as they will protect him on the field.
UCLA OT Kolton Miller:An across-the-board standout during his Friday workout, Miller finished in the top 10 among offensive linemen in the 40-yard dash, vertical jump, broad jump and the three-cone drill. His average rank in the six key drills -- those four plus the bench press and the short shuttle -- was 5.17, which was the best for any offensive lineman who took part in all of them.
Maryland WR D.J. Moore:Among the wide receivers who took part in all of the drills (bench press, 40-yard dash, vertical jump, broad jump, three-cone drill, short shuttle and 60-yard shuttle), Moore had the highest average placement (6.14), with top-five finishes in the 40, vertical jump, broad jump (which he won with a 13-foot launch), short shuttle and 60-yard shuttle.