A few standouts from Saturday's East-West Shrine Game, won 14-10 by the West team: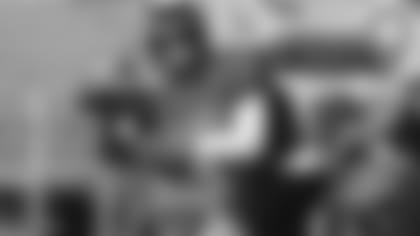 QB Nic Shimonek, Texas Tech
The term "gamer" probably describes Shimonek best, at least in regard to his work in St. Petersburg. He had an up-and-down practice week, as the West team's passing game moved in fits and starts during practices on Monday, Tuesday and Wednesday. But in Saturday's game, he was the best quarterback on the field, especially during a game-winning drive that he capped with a 34-yard touchdown pass to Houston wide receiver Steven Dunbar.
Shimonek ended the day as the only quarterback to complete at least 60 percent of his passes, but what was impressive was how he was willing to throw into tight windows. He kept the drive alive by hitting Oklahoma wide receiver Jeff Badet, threading the needle with two defenders in the area. One play later, he hit Dunbar for the touchdown with a well-placed, outside-shoulder throw that beat tight coverage from Pitt cornerback Avonte Maddox.
Shimonek also showed outstanding feel for the pass rush on two occasions during that 10-play, 70-yard drive. First, he ducked as Miami defensive end Chad Thomas closed in and moved to the left, locating Troy running back Jordan Chunn near the left sideline for a near-completion. Later on the drive, he adeptly avoided a sack from North Carolina State's Kentavius Street.
Shimonek dodged the rush, extending the play by moving to his right. Both of those plays ended in incompletions, but with his feel and escapability, Shimonek ensured that the West offense didn't fall off-schedule and into long-yardage situations from which it would have been difficult to recover.
WR Daurice Fountain, Northern Iowa
There is no doubt that he has a high ceiling, owing to his impressive reach and ability to hit fifth gear in a hurry. After an outstanding week of practice, it came as no surprise that he led all receivers with 61 yards on three receptions, including a 38-yard pass from Memphis' Riley Ferguson with 1:33 remaining in the second quarter.
Fountain also had a 30-yard punt return in the third quarter, adding to his potential value.
However, Fountain failed to corral a catchable pass from J.T. Barrett on fourth down with 25 seconds remaining, ending the East's scoring threat. Fountain also dropped a pass down the middle Wednesday. Fountain possesses excellent receiving tools and the ability to get separation and make catches in traffic, but he will need to avoid drops to maximize his potential.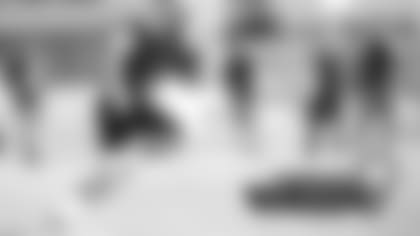 RB Phillip Lindsay, Colorado
Lindsay has the quickness and good hands necessary to be an outstanding receiving threat out of the backfield, but in Saturday's game, he was used more as a traditional ballcarrier, leading all runners with 51 yards on 12 carries.
Lindsay ripped off a 15-yard run in the third quarter. He capitalized off a hole created by solid inside blocks from Colorado State's Jake Bennett and Washington State's Cody O'Connell and an outside seal from Weber State tight end Andrew Vollert.
Later in the possession, he cut across the field for a 12-yard run to move the West team into the red zone.
Northwestern's Justin Jackson, South Florida's D'Ernest Johnson and Old Dominion's Ray Lawry -- a late injury replacement for Fordham's Chase Edmonds -- didn't carry the football as frequently as Lindsay, but all were productive, averaging over 5.0 yards per carry apiece.
DT Bilal Nichols, Delaware
One of several defensive linemen who had outstanding weeks, Nichols capped his week by clobbering Ohio State quarterback J.T. Barrett as he threw, forcing a fumble that Natrell Jamerson recovered and returned for the score.
Nichols capitalized off the East's play call. The offense was setting up a bubble screen to Fountain, leading the offensive linemen to fire off laterally, leaving Nichols with a highway to Barrett. When Barrett hesitated, Nichols was in position for the hit that led to the first score of the game.
Edge rusher Marcus Martin, Slippery Rock
Given that the defenses -- and front sevens in particular -- had the upper hand for most of the week, it seemed appropriate that defenders would score the first two touchdowns of the game. But for Martin, the all-time leading sacker among all divisions of the NCAA ranks, it was part of the job, as he started seeing fullback repetitions during the week.
Although Martin racked up 56 sacks in his college career, he struggled this week. At 250 pounds, he got lost in the shuffle working from a 4-3 defensive end stance, and he wasn't able to compensate with quickness. But he showed spark on special teams and jumped at a chance to work on offense. Although his fullback skills are raw, his willingness to potentially change positions if the need requires should get him into a training camp. Martin could also be a better fit as a 3-4 outside linebacker, which would allow him to operate in space more often.
Edge rusher Joe Ostman, Central Michigan
After posting 14 sacks in 10 games during the 2017 season, Ostman continued to consistently burst into the pocket throughout the week, and then he capped off his work with a 12-yard sack of Barrett on the game's first series.
Ostman, Missouri edge rusher Marcell Frazier and Street all finished with sacks, with Street leading the way with 1.5 in Saturday's game. The trio validated their week of strong work. Each of them should be selected in the draft's middle rounds.
Andrew Mason offers his evaluations of eight key players from the final two days of East-West Shrine Game practice. (Photos: Andrew Mason)