ENGLEWOOD, Colo. — There are a number of statistics that back up Marquette King's skill as a punter.
His 54.1 yards per punt in Denver the last two seasons.
His 46.8-yard career average.
His Second-Team All-Pro selection in 2016.
But he may be even better at delivering analogies.
"The last few days were definitely different," said King of his release from the Raiders. "It felt like — you know how you play those UFC games and you get punched and you're in a daze until you get knocked out? That's what it kind of felt like. It all happened so fast."
On Thursday, though, King settled in Denver, where he signed a three-year contract.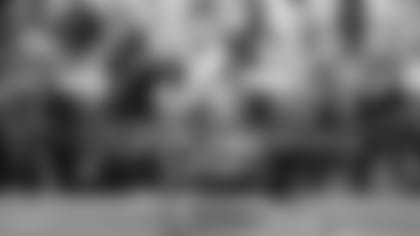 "I just felt like Denver was the best team to go to," King said. "The people that I was familiar with that are here with the organization — you get a [homey] feeling when you get here. I'm just looking forward to competing and winning games."
As he does, he will continue to celebrate his punts, with two caveats.
First, he said he's aware he must protect his team.
"The flags — I got three flags two years ago and one flag last year — it's in the past," King said. "I'm just looking forward to doing my thing and making sure I'm working on my composure and doing the right things to making sure the team is in the best situation possible."
And second, he'll need a new go-to routine.
"It's time to find a new celebration because that was one when I was trying to troll y'all," King joked. "Now I've got to find something else. It's definitely going to be a nice little dance. We'll figure something out."
Whether King hopes to debut that dance against Oakland — a "revenge game" that he said factored into his decision to sign with Denver — or against any of the Broncos' other home opponents, King will be aided by the altitude.
"I think when it comes to punting out here, the ball definitely travels a lot farther," King said. "There is a lot more you can do with the altitude. I've always enjoyed punting out here in the altitude just because the ball travels further. It's something I'm going to have to get used to, too. I definitely have to get a feel for my leg when it comes to putting the ball inside the corners and everything.
"Denver is a punter's paradise. While I'm competing, I'm going to see if I can take advantage of it."
That fine-tuning will come soon.
For now, though, King's first order of business as a Bronco may very well be to find a new number.
After all, in Denver, No. 7 is taken.
"I've got to take [John Elway] out to a nice steak dinner, but I don't think that's going to work," King joked. "I was thinking about getting him a helicopter or something — a big gift. But I don't think he's going to give that '7' up. I've got to figure out another number."