Before the two Super Bowl wins, the five Most Valuable Player awards and the countless victories, Peyton Manning was just a freshman at the University of Tennessee when he first met the Volunteers women's basketball coach, the legendary Pat Summitt. From that first introduction in 1994, Manning and Summitt developed a friendship that would grow as the two continued to establish their legacies as some of the all-time greats in sports history.
"It would have been a great experience to play for her," Manning said. "She could have coached any team, any sport, men's or women's. It wouldn't have mattered because Pat could flat out coach."
Summitt, who passed away on Tuesday morning at the age of 64, led the Lady Volunteers to 1,098 wins in 38 seasons as their head coach. Her career record also includes 31 consecutive NCAA tournament appearances and eight national championships.
Though the numbers tell an enormous part of Summitt's legacy, she is also remembered for the impact she left on her players, the fans, the entire college basketball community and by her competitive spirit that only intensified when she was diagnosed with Alzheimer's five years ago.
This legacy, this manner in which she lived, is how Manning remembers her.
"I was always impressed with how all of her former players spoke about her," said Manning. "You speak to people like Tamika Catchings or Chamique Holdsclaw and they just talk about the role that Pat played in all their lives on and off the court. You can just tell the impact she had on those players."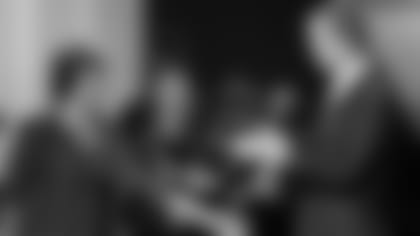 And, it wasn't just the players she coached. In fact, Summitt happened to be one of the mentors Manning consulted when struggling with deciding whether to enter the NFL Draft after his junior year.
"She gave me some very valuable advice during that time," Manning recalled.
This friendship and mentorship lasted through all those victories, those five MVP awards and Summitt's quest to become the first college basketball coach, male or female, to reach 1,000 wins.
When Summitt announced she had Alzheimer's, Manning served on her foundation. When Summit was awarded the Arthur Ashe Award at the 2012 ESPYs, Manning delivered the introduction.
When Summitt retired, she finished as the winningest coach in college basketball (1,098).
"I will miss her dearly and I am honored to call her my friend."