On Thursday of last week, the Broncos' first quarterback, Frank Tripucka passed away in New Jersey. When the Broncos traveled to play the New York Giants this weekend, the current quarterback was able to meet with some of the Tripucka family.
"I had a good visit with three of his sons and their wives," Peyton Manning said after Sunday's game. "It was a good meeting. I was explaining to them that in our quarterback room, we have a picture of their father. In our quarterback room, we have certain former quarterbacks that we have pictures of in our quarterback meeting room, and he was one of them. It was an honor to wear his number. I had a good meeting with three of his sons. They said their dad would have been proud."
Manning was scheduled to meet with Tripucka while the team was in New Jersey.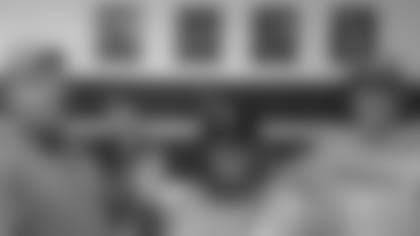 Tripucka wore No. 18 and it was retired by the Broncos in his honor but when Peyton Manning came to Denver, Tripucka gave him his blessing to wear No. 18.
"It really goes against everything I believe in being a guy who appreciates the history of football and I believe when a number is retired it should stay retired; but in talking to Frank Tripucka, I feel he really wants me to wear his number," Manning said at his introductory press conference. "It was a very humbling conversation and I am honored to wear his number, being another quarterback for the Denver Broncos as Mr. Tripucka was back years ago as the first quarterback to play here. It truly is an honor for me and I'm really following his wishes to wear it because that's what he wants me to do and I'm honored to do that."
Tripucka originally came to Denver to coach alongside Frank Filchock, but as the season neared it was clear that he was the team's best option at quarterback. In 1960, Tripucka tossed the first touchdown pass in AFL history – a 59-yard pass to Al Carmichael in Boston.
He went on to finish that season with 3,038 yards, making him the first U.S. professional quarterback to throw for 3,000 yards in a season. Tripucka guided the Broncos to their first .500 season in 1962 and set the record for passing yards in a game – 447 – that stood until 2000.
In four seasons as a Bronco he threw for 7,676 yards a mark that stands as seventh best in franchise history.