How come Denver hasn't worn the 1977-1996 old traditional uniforms in a throwback situation yet? I've heard that helmet safety is a concern with switching uniforms but Pittsburgh rolls their throwbacks out every year as well as several other teams. I guess I miss the old Big Denver "D." Thank you.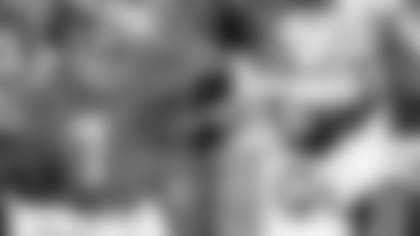 It would be lovely to see those old uniforms, which were worn in various iterations from 1968-96, with variances in sock stripes, face-mask color and other small details.
But the Broncos cannot wear them because of a league rule enacted in 2013 that prevents teams from wearing multiple helmets during the season. Because the Broncos' helmets in those days were a lighter shade of blue than the current navy, the Broncos could not do an accurate throwback uniform, so the notion is dead.
The teams that do currently wear throwback uniforms don't have to change uniforms to complete their ensembles. In the case of Pittsburgh, which you referenced, the helmet in its current form did not exist from the era commemorated by their throwbacks, so the Steelers simply wear their current, iconic helmet with the three hypocycloids.
By comparison, in the case of Buffalo, the Bills wore a white helmet in the 1960s and don a white one today. You just remove the logos and stripes, affix the throwback ones and -- voila -- you have a perfect throwback.
The sad part about the NFL's 2013 revised helmet rule was that it robbed us of some of the NFL's great throwback looks: the Patriots' red-and-white with the Pat Patriot logo, the Buccaneers' Florida-orange-and-red jerseys with the "Bucco Bruce" logo on the helmet, and the original Falcons uniforms that even had a hint of gold on a helmet stripe as a tribute to Georgia Tech (since the rest of the team's original uniform was in Georgia colors). The Steelers occasionally wore a 1960s throwback with yellow helmets, and Washington dusted off the 1970-71 look with yellow helmets and the Vince Lombardi-approved "R" logo on each side of the helmets.
I'll keep hoping the rule changes. It's been 14 years -- and counting -- since the Broncos last wore the look that defined them for 29 seasons; they broke out those uniforms for a Thanksgiving Day win in 2001. It's been too long.
RE: Garcia isn't hurting the team? I'd call back to back penalties & changing the game from 3rd and doable to 3rd and long is hurting the team .... but I'm no expert like you Mason.
No player is perfect. Every Bronco on the field, at some point, has had a play that hurt the team. Most of them -- especially in the starting lineup -- have done far more to help the team; that's how you have the league's third-best record after 10 games.
As for Garcia specifically, he plays with a nasty streak. He's tenacious; this jumped off the film at Florida, and even what I watched of him at Maryland before he transferred. The offense, on balance, averages slightly more yards per play with him on the field than with him on the sideline. He will only improve.
Not all penalties are bad. Sometimes you take a holding penalty to avoid getting your quarterback clobbered. It's not good to get beat, obviously, but the penalty is a cut-your-losses moment.
I'll roll the dice on his potential. As Evan Mathis says, Garcia is an "A-plus student of the game."
Stupid move by the Broncos to release Shelley Smith. Mathis got folded like a lawn chair Sunday & Garcia continues to play like a rookie -- inconsistent at best. But don't worry the great PFF rated Mathis well so I'm sure you'll claim that to back up your sorry position on the matter.
Garcia "continues to play like a rookie" ... um, you are aware that he IS a rookie, right? You kind of lost me after that. What I will note is that there's not much credence given to the PFF grades in the offensive-line room.
Considering that the ground game has actually improved on the whole and had its four best games since the frequency of rotation was forced to increase following Ty Sambrailo's season-ending injury, then, no, I don't think it's a reason. If anything, the rotation is helping prolong the effectiveness of Ryan Harris, Evan Mathis and Louis Vasquez, all of whom have dealt with injuries of varying degrees at some point in recent weeks.
Last week at the game I noticed that Phil Milani changed from his pregame suit and tie to pick up a camera and film what I assume must be highlights from the sidelines. Do you do anything behind the scenes that we may not know about as well?**
What I might not be supposed to say -- but will anyway -- is that Phil is, indeed, Superman, but has exchanged his blue, red and yellow tights for winter skiing gear since it does a better job at helping him ward off the cold.
The "Phil Milani" disguise is actually better than Clark Kent; they both are tall, dark-haired and wear glasses, but Phil is a much more confident communicator than Clark, a far better presence in front of the camera and knows more about football.
The unfortunate part is that SuperPhil didn't play for his beloved CU Buffs during his undergraduate days; he attended during the Dan Hawkins era, and clearly Hawk could have used his services for Division I football in the Big 12. It wasn't intramurals, brother, and SuperPhil could have helped.
Matt Paradis's Boise tapes showed one of the more technically sound OL-men I had viewed and he showed some outstanding second level blocking ability. The one question I had was the apparent physical limitations of his body type, meaning he had/has little upside in building up his body.
What is your opinion of the job he's done this year and your read on his upside?
It's not just that he's technically sound; his football I.Q. is elite. His command of checks and calls before the snap already places him among the best at his position.
It's interesting when he was drafted, the Broncos didn't have a zone-blocking intensive scheme, but his size and ability at the second level make him a perfect fit for it. What I see improving on him from week to week is the ability to move and find the defenders to block at the second level, which helped set up some of Ronnie Hillman and C.J. Anderson's better gains in Chicago.
That said, nothing is guaranteed. James Ferentz could push for playing time in the coming offseason and has the potential to push for the job and create a lively competition this offseason.
Mase, first off, huge fan. Started using Broncos 365 app 2 years ago, and first saw you, and Phil at that cold K.C. show down on Sunday night! But I think we both know that the best way to defeat a first-ballot Hall-of-Fame quarterback is to take his eyes off the receivers, and avert them to his O-line and the incoming pass-rushers, do you agree?**
You make a good point, James.
You want to do everything you can to disrupt Tom Brady's focus, and if that means cranking up the pass rush and relying on man coverage in the secondary, so be it. You have to be careful regarding Rob Gronkowski, because no one can cover him alone, but that's where you need to have a variety of options.
Maybe you use Aqib Talib on him on some plays -- he covered Jimmy Graham well in a 2013 Patriots-Saints game, so he has a puncher's chance against a strong, athletic tight end. T.J. Ward can wreak some havoc. Darian Stewart might be able to make a play on the ball. David Bruton Jr. is fast and tough. The point being that if you have a variety of men covering Gronkowski and change from play to play, then you open the horizon for a variety of pass rushers when you blitz from the secondary.
The absence of Julian Edelman and Danny Amendola could help the Broncos' efforts to cover Gronkowski; with a less-experienced receiving corps, the Broncos could put more emphasis on containing the uber-talented tight end.
Of course, as Von Miller noted Thursday, Brady is so effective at firing the football quickly that he doesn't need an offensive line. That's a bit of an exaggeration, but Miller makes a great point. The pass rush has to be quick, which is where the blitz comes into play; to have a chance at disrupting Brady, you need pressure through the A- and B-gaps. If it comes only from the edge, it will usually arrive too late to affect the play.
And thank you for the kind words, I remember that cold Kansas City night from last year well. I hoped that there would be no close-ups on my face because I could feel the snot leaking out of my nostrils and freezing in the frigid air ... good times, my friend, good times.
First off let me say I really enjoy your work and look forward to every mailbag!**
So my question is what do the fans at Sports Authority Field say when the defense stops the opposing offense? Is is "Bron! Cos! D!"
Thanks again, greetings from Canada!
Thank you, and the cheer is "In-com-plete!" For years before I came to Denver, I thought it was, "Take a seat!"
Seems like the Broncos are being penalized when the other team isn't. Late hit on Brock? Offensive pass interference doesn't seem to be called any more. Your thoughts?
I'm not a blame-the-referees guy, but last week's game -- no Bears penalties compared with eight for 118 yards against the Broncos -- was eye-opening, to say the least. Former NFL officiating guru Mike Pereira, now working for Fox Sports, said the call when Brock Osweiler fell to the ground and was hit was incorrect, and I agree with him:
You remove that call, the game doesn't have the same suspense at the end and you probably have a 17-9 final score that was more reflective of the control the Broncos had over the game for most of the chilly afternoon at Soldier Field. C'est la vie, I suppose, but some of the calls being missed are obvious to my eyes, and there appears to be a double standard at times. That is a concern.
---
Submit a question for the next Mailbag!
The analysis, opinion and speculation in this story represents that of the author, gathered through research and reporting, and does not necessarily reflect the opinion of the Denver Broncos organization.