Where does Cody Latimer stand?
He's been active every time he was healthy, and even though a majority of his snaps were on special teams, that shows how he's viewed internally -- especially when few teams activate six wide receivers for each game as the Broncos have most weeks this year.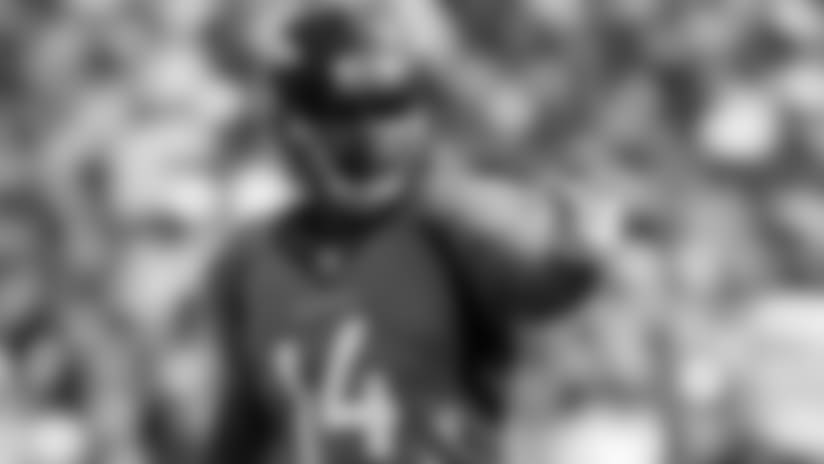 Further, both Coach Gary Kubiak and running back C.J. Anderson both singled out Latimer's run blocking for praise this week.
"Both of the runs I had in overtime [against the browns] were off of Cody's blocks," Anderson said. "People will never see that, just like the only person who turns around and says, 'Hey, C.J., good [blitz] pickup is 18 [Manning] -- and Emmanuel came up to me and said that, because he saw the blitz coming.
"Those are the little things that help you win football games."
If he continues to succeed in that area, he could earn some more playing time. However, as Latimer noted Thursday, the manner in which the Broncos disperse playing time to wide receivers affects who plays -- and how much each receiver plays.
"I want to be out there, but how it's set up here, we all play a certain position," Latimer said. "So I play the 'Z,' and I'm behind Emmanuel, so I can only really go in the game when Emmanuel gets tired. And it's kind of hard to pull a Pro Bowl receiver out of the game.
"So if he doesn't get tired, my reps are down. But if he gets tired or gets hurt -- like he did last game -- I'm in a lot more. People on the outside don't understand what's going on here.
"I don't blame them. You can't pull a Pro Bowl receiver out -- especially how it's set up, we only play one position, so there isn't much I can control in that."
What was up with Peyton Manning and Cody Latimer when they were caught on camera after an incompletion during the Browns game?**
It can be chalked up to miscommunication, Latimer explained.
"It wasn't anything bad. It wasn't like I sat down the rest of the game. I still played a lot after that," Latimer said. "There's stuff happening. It isn't going to be perfect in the games.
"It was just miscommunication, but we handled it. That's what practice is for; you fix those things."
And if anything, Manning and Latimer are on the same page in terms of their communication away from the field. During the bye week, Latimer said Manning encouraged him to keep his chin up and not be frustrated about a lack of targets and opportunities.
"He sends me [text] messages," Latimer said. "He sent me a random one last week, telling me about what's going on. It was Scripture, but it actually told me what was going on. He told me, 'Just keep being patient. Just keep grinding.'"
With DeMarcus Ware returning this week, Shaquil Barrett should return to a rotational role. But it would be no surprise if he had more snaps than he did prior to Ware's injury in the next few weeks. With Shane Ray out because of a torn medial collateral ligament, Defensive Coordinator Wade Phillips could opt to stagger the respites he gives to Ware and Von Miller, which would allow Barrett to relieve both and play more snaps, with Lerentee McCray and perhaps Kenny Anunike also factoring into the mix.
It's worth noting that Phillips has often used Ray and Barrett as a package together; if that remains the case, then McCray and Barrett would work together giving Miller and Ware rest at the same time.
Phillips could dial up some packages that utilize Ware, Barrett and Miller together, but given the success of using some combination of two of the three as the outside linebackers, look for that to continue until Ray returns.
You don't know that the Broncos haven't shown any interest.
People always confuse a lack of reports with a lack of interest. If all sides are properly diligent, there are no reports because there are no leaks.
Since you're a Broncos fan, I will assume you want the best for the team -- and that means that if the Broncos do pursue any trade possibilities, they do so quietly.
Since we are about the same age, do you feel like Bronco Fans have become a bit spoiled? I remember when we got Mike Shanahan and Gary Kubiak back in 1995, it was their first year and we were excited for the future even though we were 8-8 and missed the playoffs. It was a new system and we saw glimpse of John Elway actually having a run game for the first time in his career. Now we are 6-0 and in an even better situation but all I read is about how bad we are, and benching possibly the best QB of all time and questioning the coach? Just seeing if I'm the old guy yelling "get off my lawn" the fans forgot the old days when we stayed with the Orange no matter what. Good or bad!**
I can see the argument that some fans are spoiled, but my perspective is unique; I spent a good chunk of my childhood going to Tampa Bay Buccaneers games when they were in the midst of 14 consecutive losing seasons -- including 13 with 10 or more losses. A 6-0 start was beyond my wildest dreams; in fact, the Bucs have never started 6-0!
That being said, I understand some of the frustration among Broncos fans -- and it's not simply because the team's offense isn't as efficient as it once was. although some will make that argument. Part of it is the narrow victory margins against teams that have struggled, although four of the wins were on the road, where it is always tough to succeed.
Some of it because fans care deeply for this team and know that the window to win with Peyton Manning is brief, with his 40th birthday coming in March. And whenever Manning's career in Denver concludes, the Broncos will start over at the most important position on the field -- which could be good, but carries with it all the doubt that goes with heading into the unknown. Brock Osweiler could succeed Manning and he could be terrific, but until he or any other potential successor gets out there, you just don't know.
Broncos' fans hearts are in the right place; they care. They want the best for their team. But even if the Broncos lose on Sunday, this remains a championship contender, despite the struggles on offense. All fans must not lose sight of that.
I didn't get as much sleep as I would have liked, and was writing something just about every day. I don't take byes. Sometimes I fall asleep sitting at my laptop at the kitchen table, as I did in the way-too-small hours of Friday morning, watching all of the sacks absorbed by Aaron Rodgers this season. As Hyman Roth said in The Godfather: Part II, "This is the business we've chosen."
Yet at the same time, by the time Sunday arrived, I was ready to get back to sports -- which explains why I watched Bills-Jaguars on my iPhone and City-United on my iPad. (Some people need a second screen. I need a third, fourth and fifth.)
---
Submit a question for the next Mailbag!
The analysis, opinion and speculation in this story represents that of the author, gathered through research and reporting, and does not necessarily reflect the opinion of the Denver Broncos organization.