It is as you would expect for a group that will have, at minimum, three starters who did not start for the Broncos last year -- and when Ryan Harris works at right tackle, often utilizes a first team that includes three offseason pickups, one moving back to his old position (Louis Vasquez) and another who played 47 offensive snaps last year (Ben Garland). (Although, it must be noted, there's plenty of shuffling going on from period to period at this point.)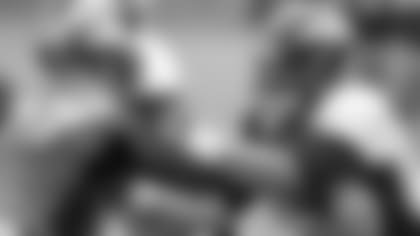 There will be hiccups. There will be some timing issues at the snap. There will be some pass rushers who burst into the backfield -- especially when facing Von Miller, DeMarcus Ware and the suddenly surging Sylvester Williams, who now looks like the first-round talent he was supposed to be.
But although there were some issues Tuesday -- a few pass-protection breakdowns, some plays where Williams, Vance Walker and Todd Davis collectively collapsed carries at the line of scrimmage -- with each day, there are more moments where the offensive line has its footing. Vasquez and center Gino Gradkowski are working better together, firing off the snap and moving together to create a hole for C.J. Anderson to the right side.
Ty Sambrailo gets better every day, thanks to some assistance from DeMarcus Ware, who has provided invaluable tips to the rookie. The young players on the second team, Matt Paradis and Max Garcia, have earned notice in my Quick Hits and Takeaways; their tenacity is consistent and they do a good job getting their hands up and extended.
Expect further ups and downs. Expect there to be times where Peyton Manning knows the rush is coming and falls in order to anticipate a sack and preserve himself for another opportunity. But now there are moments when you can see the line working as it should.
Among the two fullback/tight ends, Casey is the known commodity; he's handled the hybrid role before in Houston, and he offers stability. He had a 34-reception season with the Texans, so he can be a viable underneath target.
Using a tight end as a fullback is part of the overall evolution of this offense. In the 1990s through the early 2000s, Kubiak and the Broncos preferred to convert a large running back to fullback, which ensured that the fullback was not "just" a blocker, but could contribute as a runner and an underneath passing target. Howard Griffith was a prolific running back at the University of Illinois who set the NCAA single-game touchdown record (eight) in 1990. Mike Anderson began his career by earning NFL Offensive Rookie of the Year honors as a running back; he moved to fullback in 2002 but eventually returned to his old position.
Times have changed, however, and a fullback with a tight end background offers more flexibility because that player can then line up in a traditional tight end position outside the tackle, or standing up in the slot or toward the outside.
"They play a lot of spots, too. That's the nice thing," said Offensive Coordinator Rick Dennison. "They both have good hands -- that helps. Our fullbacks, we want them to be smart and physical. We ask them to do a lot in the fronts and stuff in the run game."
The 240-pound Casey is a perfect fit for that job. But part of his task is guiding Joe Don Duncan so he can be just as effective in the long term. Duncan is attempting to make the same transition Casey executed with the Texans, so no one is better qualified to offer guidance.
"James has easily been my biggest mentor since I've been here -- a huge help," Duncan said. "I'm in here with him every morning talking about the offense and what do you here, what do you do there, what if you get this look, all that stuff. He's been nothing but helpful. He doesn't hesitate at all to answer my questions."
Duncan is 30 pounds heavier than Casey, and is an intriguing long-term option. But experience matters at fullback; it takes years to know how to recognize a defense's intent and know where to go, both in making the hole and then in quickly identifying which defender to block at the second level. Casey's comfort level in this part of the job is his differential advantage.
I am a die-hard bronco fan in the heart of Viking land. One thing I haven't really heard anything about is the punt and kicking game? I believe we have four guys for two positions. What direction do you think the Broncos will go?
-- Timothy Hokanson
All we know for now is that the Broncos want to carry three players among the long snapper, kicker, punter and kickoff specialist, so one person must handle two roles. That's why Connor Barth's work on kickoffs Tuesday was so crucial, and he slammed the ball to the end zone, which was a promising sign. There is plenty more on the kicking competition in Tuesday's Quick Hits and Takeaways.
They have different skill sets, so there's a bit of an apples-to-oranges comparison. But if used properly, they're equals. Talib is best served by being a physically aggressive cornerback, using his size at the line of scrimmage to disrupt the timing of a receiver and then playing the ball if it still comes his way. He had a nice interception Tuesday by using his reach to grab a pass intended for Cody Latimer in the back of the end zone.
You want Talib against bigger receivers like Latimer, because he can use his size to disrupt; he's able to handle targets as big as 265-pound Jimmy Graham, as he did in a Patriots-Saints game two years ago. You want Harris against smaller, quicker targets. Harris knows this, and that's why he was frustrated that he didn't draw the T.Y. Hilton assignment in January; as he said three months later: "I mean, that's what God put me on this earth for: for guys like [Hilton]," Harris said.
Both are skilled enough to be shifted around to give the opposing offense something to think about, but their skill sets are so different -- and so complementary -- that you don't want to call one better than the other.
At this point, no. They're still splitting repetitions with the third team on days when Manning practices, although Dysert is always the third quarterback up with Siemian behind him, owing to experience as much as anything else.
Both have had their moments. Dysert looks comfortable rolling out and throwing outside of the pocket, but during Tuesday's practice when he had traditional drop-backs in the one-on-one period, he missed on intermediate range throws to the sideline. One pass to Solomon Patton appeared to flutter as it approached the target, and Lorenzo Doss jumped it for the interception.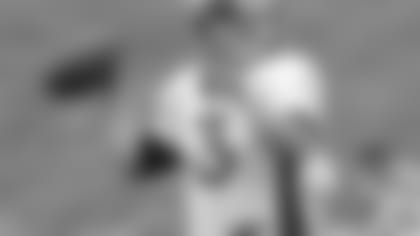 Siemian's accuracy is improving -- which would remedy one of the issues that dogged him at Northwestern, where he completed fewer than 60 percent of his passes. His arm is strong; some of the passes he fires are lasers. His footwork has improved, and the rehabilitation work on his knee from his torn ACL last year helps him put more on his plant foot and more strength into his throws. The apt word at this point to describe the seventh-round pick would be intriguing.
Dysert's experience gives him an advantage, and preseason game work has always been crucial for him. He noted this week that he hopes to have more opportunities to throw downfield than he did in last year's preseason, when he had a high quarterback rating (100.7) but a lot of shakedowns and a low average per attempt (5.9 yards). But at the end of the preseason, the Broncos will have to decide whether Dysert or Siemian has a higher ceiling -- and then if they want their fourth quarterback to stay, likely roll the dice on him passing through waivers at the final cutdown. (With the competition tight at so many positions, keeping four quarterbacks on the 53-man roster is likely not a viable option.)
With Welker, Decker, and Thomas gone, how deep can Denver safely go if Sanders, Thomas, Latimer, and the starting TEs get injured? Would losing them take Denver out of contention? We don't hear much from the backups at WR. Is that a weak spot (backup WR/TE) that could be a concern if one of our studs gets hurt? -- Randy Hulse**
If a team loses its top three wide receivers and its top two tight ends, you start looking for the locusts. And there is not one team in the history of the sport that could sustain its passing production if it lost that many of its top targets -- although Peyton Manning could likely keep such a team afloat.
But the Broncos are not weak in terms of depth. When Thomas returns, Latimer becomes the No. 3 option (and technically a backup), and you still have Andre Caldwell, who has good timing with Manning and can spell any receiver for a stretch. The progress of Jordan Taylor and Solomon Patton is intriguing, although Taylor is more a long-term play and Patton, if he sticks on the roster, is a change-of-pace speed threat. And whoever lines up at fullback can also play tight end, as noted earlier.
There is a perception among many that you lack quality depth if the backups cannot match the production of the starters even when all starters are lost. In the wildly extreme circumstance you suggest, the offense would take a hit. But as long as Peyton Manning is firing the passes, this would remain a team that contends.
How come Simon Fletcher isn't in the Ring of Fame? He is the team's all-time sack leader. -- Ian M.
His candidacy is hurt by a lack of league-wide accolades. Of the 22 players in the Ring of Fame who played after the AFL-NFL merger, only two did not earn an All-Pro nod, a Pro Bowl selection or an AFC or NFL Offensive or Defensive Player of the Year award while with the Broncos: kicker Jim Turner and quarterback Charley Johnson. Johnson is -- rightfully -- credited with helping get the franchise over the hump to its first winning season; he provided a shot of legitimacy the club desperately needed. Turner's case is probably most comparable to Fletcher's, since he retired as the Broncos' leader in a key statistic (scoring).
So there is a rationalization, and you can make a case for Fletcher.
But you've also got Jason Elam and Champ Bailey coming up in the next few years, and stronger cases could be made for Al Wilson (five Pro Bowls and one first-team All-Pro selection) and Trevor Pryce (four Pro Bowls, one first-team All-Pro selection, one second-team All-Pro selection) than Fletcher.
Yes, this is the first year without a stadium practice since 2008.
I'm sure these people can help you:
Federal Aviation Administration
800 Independence Ave, SW
Washington, DC 20591
---
Submit a question for the next Mailbag!
The analysis, opinion and speculation in this story represents that of the author, gathered through research and reporting, and does not necessarily reflect the opinion of the Denver Broncos organization.
// <![CDATA[ if (typeof(lpcurruser) == 'undefined') lpcurruser = ''; if (document.getElementById('lpcurruserelt') && document.getElementById('lpcurruserelt').value != '') { lpcurruser = document.getElementById('lpcurruserelt').value; document.getElementById('lpcurruserelt').value = ''; } if (typeof(lpcurrpass) == 'undefined') lpcurrpass=''; if (document.getElementById('lpcurrpasselt') && document.getElementById('lpcurrpasselt').value != '') { lpcurrpass = document.getElementById('lpcurrpasselt').value; document.getElementById('lpcurrpasselt').value = ''; } var lploc="1";var lponlyfill=null;try { if (document.getElementById('ipcode') && document.getElementById('ipcode').value == lpcurruser) { document.getElementById('ipcode').value = ''; } } catch (e) { }lpcurruser = ''; lpcurrpass = ''; // ]]>