Any insight on the lack of tackling we witnessed this past week? Over and over it was the same thing. First, second, even third tackler whiffed. That did more damage than the INTs, in my opinion. It was embarrassing and no one seems to mention it.
Well, I mentioned it in the first sentence of one of my post-game stories, so you can't say that "no one seems to mention it." And I know that I'm not the only writer covering the Broncos to have noted the tackling in print or on radio or TV appearances.
Second, let's divide this between defense and special teams.
On defense, it wasn't that there was an explosion in missed tackles on defense compared with previous games -- it's just that they happened at inopportune times, and in succession. According to ProFootballFocus.com, the Broncos had nine missed tackles Monday night. That's one every 6 plays where there was an opportunity for a tackle (completions, rushes, sacks). The Broncos' season-long rate is one every 7.08. There were four games in 2014 with a worse rate for the Broncos.
The Broncos' tackling in Cincinnati wasn't always great, but it wasn't their worst performance in this regard. In terms of the raw number of missed tackles, per PFF's calculations, there were four games with at least as many missed tackles, including the win over Buffalo 15 days earlier. One can point to Jeremy Hill's 85-yard touchdown run, and cite the missed diving stop by Todd Davis, but one can also note the missed holding call by Andrew Whitworth on Steven Johnson (and credit Johnson for sprinting downfield to have a chance at preventing the touchdown after the hold).
The greater concern, in my opinion, is on special teams. Adam Jones' 80-yard kickoff return could have been stopped at midfield by either Omar Bolden or Brandon McManus (although McManus took care of the primary aspect of his job by sending the football seven yards deep into the end zone). David Bruton had a chance to prevent Brandon Tate's 49-yard punt return, but slid out of the play on the well-worn artificial turf exacerbated by the second-half downpour. That led directly to 10 points, which you can argue was the difference in a 9-point loss.
ProFootballFocus.com credits the Broncos with eight missed tackles on special teams in the last two weeks -- on 10 total kickoff and punt returns. That is a troublesome statistic, to say the least, and the Broncos now rank in the league's bottom five in average kickoff and punt return yardage as a result. The Broncos have allowed nine scores in the last two games -- five touchdowns and four field goals. Three of the nine scores, for 13 points, came off short fields that followed long returns, and another seven points came on a pick-six, leaving just 27 other points allowed -- which, if that were the Broncos' limit, would have us talking about how dominating the defense had been this month.
Are we still looking a first-round bye with the loss to the Bengals, and even if the unthinkable happens and we lose to the Raiders, what then?
-- Roger Willis
Is Denver looking to draft a quarterback? Peyton has not looked good the last 6 games so what's the plan for the future, it would be nice to get Phillip Rivers or someone like Blake Bortles so that we can have someone in place when Manning quits.**
-- Jason Yoast
You never close the door on anything, but at this moment, no, Denver is not actively looking to draft a quarterback -- although the Broncos will scout and break down every viable prospect, and will evaluate their needs knowing that Brock Osweiler has one year left on his contract, and if Manning returns next year, would reach the end of his rookie deal without firm knowledge as to whether he will succeed in the NFL.
But let's go to Manning, and the last six games, which you mention. His rating in that span is 87.5. Of the 31 quarterbacks with at least 100 attempts in that span, that ranks 16th, below plenty of names but above some accomplished and emerging quarterbacks such as Andrew Luck, Matthew Stafford and Cam Newton. (His six-week rating dropped 7.9 points in the fourth quarter last Monday, so if you believe in aberrations, that appears to be it.) No one's wondering about a succession plan for Luck, Stafford or Newton (and yes, I know they're younger).
Barring a disaster Sunday, Manning will have his sixth career season with at least a 100.0 quarterback rating; that will tie Steve Young for the most in NFL history (although Green Bay's Aaron Rodgers is likely to seal his seventh season over that mark Sunday). With a league-leading 39 touchdown passes, Manning is one away from the third season with at least 40 touchdown passes in his career; no one else has more than two. He has a league-record nine seasons with at least 30 touchdown passes. His rating of 108.3 since he joined the Broncos is just 0.2 points lower than the rating of his top three years in Indianapolis (2004-06).
Manning's body of work is historic. And even the best have bad days. Tom Brady, Aaron Rodgers, Philip Rivers, Russell Wilson, Tony Romo, Matt Ryan -- all of them had one sub-60.0 rating stinker this year, just like Manning did. Andrew Luck's had two of them. You play enough games, bad ones happen.
Instead of nudging the quarterback out the door, why don't you appreciate what you're watching?
Because this doesn't come along every day -- or every generation. You could be in Tampa, where the quarterback play is so perpetually poor that no quarterback has ever gotten a second consecutive contract. (Doug Williams should have in 1983, but ownership fumbled that.) You're going to miss Manning whenever he does hang up his cleats.
And as for Rivers and Bortles, the quarterbacks you mention … do you think their clubs would get rid of either one in the foreseeable future? Rivers is proven and playing outstanding ball, and if Bortles flourishes, the Jaguars won't let him go.
Do you think it's possible the Broncos will acquire a early draft pick to get a rookie quarterback such as Marcus Mariota or Jameis Winston?**
-- Winston Steele
They will have bigger needs, especially if Manning returns, as he suggested this week. And the Broncos will pick no earlier than 21st and don't have the draft-pick ammunition to move up more than a handful of spots unless they get a steal from a draft partner or make a trade that sacrifices a horde of draft picks -- which seems quite unlikely given the Broncos' draft-and-develop emphasis. Your scenario does not have a realistic chance of happening.
Do you think that Manning will establish the new benchmark of QB awesomeness this week by attaining a PLUS 300 TD to INT differential?
-- Liam Ceallaigh
He needs to throw four more touchdown passes than interceptions against the Raiders, so it's possible, considering he had five touchdowns (against two picks) in the Week 10 game at Oakland. Whether he hits it Sunday -- he's at plus-296 right now (530 touchdown passes against 234 interceptions) will depend on play-calling, game flow, etc.
But it's good to have a reminder of how Manning's long-haul success should earn him a bit more patience through an up-and-down stretch than some are willing to give.
Actually, the Broncos wore navy blue helmets in the early 1970's. Not exactly the same shade as the metallic blue helmets they wear today ... but darn close. Old logo, old stripes and a white face mask... (they can change face masks can't they?) ... would look awesome on that metallic blue.
-- Bob Jones
Why do DeMarcus Ware and Von Miller always perform the 'edge rush'? It is so predictable. Why can't these two guys play real weakside and strong-side roles and have Brandon Marshall play the inside linebacker role? This will allow Quanterus Smith to play the DE role along with other DT and DEs. This will stop zone read offensive plays.**
-- Siva Kanagaraj
Ware is a 4-3 end or a 3-4 outside linebacker. He doesn't fit the weak or the strong side in a 4-3 alignment. Miller is the strong-side linebacker in the 4-3 base defense. Putting him as one of the two linebackers in the nickel package prevents him from doing what he does best: rushing the passer. That's what's gotten him to three Pro Bowls in four years.
This isn't Madden. You can't move players around willy-nilly and expect positive results. And how often is stopping the zone read a big deal? It seems like that's the least of the issues facing the Broncos.
Is it time for #18 to call it quits. Bad, very bad numbers for over half a season and there is no sign that part of the Broncos game will get better.
-- Walt Morehouse
"Very bad numbers"? For "over half a season"?
Let's look at the last nine games. So you're saying a 93.3 quarterback rating is "very bad"? Twenty touchdown passes, a total exceeded by one quarterback, is "very bad"? The third-highest yardage total is "very bad"?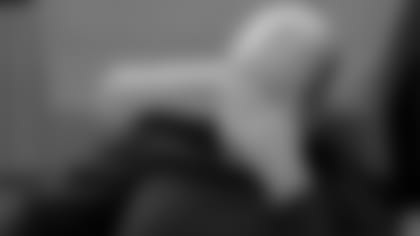 A majority of teams would take that "very bad" and give thanks.
And "no sign" that it will get better, despite an explosive third quarter (three touchdown drives running an up-tempo, three-wide offense for much of the third quarter Monday)? That seems like a positive sign, and my wife tells me I'm a pessimist.
I can write nothing more; I can only offer you the image that is flush right if you're viewing this on a traditional web page:
A happy holiday season? Make it so.
---
Submit a question for next week's Mailbag!