I've handcuffed Ronnie Hillman to C.J. Anderson in fantasy. What can I expect of Hillman?
-- Harold Martin
If the Broncos' ground game functions at optimal efficiency over the course of an entire season, you can expect Hillman to play a substantial role -- and if Anderson misses any time to an injury, for him to be the No. 1 running back.
The optimal scenario involves a split similar to what Arian Foster and Ben Tate had in Houston under Head Coach Gary Kubiak during the 2011 season. They played 13 games together -- including a 31-10 win over the Bengals in the wild-card round -- and combined to average 31.15 carries per game: 21.54 for Foster and 9.61 for Tate.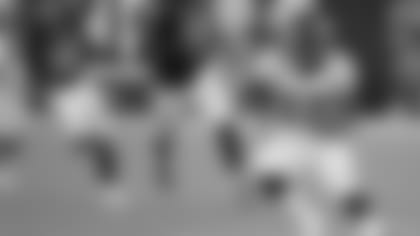 "C.J.'s more of a power guy. He's going to get the job done but I'm more speed and hit-the-edge type stuff so it should be interesting to see how they switch it up with the combinations," Hillman said.
In the 2011 scenario, Tate carried the load when Foster was sidelined, averaging 21.0 carries for 105.3 yards in games Foster did not play. Given Hillman's success in the preseason, it seems likely that if Anderson misses any time due to injury, Hillman would step right in and carry the load. That makes him a perfect option to handcuff to Anderson.
"We'll just feel it out and when my number's called, I'll go in and play," Hillman said.
Team success will help the ground game, and vice versa. It is a symbiotic relationship. During the last nine seasons, Kubiak's teams ranked second, ninth and ninth in run percentage when they went to the postseason, and anywhere between 16th and 26th (average: 21.5) when they didn't.
I think people are way too worried about almost every matter in regards to a simple little game, let alone the potential of the Broncos' offense being "inept."
Consider this: Since 2007, offenses led by Peyton Manning have finished among the league's top 10 in yards per play seven times and in scoring offense six times. Offenses led by Kubiak have been in the top 10 in yards per play four times and in the top 10 in scoring six times, all the more impressive considering he inherited a Houston Texans offense that was 31st in yards per play and 27th in scoring in 2005.
Since he became the Houston Texans' head coach in 2006, Kubiak has never had a quarterback as accomplished as Manning, and never had a receiving combination like Demaryius Thomas and Emmanuel Sanders. There might be some early hiccups with a reshuffled offensive line, but this should be a reasonably effective offense, even as it remains a "work in progress," as Executive Vice President/General Manager John Elway noted in August.
I don't think it will, as long as the starting quintet remains healthy. There's more than a handful of teams that would trade their offensive lines for the Broncos' right now, simply because the Broncos may have the best pair of guards in the league: 2013 first-team All-Pros Louis Vasquez and Evan Mathis. That duo will help the younger linemen find their footing in the early part of the season.
The Broncos have a number of free agents coming up next year...pick one from the many that are important. We are seeing other teams address their situations. Why have we not seen the Broncos address any of them? Malik Jackson, Von Miller, Danny Trevathan (I understand some are RFA) ...**
-- Angela Hlavka
Because there's a lot of time between now and a final decision point on players whose contracts are expiring, which gives the Broncos a chance for a better assessment on the players -- as well as potential young replacements. With Von Miller, the Broncos have the option of using the franchise tag if a deal is not done by February, and since John Elway became the general manager, the Broncos are 3-for-3 in signing franchise players to long-term deals before the mid-July deadline. Further, the contract given by the Chiefs to OLB Justin Houston established a template for edge rushers with that level of production and experience, so you have a general idea what Miller should command.
That said, in 2016 the Broncos have 17 unrestricted free agents, four restricted free agents and four exclusive-rights free agents, per Spotrac.com. That total includes 10 projected first-teamers, although four of them are exclusive-rights or restricted free agents. It will be impossible to keep all of them. With a new coaching staff in place, this season will be essential in determining which players to keep.
I completely agree with the Broncos agreement with Mathis, I thought they should have signed him a long time ago and I'm happy with the details of the contract as well, but what I don't completely agree with was keeping Curtis Marsh and Bennie Fowler instead of Steven Johnson and Tony Carter.**
-- Joseph Seulean
With Carter and Marsh, it's simple: at this point, you know what Carter is and can be, given his experience of recent years. Marsh is a bit more of an unknown. Further, the coaches felt Marsh could contribute more on special teams with his straight-line speed and rangy build.
Fowler's playmaking ability in practice and the preseason games was difficult to ignore. Although he doesn't have the same type of potential special-teams role as Johnson would have, the Broncos wanted to find the best combination of 53 players.
The other factors to consider with the decision to waive Johnson are the performances of Corey Nelson and Zaire Anderson, who cleared waivers and joined the practice squad. Both are potential special-teams standouts, and Nelson and Anderson have a bit more open-field speed. Johnson is an outstanding special-teamer and a good run defender, but as was seen at Cincinnati last December, he had some difficulties in coverage. Nelson and Anderson have more range, and Anderson, in particular, plays with physicality and stoutness that belies his 220-pound frame. Also don't forget that Johnson is due to become an unrestricted free agent in the offseason.
"I think sometimes when you get to those decisions, it's a big numbers game," Special Teams Coordinator Joe DeCamillis said Thursday. "I'm so glad that he (Johnson) caught on someplace else (Tennessee) because he's a heck of a player. We're very pleased with the guys that we've got right now and I hope they can fill in for those roles."
I've got a Cubs-Blue Jays matchup in the World Series. And if that doesn't work out, fans of those teams are welcome to blame me for putting the jinx on them.
It would be interesting. Since Tim Tebow -- let's face it, we all know of whom you're thinking -- did his best work while improvising, the free-flowing nature of rugby league might better suit him than the natural-pause-filled pace of American football. There are other players in the college ranks for whom this would also be the case.
He's not? Well, this is a problem, because it would be nice to set up a nickel package with Barrett, Shane Ray, Kenny Anunike, Malik Jackson, Von Miller and DeMarcus Ware as the six men in the box, but I would expect Barrett's absence to be rectified with the next roster update.
---
Submit a question for the next Mailbag!
The analysis, opinion and speculation in this story represents that of the author, gathered through research and reporting, and does not necessarily reflect the opinion of the Denver Broncos organization.