Keeping a winning streak going by beating San Diego is crucial to Denver's bid to get the second or even the first seed in the playoffs. What's your opinion on playing injured players who could play, such as Ware, versus sitting them for the Steelers and Bengals games?
When in doubt, be cautious.
It's not that this weekend's game against the Chargers isn't vital. Far from it; the Broncos need to store away wins like a squirrel would acorns in a tree, because the Chiefs have a decent chance to run the table the rest of the way -- and could claim a tiebreaker if they do, depending on the Broncos' results.
But the bottom line of the next five weeks is simple: make the postseason. Having to go on the road -- or merely start at home in the wild-card round -- is not an impediment to postseason success.
Six of the last 10 world champions had to play during wild-card weekend. Three of those six teams didn't even have a postseason home game. It truly is about the team that is hottest and peaking in the postseason.
If ensuring that the Broncos are peaking means sitting DeMarcus Ware, T.J. Ward, Sylvester Williams and Peyton Manning for as long as possible until the postseason, that's the right move. The last two Broncos teams staggered into the playoffs through injuries. By not forcing players back until they're ready, the Broncos hope to avoid this -- even though there's no guarantee that they can.
Why is it that the Broncos do not stand behind Manning like the Colts stand behind Luck? They clearly know who the starter is despite the injuries.
The Broncos have maintained all along that Manning is still the starter but that he has to focus on getting healthy. What more can they do? What happens in the realm of rumor and conjecture can't be helped, but they've been consistent in their message in this regard.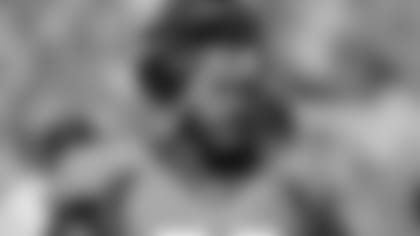 With all of the attention on Brock Osweiler am I the only one who is excited about the potential of Max Garcia? I know he needs to improve his skill set (most rookies do) but as evidence by Sunday's game he is a nasty run blocker.
You're not the only one. I've mentioned him in past mailbags, citing his nasty, persistent on-field style and his willingness to be tough and win matchups even when the opposing defensive tackle has a size and strength advantage. Evan Mathis has called Garcia an "A-plus student of the game," and raves about his performance and worth ethic. Ryan Harris sees something similar.
"Max Garcia, we call him 'The Future' around here," Harris said. "He's a very athletic player and he's getting smarter and smarter every time he plays.
"It's rare that you say, 'It's fun to play next to a rookie,' but it's fun to play next to Max."
I'd like to know over the course of the season how many yards after contact Ronnie Hillman and C.J. Anderson each have. You're the expert on stats but from my perspective (devoted fan watching every game in Idaho) C.J. is the tougher runner and blocker of the two. I think they are both great backs but it seems like C.J. should be the featured back with Ronnie providing that great change of pace speed/dynamic. Thoughts?**
They're not as different as you might think in terms of yardage after contact. According to ProFootballFocus.com, Anderson averages 2.7 yards after contact per rush, and Hillman averages 2.5. Both are in the top 20 of running backs in that statistic.
As for which one should be the primary running back, that's kind of a meaningless question, since Kubiak has said he'll use the "hot hand." But perhaps what you might see in the future is the use of them in situations that best suit their skill sets.
That might mean a bit more work on third downs and other obvious situations for Anderson, since his frame (224 pounds) makes him the stouter of the duo in pass protection. One of the sacks Brock Osweiler absorbed last Sunday came directly because Hillman was run over; he had position, but lost the head-to-head battle with Jonathan Freeny, who had a 55-pound advantage on him.
But as far as having a featured back, why change what's working? Each back has two 100-yard games. Their per-carry averages are similar (4.3 for Hillman; 4.2 for Anderson). Because Anderson is the stronger blocker and is more proficient as a receiver, perhaps he's working more on third downs. But Hillman has his own advantages (straight-line speed) which lend themselves to making a key contribution, as well.
Now on to everyone's favorite topic ... uniforms and throwback possibilities.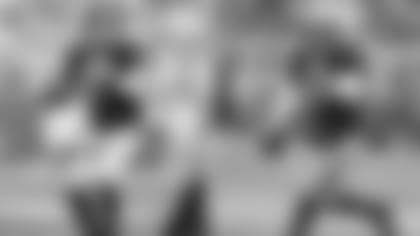 They haven't circumvented the rule.
Prior to the 2013 helmet rule change, the Packers did wear a different helmet with their throwbacks, going for a brown helmet to honor the leather helmets worn when the uniform was first used.
But afterward -- beginning with a 2013 game against Cleveland -- the Packers simply took their current yellow helmets and removed the logos when they had a throwback day.
The last time the Patriots wore their Pat Patriot throwbacks was on Oct. 21, 2012 against the New York Jets. So since the helmet-rule change, they haven't worn this glorious ensemble: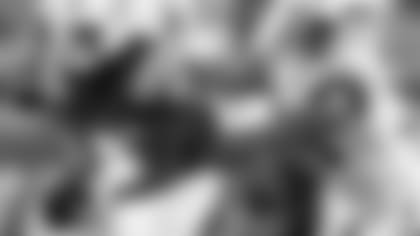 Your post about helmets is incorrect. San Francisco wore BLACK helmets this season (2015) and I have seen Tampa Bay wearing white helmets this year too. Teams are only allowed to have two alternate uniforms and special holiday uniforms. They are allowed to change helmet color -- they just don't.
No, actually, my post is correct; your email is entirely incorrect.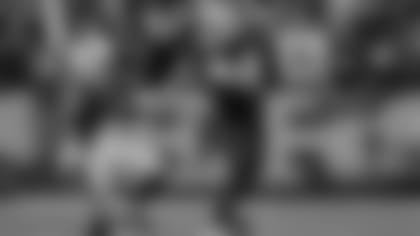 When the 49ers wore their black uniforms, they used gold helmets, as they have for every game since 1964. The 49ers have never worn black helmets. (They also wore red, white and silver helmets at various points in their early years, but never black.
You haven't seen Tampa Bay wear white helmets this year. The only team playing its home games at Tampa's Raymond James Stadium that wears white helmets is the South Florida Bulls, and they don't do it all the time, anyway; the white helmets are just part of the uniform salad USF tosses on a weekly basis.
The Bucs have not worn white helmets since 2012. They wanted to wear them as part of a throwback day in 2013, but scrapped them in the wake of the helmet rule change. They haven't worn them since, sticking with pewter helmets and red or white jerseys for every game since then.
Further, there is no such thing as a "special holiday uniform" under the current protocol. (For a time in the 2000s, there were uniforms -- usuallly throwbacks -- brought out for Thanksgiving games that were independent of the formal policy in alternates.)
Teams can have one alternate jersey or uniform combination, plus another that is part of a league-mandated program like the "Color Rush" marketing initiative, which gave the Bills a fourth jersey (red to go along with blue, white and throwback white). The alternate jersey is limited to two appearances per year. There is much more flexibility on pants; that's why the Broncos could dust off the white pants-with-orange-stripes look for the Packers game, and why you see some mixing and matching with jerseys and pants from teams like the Jaguars, Chiefs, and Panthers (who occasionally wear black pants with black jerseys).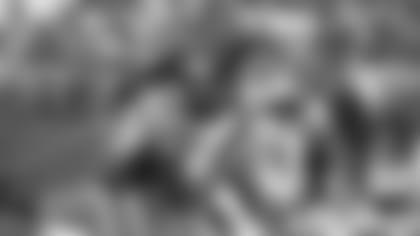 Wouldn't it be great to see old-school uniforms? I have an honest opinion: I loved that uniform that they wore from the end of the 1960s to 1998. If they wanted to have a new uniform, why didn't they just keep the same logo but went with the same colors of the current uniform? Why change something that wasn't broke. All I remember was ever seeing Elway in that uniform and it brought out a lot of Broncos pride in me ... the team had way better success with the old uniform, in my eyes.
A lot of people loved that uniform. I did, as well. But some did not.
Consider the comments from Howard Griffith and Neil Smith during the America's Game documentary about the 1997 Broncos.
Griffith: "Die-hard Bronco fans will always love the old uniforms, and they were hideous-looking. But it's kind of when you grow up on something, you get attached to it. They did not want to let go of it."
Smith: "I thought they were one of the ugliest uniforms ever ... once I saw those new uniforms, I almost chose to go to Denver because I loved them. I thought they were the perfect uniform for the perfect situation."
I miss the entire collection of uniforms from the 1970s and 1980s. If the teams in existence back then returned, en masse, to the looks of those days, I think we'd have a net collective improvement.
Consider for a moment the clubs with uniforms that seem to receive near-universal praise as being among the best:
Chicago
Dallas
Green Bay
Indianapolis
Kansas City
N.Y. Giants
Oakland
San Diego (specifically, the light blue alternates)
San Francisco (but not the black alternates; seriously, woof)
Most of these are old-school designs. San Diego represents the exception, with a modern number font, but the white helmets and light-blue alternate jerseys hearken back to the 1960s (and the yellow letters used for last names evoke memories of the 1970s and 1980s Don Coryell-era uniforms).
All that being said, you mentioned that the Broncos had "better success" with the old uniform ... actually, they didn't. The Broncos have won both of their world championships (1997 and 1998) and have had a higher winning percentage (.615) in the years with the current helmet logo than the 29 seasons with the old D on the helmet (.558).
Andrew, is there any truth to the rumors of the Broncos changing their uniforms/logo? I see many of theses saying that Nike wants to make the Broncos the Oregon of the NFL. If fans have any voice in this, can we go back to the throwback D (or maybe a modernized version of it?)
There's no truth to the rumor. Uniform/logo changes take years to happen; for example, the Broncos filed to make orange the primary jersey color in 2010, and they couldn't follow through on it until 2012.
Can you PLEASE ask who ever authorizes, or inputs, or updates this DenverBroncos.com Web page to, update the team photo with the current 2015 Team Photo? The one they have is the 2014 Team Photo.
---
Submit a question for the next Mailbag!
The analysis, opinion and speculation in this story represents that of the author, gathered through research and reporting, and does not necessarily reflect the opinion of the Denver Broncos organization.