I have read many reports on Paxton Lynch's performance during OTA's. However, the reports quote Kubiak saying he is having his ups and downs. I want to know what those ups and downs are and how they can be fixed and how long will it take.**
First, you can't put a timetable on it. No two quarterbacks develop in exactly the same manner.
What you want to see is long-haul improvement, particularly in the ability to read defenses and relay the playcall in the huddle; this is where his ups and downs are. Arm strength and velocity are there, and he throws a gorgeous deep ball. You would like to see a bit more accuracy on shorter passes, but that, too, will come with time.
Above all, you want to see Lynch become more consistent, learn from his mistakes and not repeat them.
Even if Lynch ends up winning the starting job, you must accept that there will be acceptable mistakes that are part of his growth. He will not be perfect; when he does play in the regular season, that will be part of his education and maturation as a quarterback.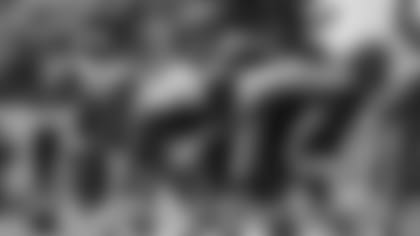 But rookie quarterbacks have been put into schemes and situations that allowed them to succeed with good supporting casts; just look at Joe Flacco, Andrew Luck and Russell Wilson as some notable recent examples.
We'll have a better idea of whether Lynch can join them in training camp; if Mark Sanchez, Trevor Siemian or both are better, he will have to wait his turn. But if he's in there, expect Kubiak to tailor the game plans to what works for Lynch. As Kubiak said on June 9:
"It's up to us as coaches to lock in to what he really understands and what he's doing and cut him loose. In my mind right now if we're in Chicago, [for the[] first preseason [game], I know what he knows. We have to have growth upon that as we move forward. He's got to continue to grind in what he's doing. A lot of expectations."
Why are the Super Bowl champions referred to as "world" champions when teams only compete from one country?**
Because there is no American football circuit anywhere in the world remotely comparable to the NFL in terms of quality. It's not like basketball, which has viable, well-supported professional leagues in many countries, or soccer (although the Champions League winner from Europe could lay claim; there is the maligned Club World Cup to actually determine the best team on the field).
With the NFL clearly the top American football circuit in the world, its winner is the best team in the world. Just because comparatively few countries have American football leagues doesn't mean the best team in its sport can't call itself world champions.
We all know that Peyton Manning wore number 18 in high school, as well as with the Colts and Broncos. Why did he wear number 16 in his time at the University of Tennessee?
Because number 18 was taken at UT when he arrived (by defensive back DeRon Jenkins). He started high school wearing jersey number 14, then changed to 18 after his older brother, Cooper, graduated and bequeathed 18 to him. No. 18 was the college jersey of their father, Archie, but Peyton Manning wore No. 18 in the pros to honor Cooper, who was forced to give up his football career because of a spinal condition.
With the solid depth we have on defense, if we fielded just our backups (counting Roby) do you think that defense would be at least a top 15 defense in the league under coach Phillips?**
Interesting hypothetical, but, no, I don't think that a defense comprised entirely of backups would be at least a top-15 defense. Starters are starters for a reason, and rarely is the transition completely smooth. If you took all 11 starters out, you would have a drop-off, and it would probably be significant. I think some backups could eventually do well, but to replace them all at once would wreck the defense.
How is Henry Krieger-Coble looking? Is he the next Iowa-to-NFL tight end?
He looks like he's headed that way. I was surprised when he went undrafted; tight ends with soft hands that run good routes as he does usually don't pass through all seven rounds without being picked. The key for him, as Head Coach Gary Kubiak noted, will be to get bigger and stronger in the weight room, because for tight ends to succeed in this scheme, they must be willing and able blockers.
What do you think the possibility of the Broncos picking up Arian Foster is? How do you think the backfield would shape up if we sign him?
Slim to none unless there is an injury to one of the other running backs. Running back is one of the deepest positions on the roster, and the Broncos should be set with what they have.
I wouldn't want to see this every game, but perhaps as an alternate look?
The problem is that it would be a complete mismatch with the pant stripes. But if there were alternate pants with traditional stripes -- imagine, say, orange pants with one or two blue stripes down the side, then the socks could be aligned to have the stripes match and continue from belt to cleat.
I'd love to see blue-and-orange vertically-striped socks as part of a grab-bag uniform that honors elements of Broncos history but doesn't mimic anything ever worn in the past. Work in an old logo. Use white facemasks to hearken back to the 1970s, 1980s and early 1990s. Use shoulder stripes and have sleeves that are a different color from the rest of the jersey, like the uniforms of the mid 1960s. You'd have to keep the primary colors as the current orange and navy blue -- remember, the helmet itself can't change, although the logo stickers can.
Why didn't Clarence Kay make the top five TE list? Sure his personal issues were tragic, but on Sundays there were two players Dan Reeves could always count on -- Elway and Kay.**
You can't say you can "always count on" a player who flunked a drug test and missed the end of the 1986 regular season and one playoff game because he was in drug rehabilitation; he played the AFC Championship Game five days after being released from rehab.
Kay will always be one of the might-have-beens in Broncos history; there was no questioning his physical prowess or his blocking ability, but reliability -- on and off the field -- and consistency were rarely what they needed to be. (And we haven't even gotten into the repeated domestic-violence incidents.)
And there were a lot more than just two players that Dan Reeves could count on. Just consider these names, all of whom played multiple seasons for Reeves:
Steve Atwater
Keith Bishop
Tyrone Braxton
Billy Bryan
Simon Fletcher
Randy Gradishar
Mark Jackson
Rulon Jones
Rich Karlis
Greg Kragen
Karl Mecklenburg
Dennis Smith
Steve Watson
Sammy Winder
... and so many others, too numerous to name. These were all players you could "always count on," more than Kay.
Is it remotely possible that a guy like Kyle Peko push Sylvester Williams or Darius Kilgo for the starting DT spot?**
Anything is remotely possible. But don't expect an immediate push for a starting spot from Peko. He missed most of the OTAs because his alma mater, Oregon State, is on the quarter system and its spring term continued into June. That kept him from taking part until the final days of the Broncos' offseason work.
A successful year for Peko would likely involve either sticking on the 53-man roster or practice squad coming out of the preseason, perhaps some rotational work this year and then a push for playing time heading into the 2017 season.
When will the Broncos play their first game in Los Angeles?
If the Chargers or Raiders move to Los Angeles, the first game could come as early as 2017, although the possibilities of the Chargers remaining in San Diego and the Raiders relocating to Las Vegas continue to pick up steam. If the Rams remain the only team in Los Angeles, the Broncos are not scheduled for a regular-season game there until 2022.
However, I would expect the Broncos to play a preseason game there long before then, given that most of the Broncos' preseason games since the 2002 realignment have come against NFC West foes (32 out of 61, including games to be played this summer). Since 2011, 17 of 24 preseason games have been against the NFC West, as the league looks to reduce travel time when possible for the preseason slate.
How do you pick Sanchez as your quarterback and not Tebow?
Because Sanchez has already beaten out Tebow twice, is a far more accurate passer as measured by completion percentage and can run a pro-style offense. As I wrote March 20, "It's way past time to move on from this topic."
---
Submit a question for the next Mailbag!
The analysis, opinion and speculation in this story represents that of the author, gathered through research and reporting, and does not necessarily reflect the opinion of the Denver Broncos organization.