Coach Kubiak has indicated that all three quarterback competitors are receiving snaps/reps "right down the middle." My question is about Paxton Lynch's reps. From what seems to be reported, Lynch is snapping with the second and third teams, with Trevor Siemian and Mark Sanchez with the starters. If the reps/snaps aren't "equal" per se ... Is that truly "down the middle"? I trust that Kubiak & staff know what they are doing with Paxton, but, just wondering why he isn't working with first team just as the other two QBs?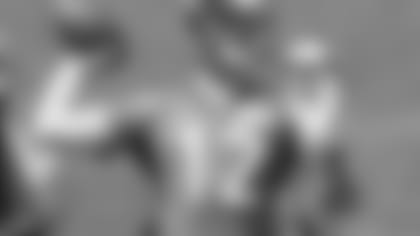 The truth is that Lynch is working with the first team, just as the other two quarterbacks are. The quarterbacks are being shuffled around throughout the week -- and in practice.
But you must also remember that on May 24 -- when OTAs began -- Kubiak said Lynch would get "a ton" of repetitions, in part because of his continued emphasis on getting younger players more work.
"He's going to get a ton because I'm going to work our young guys probably more than I'm going to work the rest of the team when it's all said and done," Kubiak said.
Do not worry about Lynch not getting enough work, and work with the first unit in particular. If the practice patterns from recent days continue, he will.
Not only to unearth more talent, but to provide an alternate means of developing quarterbacks, since it would provide the live game repetitions that younger quarterbacks don't get. Without NFL Europe/Europa, we might not have seen Pro Bowlers like Brad Johnson and Jake Delhomme develop, nor would we have seen Kurt Warner, who showed his big-field bona fides with the Amsterdam Admirals in 1998 after playing for the Iowa Barnstormers of the Arena Football League.
Ask yourself for a moment how much a developmental league might help, say, Trevor Siemian? Although he has shown progress in practice, game repetitions always reveal more.
A key would be cost control. A significant factor in NFL Europa's demise after the 2007 was the high expense of keeping the circuit going with trans-Atlantic travel at the beginning and end of each season, lodging, etc.
An eight-team bus league would be ideal, perhaps based in the Midwest and Southeast in mid-size markets like Little Rock, Ark., Mobile, Ala., Charleston, S.C., Richmond, Va., etc. Each team would have four NFL clubs as feeders. (But it would not be as simple as having the AFC West feed one club, because there would be too many disputes over playing time, perceived favoritism of the developmental team's coaches toward the players from one division rival over another, etc.)
It would also be helpful if players in the league received a year of NFL service time toward their pensions, as an acknowledgment of the risks of playing another full season of football.
The lack of a developmental league is a significant hole in the NFL at present, and having one would offer an opportunity for more talent to develop. Eventually, it would improve the quality of play.
I also believe it should run concurrently with the NFL schedule, with baseball-style call-ups in the event of injuries. One complaint about NFL Europe/Europa was that players lost offseason developmental time. The players would be dispersed to their minor-league rosters after the cut to 53 (or whatever the roster size is), then after a three-week training camp, it would be on to a 10-game schedule, with games played on Tuesday and Wednesday nights. After the develomental season concludes, the allocated players would return to their NFL rosters for the rest of the big league's regular season, analogous to the September roster expansion in Major League Baseball.
Always enjoy your perspective on the Broncos. I recall a game where a kick-return TD was called back. The re-kick was also returned for TD. Rick Upchurch?**
To my knowledge, that didn't happen for Rick Upchurch. But perhaps you might be thinking of another play, like the one against San Diego in 1985.
During the teams' game at Mile High Stadium that year, Louis Wright returned a blocked Bob Thomas field-goal attempt, but it was whistled dead, as the Broncos had called a timeout. In watching the game broadcast, you can see Mike Harden calling the timeout several yards beyond the line of scrimmage.
So Thomas lined up for another 40-yard attempt, and this is what happened:
As far as I can see, the only thing lacking in the Broncos' quiver of weaponry is, a return game, I believe Taurean Nixon is capable of injecting some explosiveness into that aspect, do you agree? and aside from Jordan Norwood, who else might arise as the next big return threat for the Broncos?**
Nixon doesn't really have the return experience to project to handling that role at this level. He had just four total returns (all kickoffs) on special teams during his college career.
Beyond Norwood, the names to watch are Khalif Raymond, Bralon Addison and Mose Frazier. Special Teams Coordinator Joe DeCamillis pointed to Frazier as being "a little bit of a surprise." Raymond and Addison have extensive experience on returns, and Raymond could be the fastest player on the roster, having run track at Holy Cross in addition to working at wide receiver and on returns.
I dislike the idea to have athletes participating in sports during Thanksgiving, and Christmas holidays, I believe these athletes deserve to spend some good quality of time with their family and friends. What do you think about the idea to not have any sports during Thanksgiving and Christmas holidays?**
Sorry, but I don't agree with your idea at all.
Playing on days and at times when most of the workforce is off or at home is part of the job. You want to schedule games when more people can watch, so you play on Sundays, you play on weekday evenings and you play on holidays. This is part of what has given the NFL its place on the sporting landscape: It plays its games when the maximum possible audience is available.
Sure, it won't be much fun to be sitting in Kansas City on Christmas Eve and Christmas Day when the city's amazing collection of barbecue restaurants are closed. (Seriously, if Joe's Kansas City could just somehow stay open until 8 p.m. on Christmas Eve so I could inhale a Z-Man sandwich and its wildly underrated smoked chicken gumbo, I'd be eternally grateful.)
But as Hyman Roth told Michael Corleone in The Godfather: Part II, "This is the business we've chosen." And part of the price of being in this business is knowing that you have to be on the clock when most others are off. You lose weekends; you lose holidays. But you also get to play, coach, or watch as part of the job.
And when I have Thanksgiving or Christmas to myself, I enjoy watching football and basketball, so I understand how millions of fans who watch on holidays feel: Football enhances the holiday; it doesn't detract from it.
Do you think there is any credibility in the notion that Super Bowl 50 was rigged? While many believe it was, (myself included/although a life-long Bronco fan) with the reputation of the NFL on the line, and some thinking the league is funded partly by the CIA and 'crooked' figures. The efforts put forward by the players and coaches don't detract from the fact that this game is rigged from top to bottom. What are your thoughts?
First ... no, I don't think there's any credibility in that notion. Putting any stock in that insults the effort given by every player in that game, and ignores the idea that people -- including officials -- make mistakes. That's the "human element" of sporting events.
And who are these "many" people? I haven't seen anything beyond some fringe conspiracy theorists espousing this -- no offense. And the notion of the game being rigged as "fact," as you put it, is equally absurd.
But there's not a conspiracy theory that won't have some people believing it -- and some of these go to vile, incomprehensibly reprehensible lengths.
I've seen a few tight ends over the last few years given the number 84, which we all know was Shannon Sharpe's number and I'm wondering when and if they plan on retiring his number?
If it were going to be retired, it would have happened already, since he's been in the Ring of Fame since 2009 and the Pro Football Hall of Fame since 2011.
First, for the USA: Despite the disappointing form of recent months, I still think the national side will eke out a second-place finish in Group A, with a typically inconsistent performance in a June 7 win against Costa Rica being the difference. But the road will end there, because the No. 2 team in Group A must face the top team in Group B. That sets Jurgen Klinsmann's men up to be cannon fodder for Brazil. I will hope for the best, but expect the worst, especially after Friday's desultory performance against Colombia. A failure to advance out of Group A would have to result in a re-evaluation of Klinsmann, right?
Mexico is a good bet to win Group C. Remember, El Tri could have even more of a home-field advantage than the USA. The absence of Luis Suarez for Uruguay shakes up Group C the point that I expect Jamaica to capitalize. You never know what you're going to get from the Reggae Boyz (what an awesome team nickname), but they have five MLS-based players who will take advantage of being on familiar ground -- and in the back, the stalwart Wes Morgan, the Leicester City captain whose confidence and presence have never been greater.
Group D will be fascinating with Chile and Argentina -- and will potentially determine Mexico's fate. Chile's recent form has been poor -- four losses in its last five outings, including a 2-1 home defeat to Argentina during a World Cup qualifier in March. But if Chile pulls an upset in the group -- just as it did last year the Copa América final, won on penalties -- a titanic Argentina-Mexico quarterfinal could be the result.
But after all that, I've got chalk for the final: Argentina over Brazil.
---
Submit a question for the next Mailbag!
The analysis, opinion and speculation in this story represents that of the author, gathered through research and reporting, and does not necessarily reflect the opinion of the Denver Broncos organization.