If by "going short" you mean "no-huddle," then the Broncos haven't done that much on third down recently.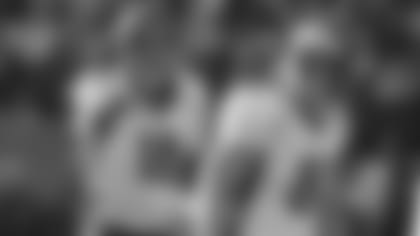 During their October wins, the Broncos have 18 total no-huddle snaps, including four nullified by penalties. Eight of the 20 were on first down, eight were on second down and four were on third down.
But the Broncos' performance on no-huddle plays in the last three weeks should give reason to consider using it more often.
If you remove last week's kill-the-clock spike from the equation, Peyton Manning is 7-of-8 for 102 yards on no-huddle snaps in the last three weeks, and the running backs have averaged 3.8 yards per carry (19 yards on five attempts). Overall, the Broncos have averaged 8.64 yards per no-huddle play in the last four games, and have moved the sticks on seven of the 14 snaps -- including six of eight Manning passes (not including the spike).
Further, the Broncos have drawn four defensive penalties for 20 yards when using the no-huddle.
Obviously, you must consider the small October sample size from no-huddle snaps. However, the Broncos have averaged one first down every 2.0 no-huddle snaps, compared to one every 4.17 snaps otherwise. The difference between yardage per play (8.64 yards to 4.35) and yardage per pass play (11.33 to 6.03) is also notable.
In the comprehensive bye-week re-evaluation process, I'm certain that no-huddle usage will be considered, as they consider many other elements to formulate strategy for the weeks to come.
Even though the Broncos' defenders themselves will tell you not to be worried about this, wear and tear is a legitimate concern. In fact, one reason why some teams hold back on extensive use of a quick-tempo offense is because of the additional strain on the defense.
But as it stands now, because the offense goes three-and-out too often and has struggled to sustain possessions, the defense is on pace to take part in 1,056 snaps. That would be 25 more than last year and 18 fewer than in 2013.
The 66-plays-per-game pace is close to average in the league this year. Seventeen defenses have been on the field more; 14 have seen less work. Two of the league's other four undefeated defenses have seen fewer snaps per game; two (Carolina and Green Bay) have seen more.
The Broncos would like to give their defense some rest, but the pace is not unsustainable.
Anyone still looking to name the Broncos Defense? I can't believe no one came up with ORANGE JAM. You are, by far, the best.**
First, thank you for the kind words.
Second, I've given the nickname idea some thought, but here's the problem: How do you top perfection?
You're not going to have a better nickname than "Orange Crush." It's snappy: three syllables. It rolls off the tongue. At their best, defenses crush opponents. The home jerseys are orange, obviously. Because of the connection to the soft drink, it's easy to remember.
And although it was originally given to the 1977 defense, there's no reason why it can't return whenever the Broncos dominate on that side of the line of scrimmage.
Now, I know it's early for a peek into draft maybes but, if you had to guess which five players the Broncos are gunning for in the first round who do you think it'd be?
You're right, it is early. And there are so many variables between now and then -- positional needs, underclassmen to declare for the draft, and even the picks in front of the Broncos, since they expect to draft late in the first round (and hope to have the last pick), that narrowing it down to five, even on a guess, is a futile exercise.
I was wondering, how come it's "Denver's D bails out Peyton and his offense" but never "Broncos' D dominant again"? Seems to be in the eye of the beholder? Or those wanting Manning's story to end? Thanks!
There's no reason why it has to be one or the other. It can be both. Further, I've seen plenty of stories and heard hours of commentary emphasizing just how stellar the Broncos' defense has been to date.
All signs indicate that when Sambrailo returns to full health, he'll go back in the lineup at left tackle. Kubiak noted Tuesday that it's crucial to get the offensive line back to health, and that starts with getting Sambrailo back following the bye.
"The key is, right now, getting Ty back to where we need him," Kubiak said.
But I would not be surprised to see some occasional shuffling up front in the weeks to come as we've seen with Tyler Polumbus relieving Ryan Harris at left tackle and Max Garcia seeing mid-game work for Evan Mathis last week at Cleveland.
Given other variables -- contract restructurings, etc. -- it's tough to predict, although you can expect the salary cap to continue to rise, perhaps into the $150 million range. But beyond Miller, the top priorities among potential unrestricted free agents would appear to be Malik Jackson and Danny Trevathan, given their continued emergence and how well they fit in Wade Phillips' 3-4 alignment.
It would not surprise me, although the Broncos will be limited by salary-cap space, which stands at $6,471,170, per the latest figures from the NFL Players Association.
---
Submit a question for the next Mailbag!
The analysis, opinion and speculation in this story represents that of the author, gathered through research and reporting, and does not necessarily reflect the opinion of the Denver Broncos organization.