Unless the Broncos add an interior offensive lineman, center will almost certainly come down to Gino Gradkowski or Matt Paradis. Gradkowski has the inside track given his experience and knowledge of the system from last year in Baltimore, and started the entire 2013 season before moving back to the second team last year.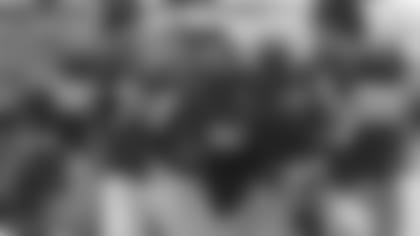 But Gradkowski's practice work under Gary Kubiak last year is crucial, because that fits the mold of offensive linemen developed by Kubiak, Rick Dennison and former Broncos O-line guru Alex Gibbs over the years: learn on the practice field for the first year or two, then start after that.
The Broncos also like Paradis' potential; Kubiak's positive on-the-record comments about him stretch back to the Scouting Combine in February. Part of the reason Gradkowski is with the Broncos is to help serve as a mentor to the 2014 sixth-round pick.
"I knew [Gradkowski] would come in here and be very competitive from that standpoint, but I also knew he'd be a great teacher for Matt," Kubiak said last Wednesday. "Matt's a young player who's in a competition to be our starting center, and he's not only going to get to compete against Gino, but Gino's going to help him. That's the type of pro Gino is. I think that's real important."
It's a potential win-win situation for all parties. If Gradkowski plays well in his contract year, he'll start somewhere in 2016 -- whether it's with the Broncos or for someone else. That could be determined by Paradis' progress if he settles in as the No. 2 center. But if Paradis has a great summer, he could be the Week 1 starter, with Gradkowski an experienced backup.
I don't know who proclaimed "minimal talent" is insulting to all of the linemen over the years who have made this scheme work in Denver, Houston, Atlanta, Baltimore, Washington and other spots around the NFL where Kubiak, Dennison, Gibbs, current offensive-line coach Clancy Barone, Mike Shanahan and others have guided O-linemen in zone-blocking-intensive schemes.
What this scheme does is maximize the effectiveness of offensive linemen with a different skill set than some of their brethren. Brute strength is not the most important quality; intelligence and quick feet -- both in lateral and forward movement -- are essential. So is the ability to learn the roles of every lineman; that enhances the cohesion required in this scheme.
The scheme can take new linemen a year or two to master it. Rookie starters are rare, most notably Ryan Clady in 2008 and, in Houston, Duane Brown that same year. Clady was better at first than Brown, who struggled as a rookie but got going in 2009, was an above-average starter by 2010 and a second-team All-Pro in 2011.
But neither of those had Peyton Manning under center. The veteran quarterback's quick reads and decisive throws will help the young offensive linemen who have to play extensively this year.
Have the Denver Broncos decided whether or not they will wear their alternate blue jerseys this season? The Week 8 Gold Weekend Super Bowl XXXII rematch against the Green Bay Packers would be a perfect time to wear the alternate blue jerseys, preferably with the orange striped white pants. This would certainly be a nice touch to commemorate the Broncos' first Super Bowl victory -- a game in which Denver wore blue jerseys with the orange striped white pants.
-- Ryan Hansen
Nothing has been finalized, but I've already shared that internally -- with the caveat that the Broncos should wear the white pants with orange stripes of which you speak, and not the blue pants with orange stripes. (That would create a perfect uniform rematch of Super Bowl XXXII, since the Packers' white jerseys/yellow pants combination is virtually unchanged from 1997. (The blue pants were worn in the preseason of 1997, tossed in a drawer, and did not emerge for a regular-season game until 2003.)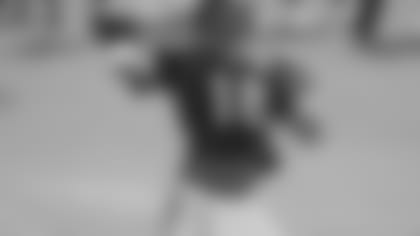 The Broncos have not worn white pants with orange stripes since the wild-card win over the Steelers on Jan. 8, 2012. However, they still exist; quarterbacks wear them in practice.
Me, I'd love to see every team in a Super Bowl rematch wear the uniform it wore in the corresponding Super Bowl. In the case of the rematches of two Super Bowls where teams wore different uniforms in each , I'd pick the better game. For example, in Week 15, the 49ers would wear red and the Bengals white, because Super Bowl XXIII was the superior game and one of the more underrated world championship duels.
(And I'd also love to see teams be able to wear their primary uniforms as long as they don't clash, meaning that the Broncos could wear orange and the Raiders black in the same game, but that's another drum that I will beat at a future date.)
These are all the Super Bowls with rematches this year, for reference:
Super Bowl I (Packers-Chiefs, Week 3, Monday Night Football)
Super Bowl II (Packers-Raiders, Week 15)
Super Bowl III (Jets-Colts, Week 2, Monday Night Football)
Super Bowl IV (Chiefs-Vikings, Week 6)
Super Bowl VI (Cowboys-Dolphins, Week 11)
Super Bowls VII and XVII (Dolphins-Washington, Week 1)
Super Bowl XI (Raiders-Vikings, Week 10)
Super Bowl XIV (Steelers-Rams, Week 3)
Super Bowls XVI and XXIII (49ers-Bengals, Week 15, Sunday Night Football)
Super Bowl XXV (Giants-Bills, Week 4)
Super Bowl XXVI (Washington-Bills, Week 15)
Super Bowls XXVII and XXVIII (Cowboys-Bills, Week 16)
Super Bowl XXXII (Broncos-Packers, Week 8, Sunday Night Football)
Super Bowl XXXIX (Patriots-Eagles, Week 13)
Super Bowl XL (Steelers-Seahawks, Week 12)
Super Bowls XLII and XLVI (Giants-Patriots, Week 10)
Super Bowl XLIII (Steelers-Cardinals, Week 6)
Super Bowl XLIV (Saints-Colts, Week 7)
Super Bowl XLVII (Ravens-49ers, Week 6)
If you've got a Sith lord or apprentice nearby, they'll take care of the amputation for you. If you don't have someone who answers to "Darth" in the neighborhood, some Lava soap should suffice, maybe with the aid of a gentle scouring brush.
---
Submit a question for the next Mailbag!
The analysis, opinion and speculation in this story represents that of the author, gathered through research and reporting, and does not necessarily reflect the opinion of the Denver Broncos organization.