Earlier this season our run game was ineffective when Peyton was QB. However, last year in late season we ran well with Peyton as QB. What should we expect in the playoffs? I believe that Peyton is our emotional leader and should start, but think that his success depends on the effectiveness of the running game...and am unsure of what to expect. How will he and Anderson/Hillman do?
The ground game's improvement actually began while Manning was in the starting lineup, so based on that, it ought to do reasonably well against the Steelers on Sunday.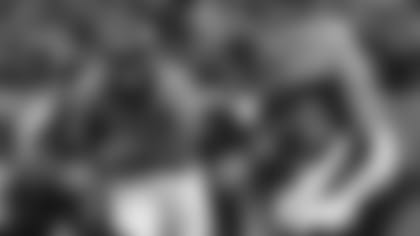 Over the course of the entire season, the Broncos averaged 4.47 yards per carry (with kneeldowns removed) with Brock Osweiler at quarterback compared to 4.13 yards per carry with Manning.
However, that season-long pace of production with Manning is brought down by the Broncos' efforts in the first month of the season, when you had two first-team linemen who had never started in the NFL before (Matt Paradis and Ty Sambrailo) and Evan Mathis still getting adjusted to his new team.
In October, the fortunes began to change, and since then, the Broncos have averaged 4.76 yards per carry when Manning is in the lineup. So they can run the ball with him at work. He started three of the six games in which the Broncos rushed for at least 140 yards, and in one of the three that he didn't start -- the regular-season finale against San Diego -- he entered in the third quarter, and C.J. Anderson and Ronnie Hillman combined for 141 yards on 17 carries.
Obviously, Pittsburgh's aggressive, quick defense presents a different challenge than San Diego did. But all you're asking of the running game on Sunday is what it has done before -- with both Manning and Osweiler.
Given that the Broncos have the league's top-ranked defense, the MVP is going to come from that side. You have plenty of players with compelling cases: Brandon Marshall, Danny Trevathan, Darian Stewart, Aqib Talib, Chris Harris Jr., Malik Jackson, DeMarcus Ware and Derek Wolfe all, at various points, have made strong cases. This is an incredibly difficult choice.
But the Broncos' defense still spins around the havoc that Von Miller can create, the attention that he draws to set up one-on-one opportunities for his teammates, and his ability to set the edge and force opposing running backs into pick-your-poison mode on the inside or on the outside, where a Pro Bowler or an emerging young defensive back like Bradley Roby awaits. Miller is a unique talent with a skill set unlike any other the Broncos have seen, and when the Broncos have needed him most, he's delivered.
The offensive MVP would have to be Emmanuel Sanders, whose second year as a Bronco was, in some ways, better than his first, as he maintained consistent production despite his own nagging injuries, injuries at quarterback and an offense that was in transition for myriad reasons. An under-the-radar offensive MVP candidate would be center Matt Paradis, whose command of the offense appeared to improve with every week he worked. His future is extremely bright and I could see him as the anchor of the offensive line for many years to come.
On special teams, the nod has to go to Omar Bolden. We've seen how explosive he is on kickoff and punt returns, but he was also one of the best gunners in the league, as well. Special Teams Coordinator Joe DeCamillis praised him and noted his value even before he had his breakout moment with a touchdown on a punt return at Indianapolis in Week 9.
I wouldn't say they've been quiet. They've generated pressure; per ProFootballFocus.com, they have combined for three quarterback hurries in the last two games, six in the last three games and 13 in the last six. Just because they're not always getting sacks doesn't mean they're not making an impact.
Andrew, thanks for all your analysis on Broncos football and I appreciate it. As long-time fan who lives in San Diego county, why did the Broncos take out the "who, whaa, whaa sound after opponents' incompletions?
First, you're welcome, and thank you for the kind words.
I'm not certain as to the exact reason, because I've given it little thought until now, but I always thought the sound effect sounded childish and bush-league in the first place. In 2008 and 2010, when the Broncos were 31st and 30th in average quarterback rating allowed, it was downright laughable to use the "sad trombone." I'm glad it's gone.
In total, 22 players remain with the Broncos, either on the 53-man roster or injured reserve. Five of them -- Ryan Clady, Chris Harris Jr., Lerentee McCray, Von Miller and Derek Wolfe -- were on injured reserve going into that game. Seven first-teamers in the game remain: Malik Jackson, Peyton Manning, Demaryius Thomas, Danny Trevathan, Louis Vasquez and Peyton Manning.
In total, just 15 players who played for the Broncos in that game remain with the team. That reminds one of the impermanent nature of this sport, and the sadness when an outstanding season ends; as every player and coach knows, that group will never be together again after the season ends.
I believe that Peyton needs one win to break the record. When he came in and they won against the Chargers, was that a save or win?
Well, as I've mentioned, there is no official "win" or "save" statistic, because this isn't baseball. Thus, the wins record so many have written about is only tied to starts, as there is a clear, empirical delineation between starting and coming off the bench. Manning did not start, so he remains tied with Brett Favre.
Been a Broncos fan for 25 years but with being from Ireland, still haven't gotten to a game yet but I'm hoping to next season! Just wondering on best places to get tickets, places to stay in Denver or near stadium, etc.! Any info would help hugely!**
For tickets, start by watching DenverBroncos.com this summer; we'll have individual single-game ticket information available on the site. If you want to use the secondary market, NFL Ticket Exchange will be your best bet; you'll likely pay above face value, but that will assure you the seat and game you want.
As for where to stay in Denver -- if you want the full city experience, stay downtown and stroll around. If you come early in the season, try to time your visit around a Colorado Rockies baseball game; I don't know how familiar you are with baseball, but it's a fun experience. If you stay downtown, in the Denver Tech Center or even at the airport, you will be able to catch a train and with no more than one transfer, be dropped off right at the stadium.
But if you really want to see Colorado, get to the mountains and stay at any of the resort towns along Interstate 70; that will allow you a straight shot to drive into Denver on the day of the game. Rocky Mountain National Park, Estes Park, Red Rocks, Pikes Peak, Seven Falls and Garden of the Gods down in Colorado Springs ... I could spend thousands of words telling you about the glorious sights of this state, and I'm just scratching the surface.
This place is breathtaking. You could watch a phenomenal Broncos game, and it might not be the most memorable part of your journey.
With the newer stadiums like in Arizona, Dallas, San Francisco, and soon L.A., do you see Denver trying to get a new stadium or upgrading Mile High soon to compete?**
Sports Authority Field at Mile High just received a nice facelift in 2013, with reconstructed concourses, new video boards and other assorted upgrades throughout the facility. The stadium holds up well compared with many around the league. It competes just fine.
The Cowboys' stadium is so grandiose in its scope that it seems as though it could only be built in Texas or Dubai; it's not replicable anywhere else -- except possibly Los Angeles. And I think the Broncos' home stadium is better than those of the Cardinals and 49ers in terms of overall experience.
How likely is it to see you answer the fan mailbag during the NFL offseason? If not, when would you return with the fan mailbag?
Extremely likely, because the exception of the odd week here and there when I take a vacation, this Mailbag is a year-round endeavor. However, there will be a lot more draft talk when we get to the offseason.
Can you say what happened to Chris Hall? He was here during preseason, but then disappeared. Is he OK? Has he moved on? Any update will be appreciated; I liked the young man, thought he did a great job, & just hope he's OK.
Chris is doing very well. He is the Director of Video Services in the athletic department at the University of Wisconsin. He oversees video on the school's athletic website, its scoreboards at its venues, live streaming and even coaches' game and practice video. It's a big job with big responsibility -- he oversees 56 people -- and it gives him a chance to be closer to home and live in a truly great city and terrific place to raise a family: Madison, Wisconsin.
---
Submit a question for the next Mailbag!
The analysis, opinion and speculation in this story represents that of the author, gathered through research and reporting, and does not necessarily reflect the opinion of the Denver Broncos organization.