You have to start with Malik Jackson, Danny Trevathan and Derek Wolfe, three crucial components of a defense that remains the league's best in yardage allowed on a per-play and per-game basis.
But Jackson is emerging as something special: a uniquely talented athlete with long arms and quickness and agility that belies a typical 293-pound three-technique defensive end. With 3.5 sacks and four passes batted down -- including three last Sunday -- he's a disruptive threat even when he doesn't burst into the backfield.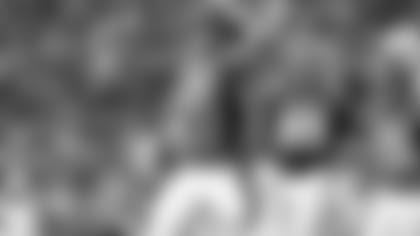 Those deflected passes are product of Jackson's awareness and the tutelage of Defensive Line Coach Bill Kollar.
"You have to take to what Coach is trying to get you to do. Bill hammers it all the time," Head Coach Gary Kubiak said.
The Broncos want Jackson back -- and Jackson wants to stay. When the subject of becoming a free agent was raised Wednesday, Jackson simply replied, "Hopefully not."
"I mean, I would love to stay here. I would really love to stay here," Jackson said. "This is what I've been playing so hard for: to show Mr. Elway and the people upstairs that I want to stay here. But at the end of the day, all I can do is just talk with my pads and with my play. Hopefully we can talk and agree on something."
When the Broncos signed Chris Harris Jr. to a five-year, $42.5 million extension last December that included $24 million in guaranteed money, Jackson noticed.
"When I saw Chris get his, I was like, 'Oh, wow, that's dope that they did his.' But at the end of the day, you have to understand the team that you're talking to," Jackson said. "Not all teams do contracts early."
But as the Harris contract proved, when it's possible, the Broncos are willing to make the deal well before the new league year begins. Jackson hopes he'll be next.
"It'd be nice," Jackson said, smiling. "But at the end of the day, my mindset is just on playing good football and hopefully staying here and living in a nice house somewhere around here -- maybe in Mr. Elway's neighborhood or something like that. We'll see how it goes."
Did the Denver defense implode or was it me that saw this. Denver's defense allowed the Colts to do things that no one has done all year. They made mental mistakes that they haven't made all year.**
Much of it of it was the Colts' execution -- particularly from their quarterback.
Andrew Luck's composure and willingness to stand in the pocket and throw as he was hit was almost superhuman, calling to mind some of the gunslinging quarterbacks of the past. Between runs, passes and plays wiped out by penalties, he was hit 16 times.
The Broncos got to Luck, just like every other quarterback they've faced. The difference is that he was unruffled, unlike other quarterbacks who were under duress and made errant throws.
That said, the defense wasn't perfect. There were some breakdowns. But it's important for the defense to not overreact to one game that could well be the exception, rather than the rule.
Do you think the defense was too confident or cocky going into this game? I just wonder if that confidence made them too aggressive at times that left parts of the field wide open. I had to cringe a little after the Packers game and our corners were so cocky in their post game interview. They are an amazing group that I'm confident will rebound but still have to wonder if a loss like this might re-ground or humble them a little bit.**
That loss humbles everyone, not just on the defensive side of the football.
The lesson of the defeat should be simple: you can't dither and dawdle in the first half, dig yourself a 17-0 deficit, and expect to get out of it. Sometimes teams get on a winning streak and -- at least subconsciously -- figure they can wiggle out of anything, and that they can just "turn it on" when necessary.
It doesn't work that way. Not against a good team. And on Sunday, despite their homely sub-.500 record, the Colts were a good team, playing their best game of the season to date.
The Broncos can take heart in the fact that all three phases quickly got them back in the game, collectively forging ties of 17-17 and 24-24. But if they had made just a few more plays earlier, the rally wouldn't have been necessary.
It might have been the best kind of loss you can have, but we'll know better by Sunday whether that was the case.
With the O-Line down to 3 tackles on the active roster what happens if one gets hurt? Can someone else fill in as another as the tackle if needed?**
If one gets hurt, you're still fine; you've still got one in reserve, although the Ryan Harris/Tyler Polumbus platoon would have to cease. If you lose another tackle, you can move Louis Vasquez outside in a pinch, since he started eight games at right tackle last year.
If you had to make do for another game, Kyle Roberts would be a potential promotion candidate from the practice squad to fill the vacancy.
Been a Denver fan for 30 years now. And yet again we lose a crunch game, outclassed and outcoached. Maybe if the players and coaches spent less time talking and more time doing we would not keep losing these high-profile games.
If they "keep losing" high-profile games, how do you explain sweeping a pair of games against teams that are now 6-2 -- one of which (Green Bay) came in undefeated for Sunday Night Football?
You're not going to win them all. But the Broncos are 11-11 (including playoffs) since 2012 against teams that qualified for the postseason. That's not as good as you'd like to be, but it's not lousy, either.
I love the fact that both teams wore colored jerseys -- even though the Jets' kelly-green shade was different than the one they normally use. Because the dark-green stripe remained on the sleeve, it didn't look right.
I didn't like the monochromatic look, especially with the socks. Too much of a good thing. With all the gear involved in a football uniform, it looks better with a color contrast.
I remain an advocate of color-on-color games when the colors do not clash; e.g. Denver-Oakland with the Broncos in orange and the Raiders in black. But the pervasiveness of red-green colorblindness -- which became apparent via social media Thursday -- means that it may have to be reconsidered when, say, the Chiefs play the Jets or the Falcons battle the Eagles.
---
Submit a question for the next Mailbag!
The analysis, opinion and speculation in this story represents that of the author, gathered through research and reporting, and does not necessarily reflect the opinion of the Denver Broncos organization.